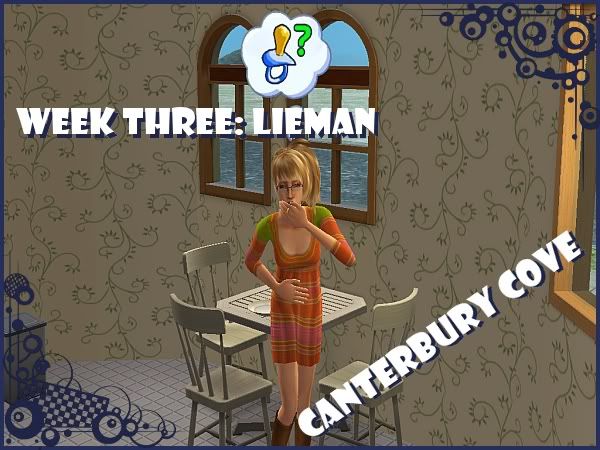 I am back with week three, this time featuring the Lieman (previously Meadows) family! I think that after this segment I am going to try a new way of writing just to change things up a bit. Anyway, I hope you enjoy. :)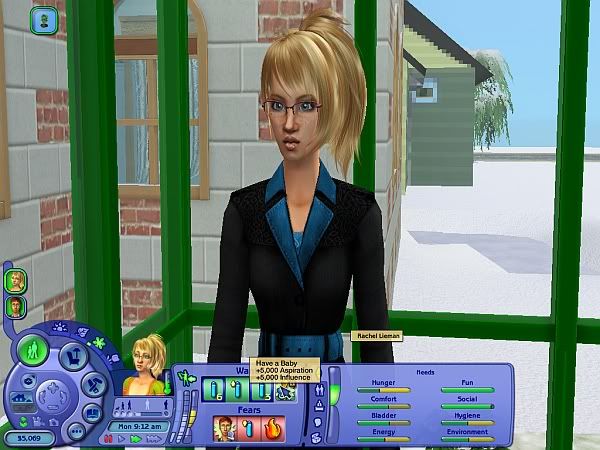 When I got onto the lot, I saw that Rachel had rolled the want to have a baby, which is actually a little strange for a knowledge sim to roll that want. But, what my sims want, they get.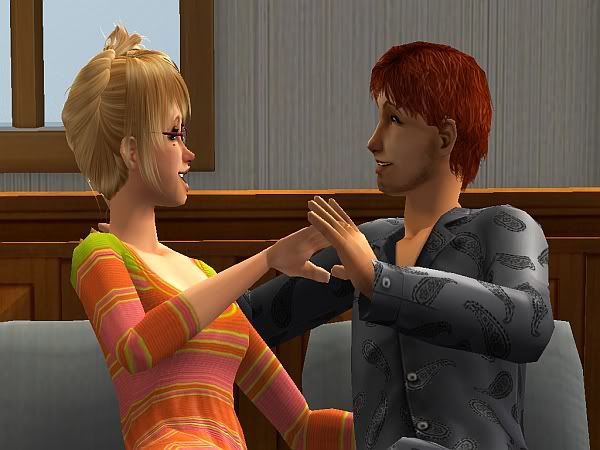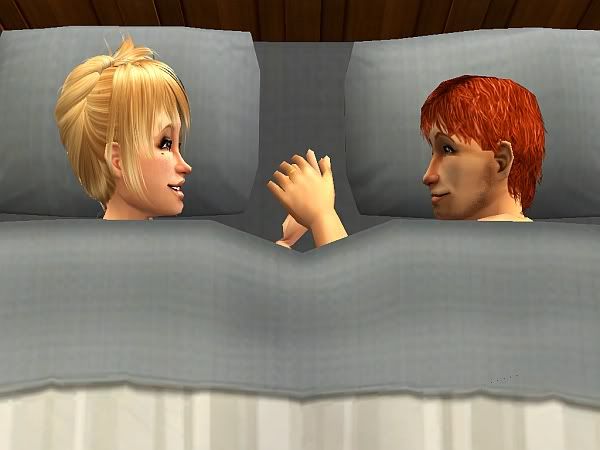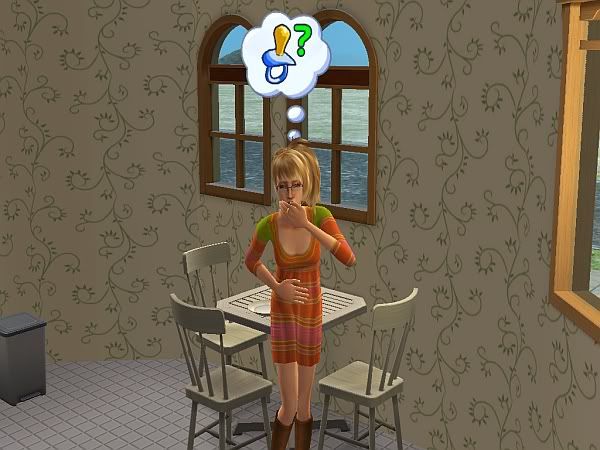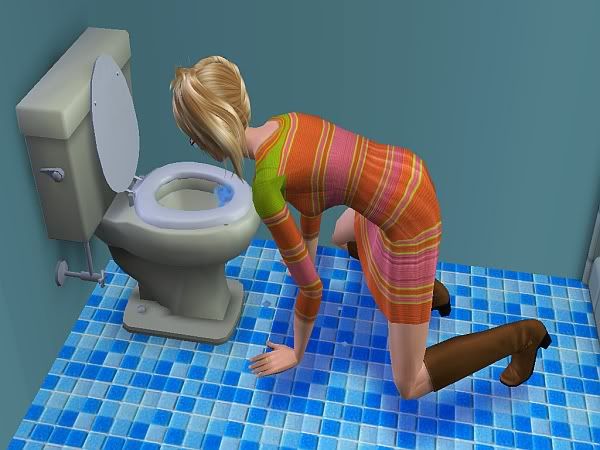 They tried for a baby and were quite successful. I am sure that it is going to be adorable too, and I hope it get's Rachel's unique eye shape.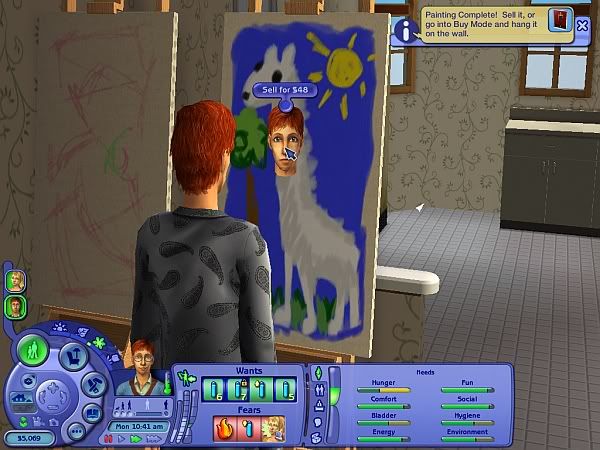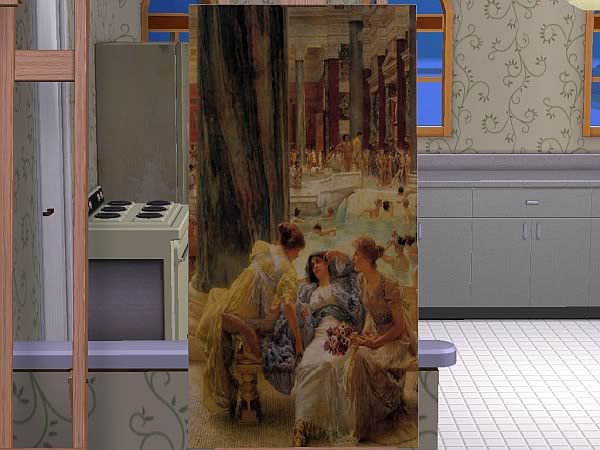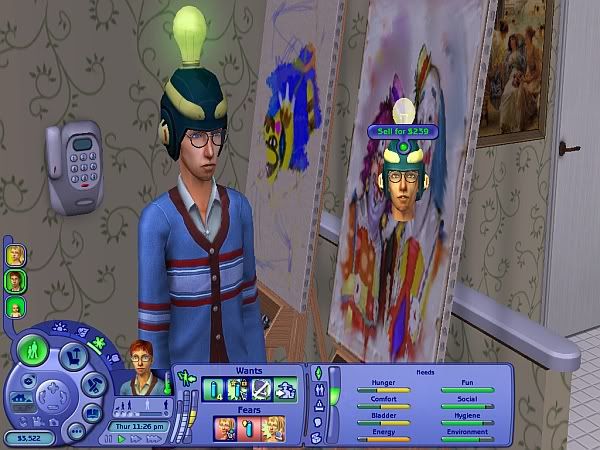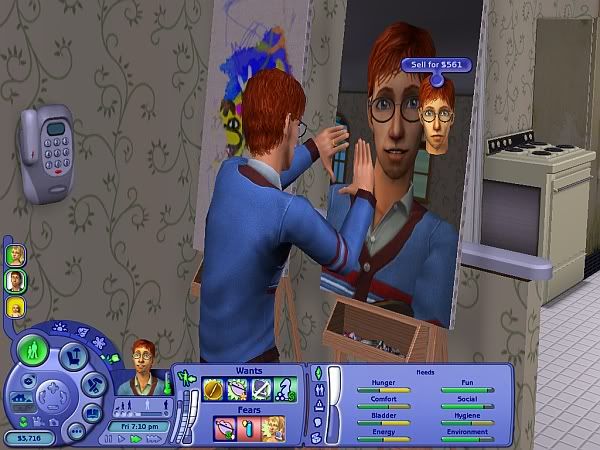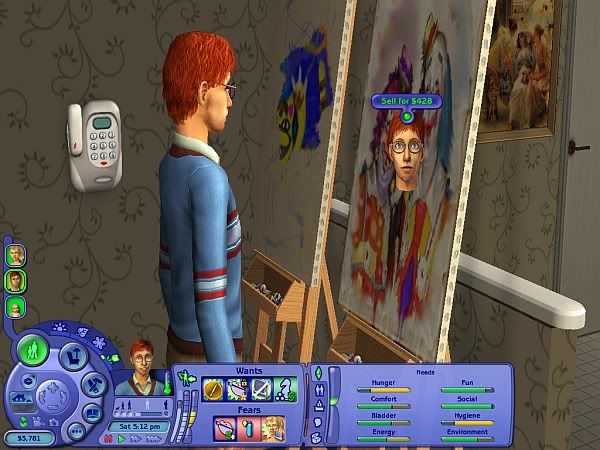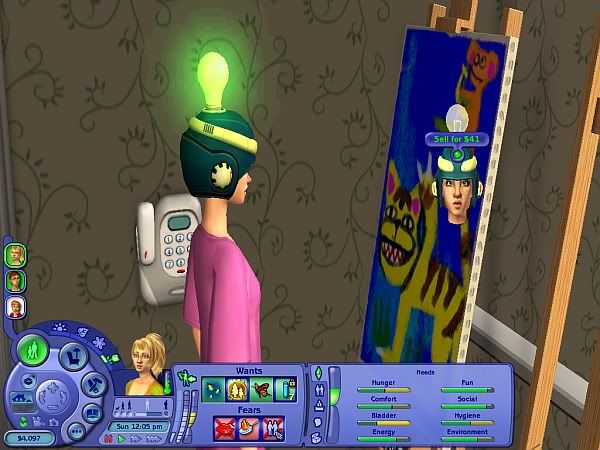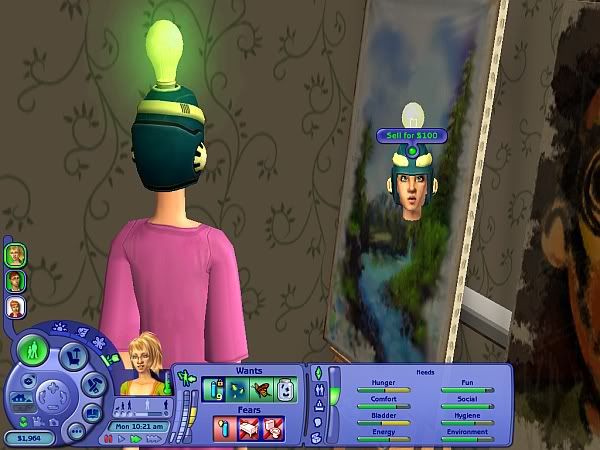 During this week many paintings were painted and I am not sure why I felt compelled to snap pictures of them all but oh well. It was a really good way for them to make money.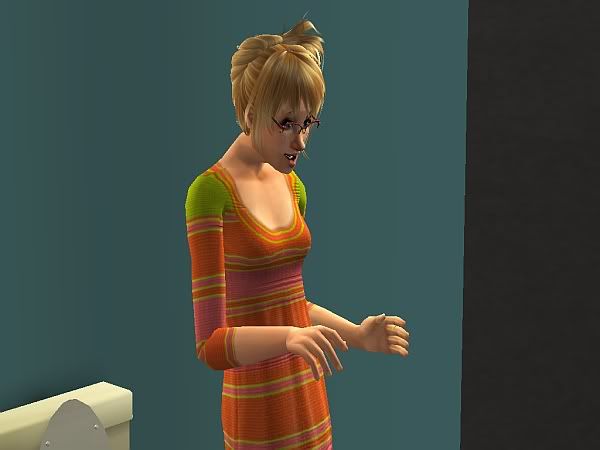 This is Rachel getting her first bump which you can't see because her clothes do not have a pregnancy morph.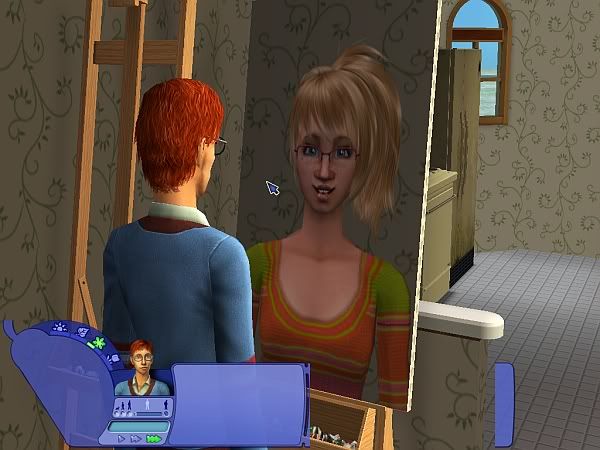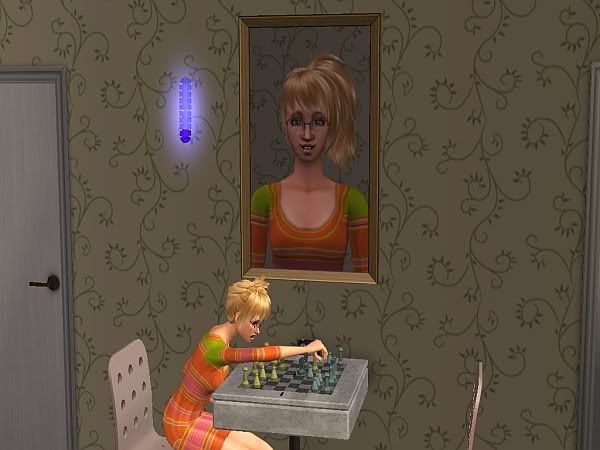 This is the finished product of the painting of Rachel and the first picture was supposed to show you how much it was worth, but it failed. Soon after this I switched to a new printscreen program which I hope will be better at taking pictures.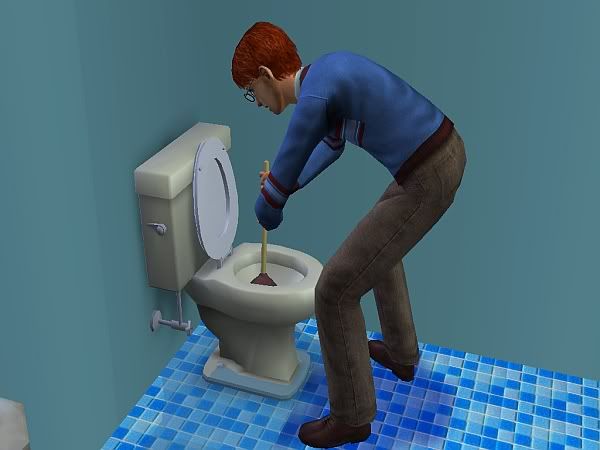 There is no point to this picture other than the fact that I found it amusing.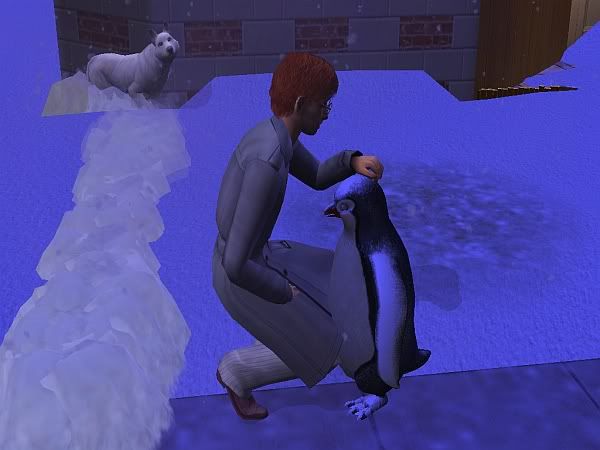 Soon it was winter at the Lieman's and the penguin decided to pay a visit.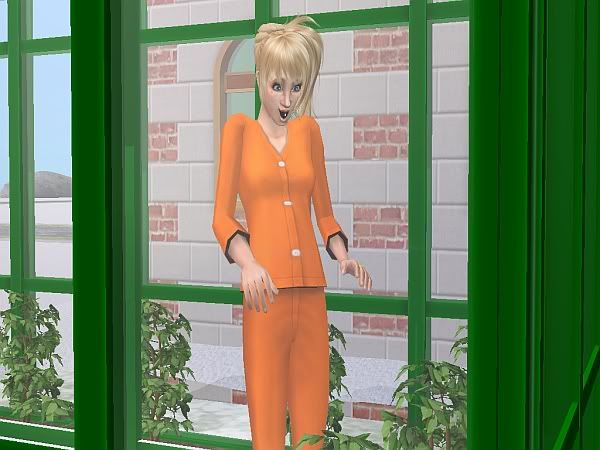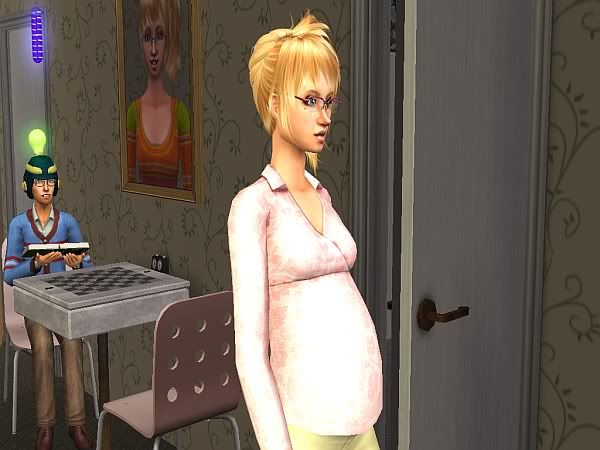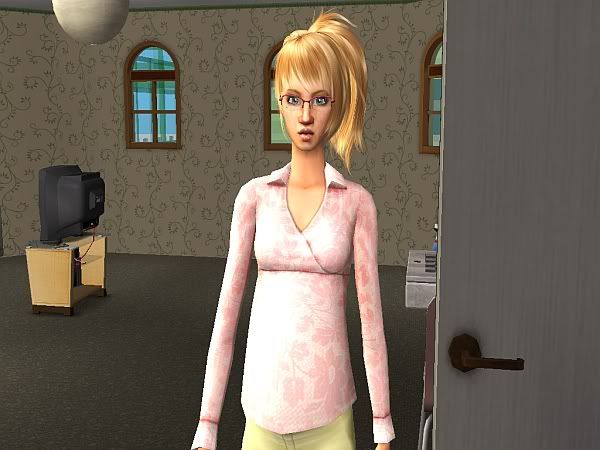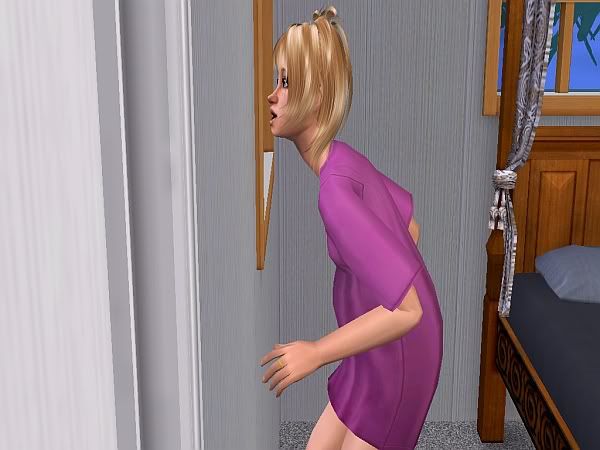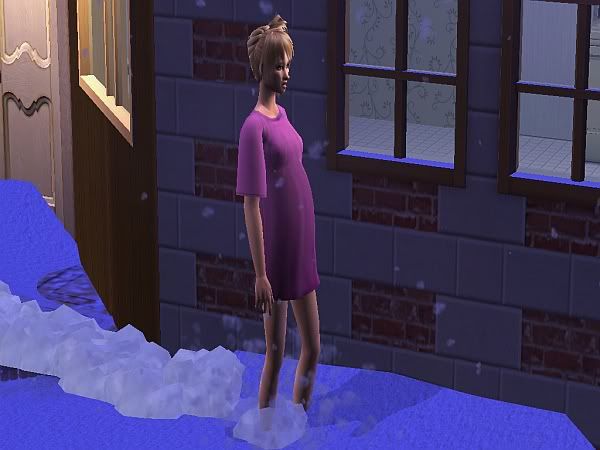 While gardening (in her pajamas) the next day, Rachel entered into her third trimester.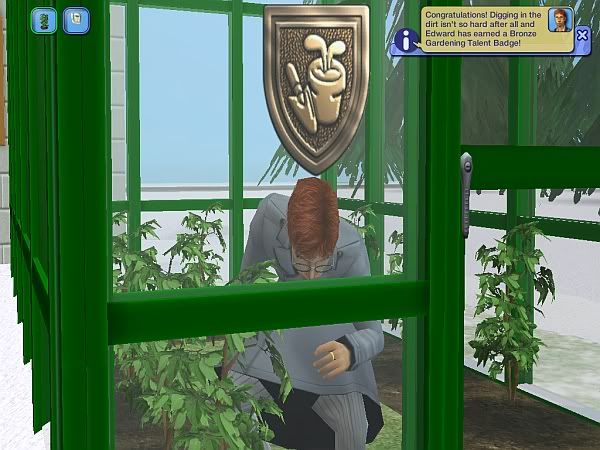 Edward finally got around to earning a bronze badge in gardening which will be really helpful for their little store.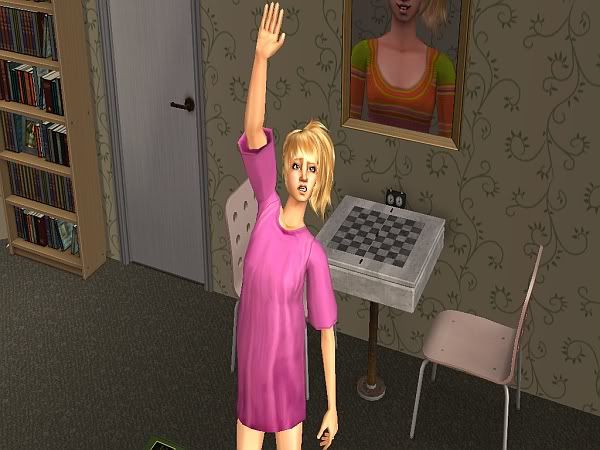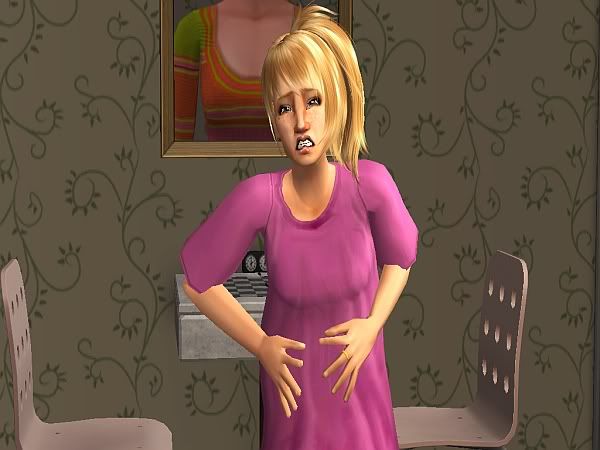 Soon it was time for the baby to be born. And then all hell broke loose...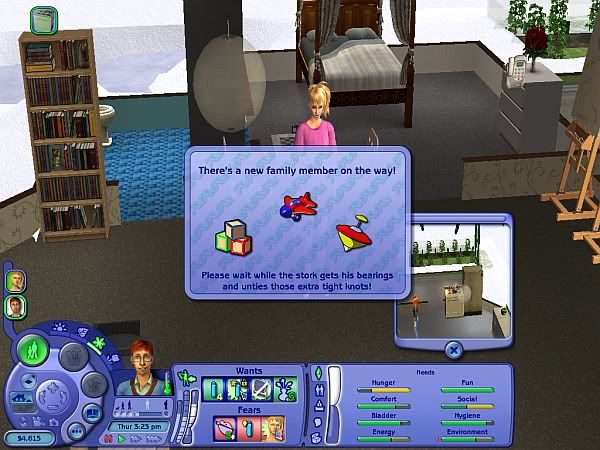 If you will notice, yes, that is a fire starting in the kitchen that you can see in the picture in picture window. Edward stopped cooking to come and see his wife give birth and three seconds after he left the stove, it caught on fire.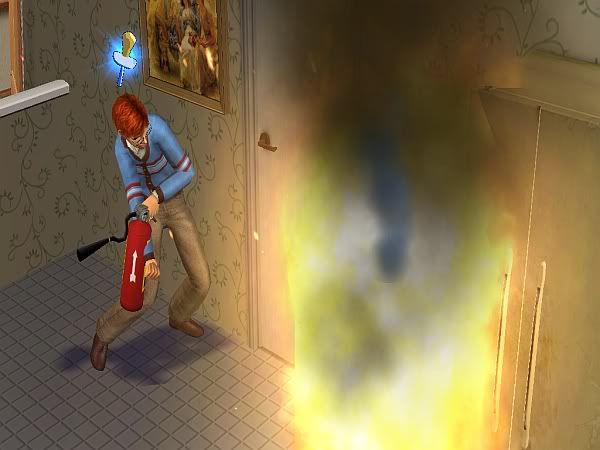 So I immediately sent him to put it out.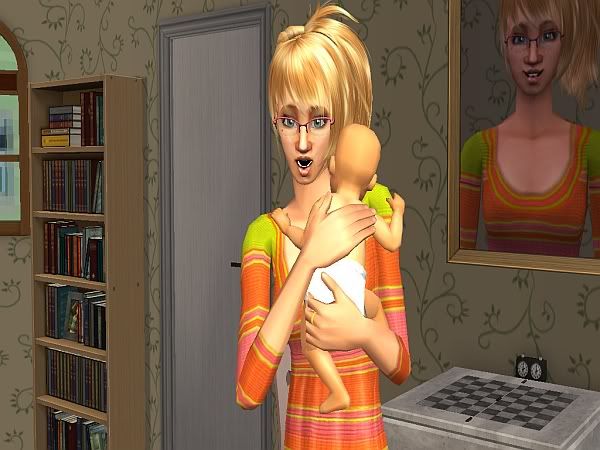 And while the fire was raging on in the kitchen, baby boy Cameron was born. He appears to have red hair and his mother's eye color.
(Also, just in case you had noticed that so far the babies have been named A,A,B,B,C it is because I am trying to keep track of the amount of boys/girls born into the hood by naming each consecutive baby of each gender with the next letter in the alphabet.)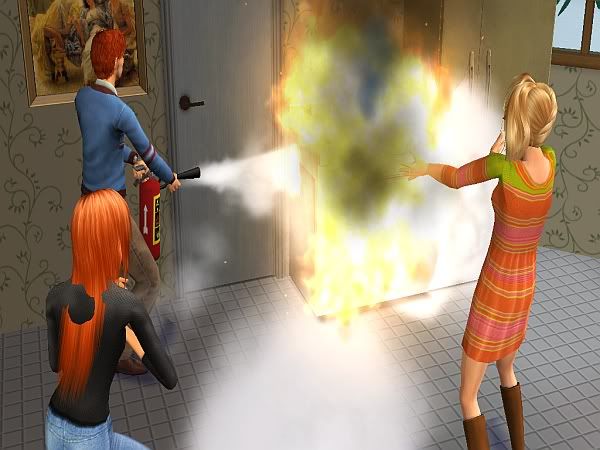 The baby was promptly set on the floor so that Rachel could come into the kitchen and do the fire dance.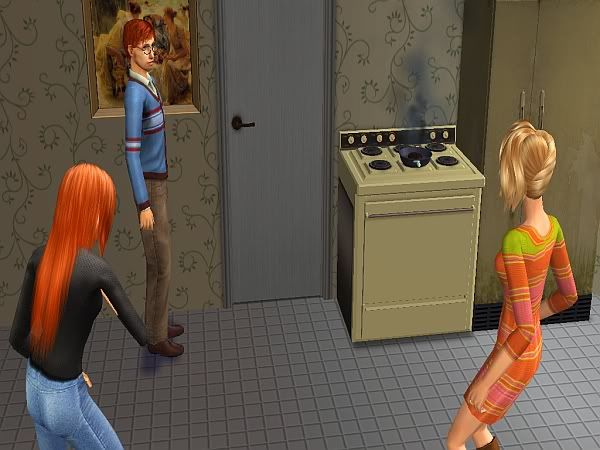 To my relief, the fire was put out with no harm done. This brings my fire count up to two so I only need one more to unlock a position in the Law Enforcement career.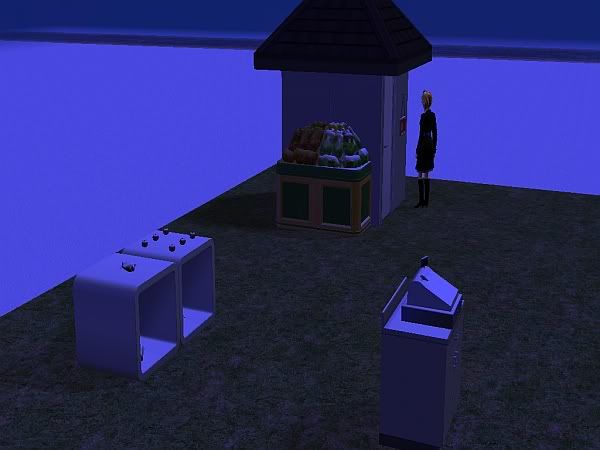 After a bit of rest, Rachel headed back to Fresh Fruits and Veggies in order to try and get the business rank up and to make some money.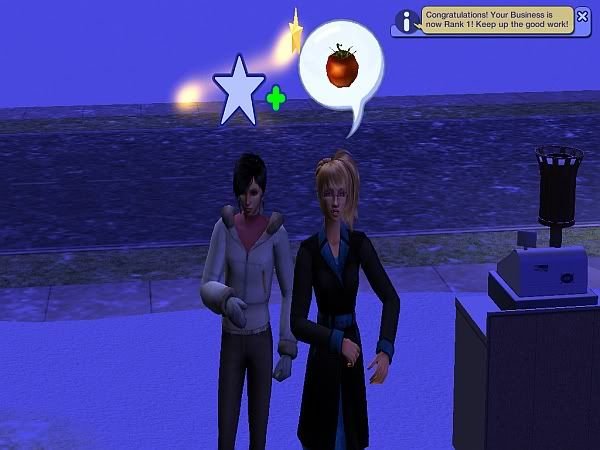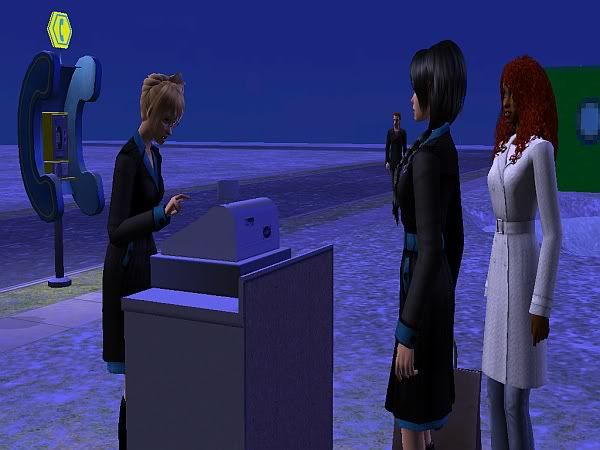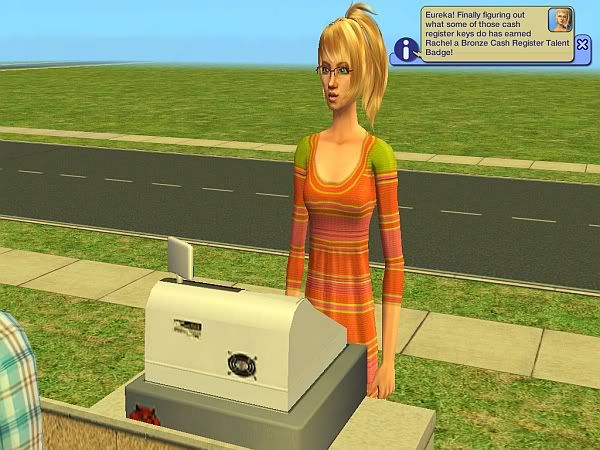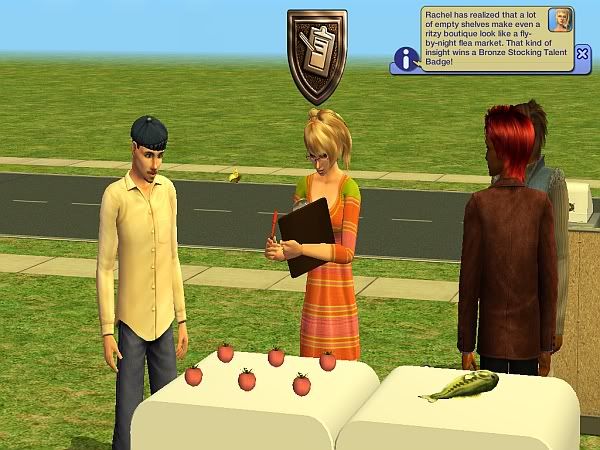 Things went fairly well.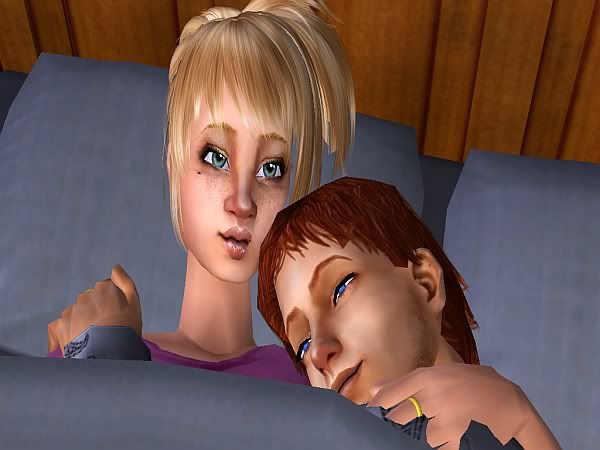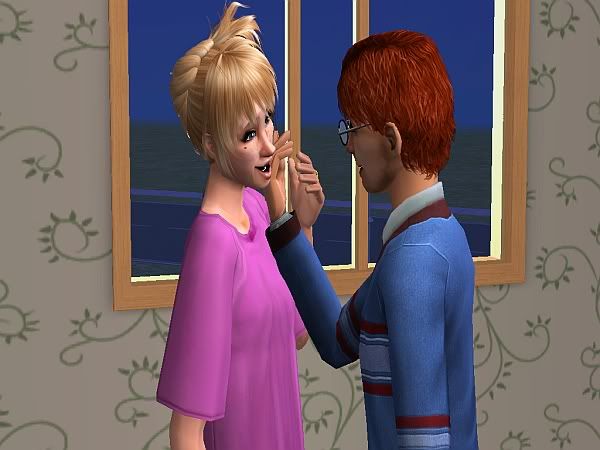 I really love these two together. You can definitely tell that they are a three bolt couple.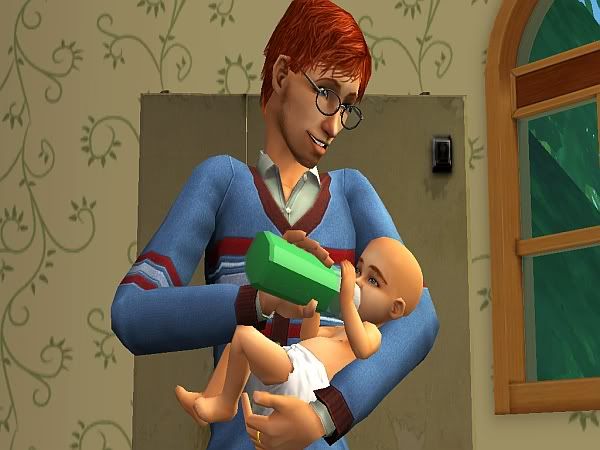 Both Edward and Rachel were very good parents. They took turns feeding and caring for Cameron and never rolled the annoying fear of changing diapers.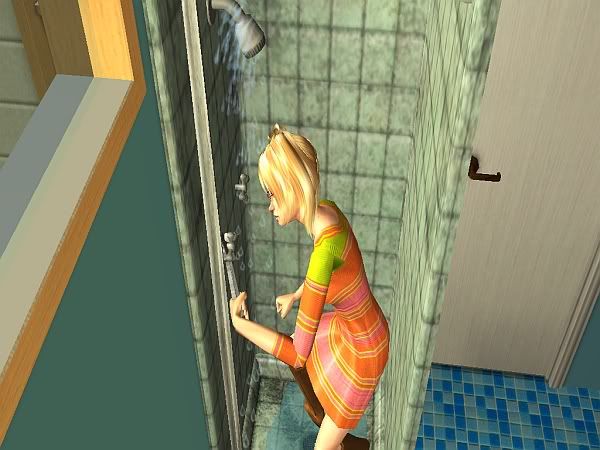 Other than the baby and the business, Rachel had other things to do like fix the shower.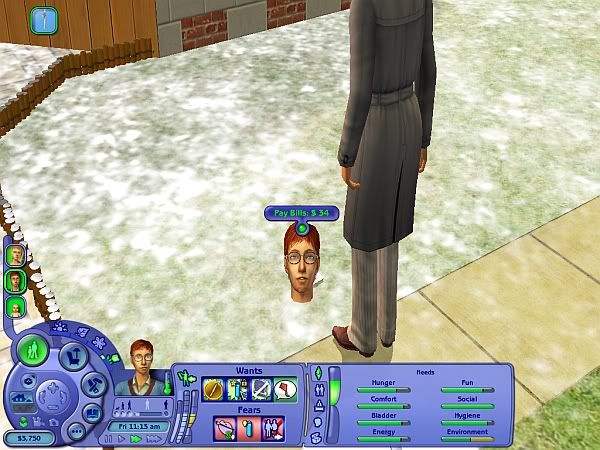 And bills needed to be paid.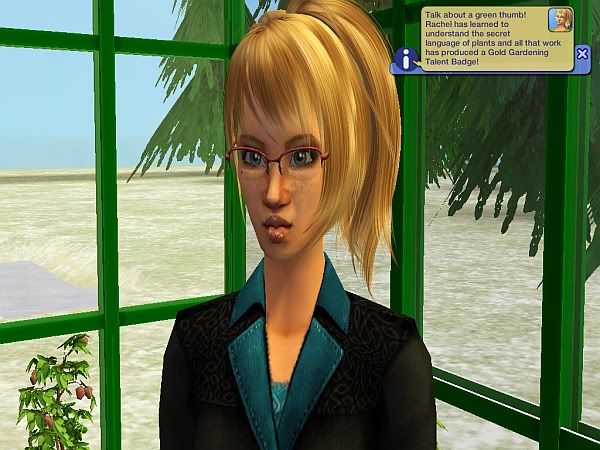 Later that afternoon Rachel earned her gold badge in gardening which will allow her to "talk to" the plants and insure that they are all the best.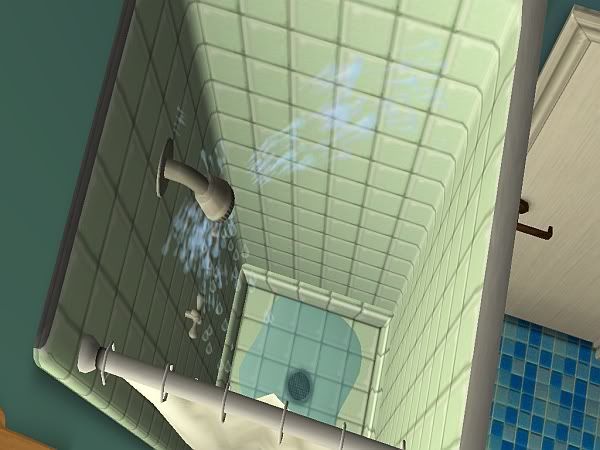 Later that very same day, the shower broke again and so Rachel had to fix it for a second time. It would probably help if she had more mechanical skill points.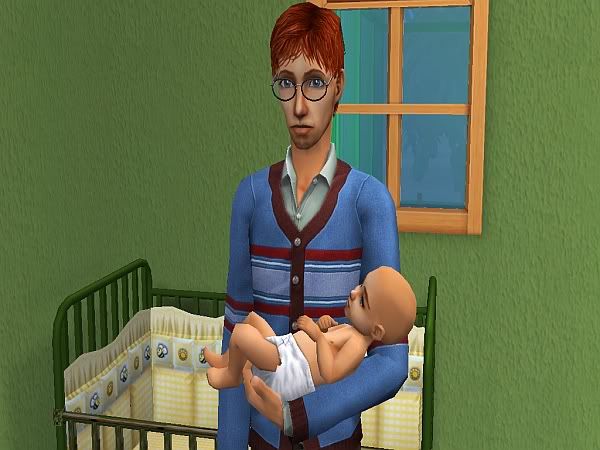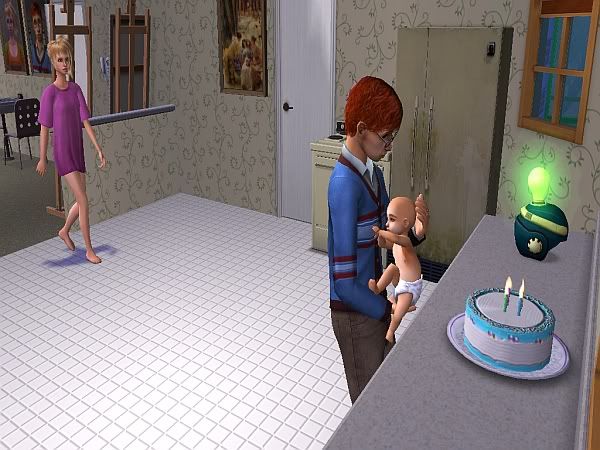 After the shower was fixed it was time for Cameron's birthday. It took a lot of effort and I eventually ended up buying a cake that didn't even get used because he grew up before he could blow out the candles.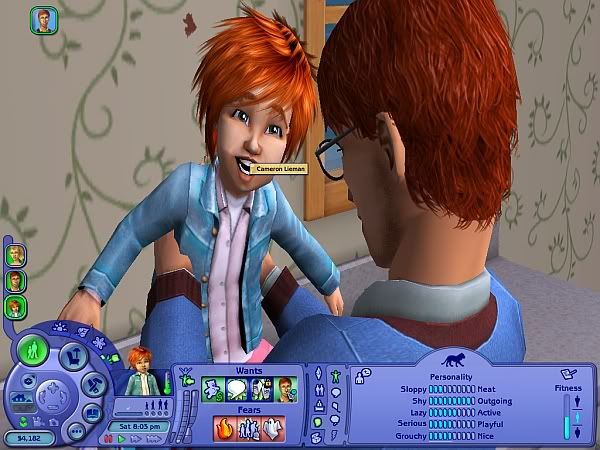 So, here is Cameron Lieman. He is a Leo with 3 sloppy, 9 outgoing, 6 active, 5 playful/serious, and 5 nice/grouchy.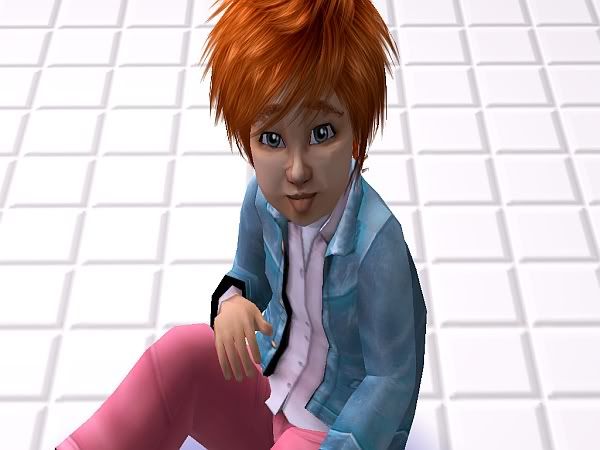 He is quite the cutie.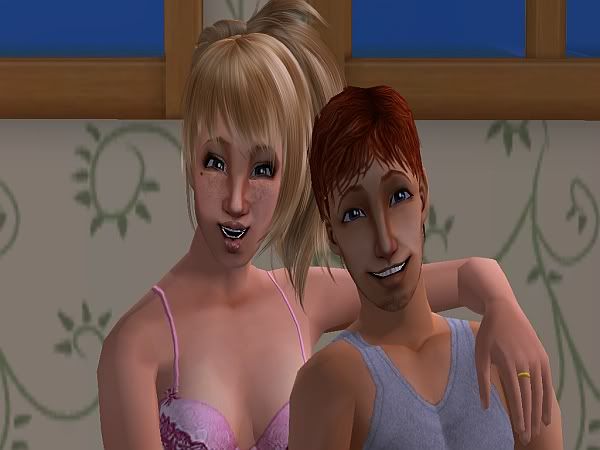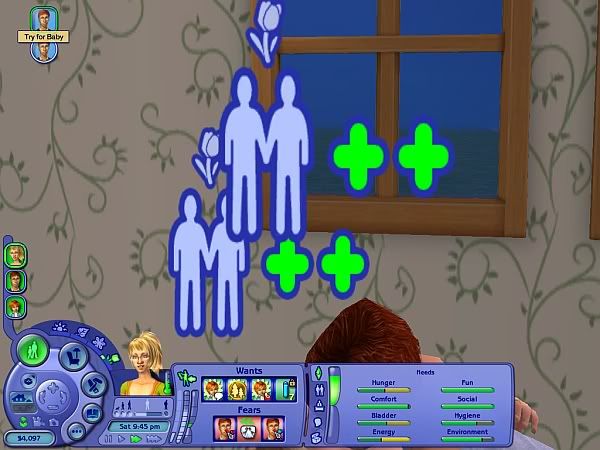 Right after Cameron grew up with the help of ACR, Rachel and Edward headed straight for the couch and they ended up trying for a baby and were successful.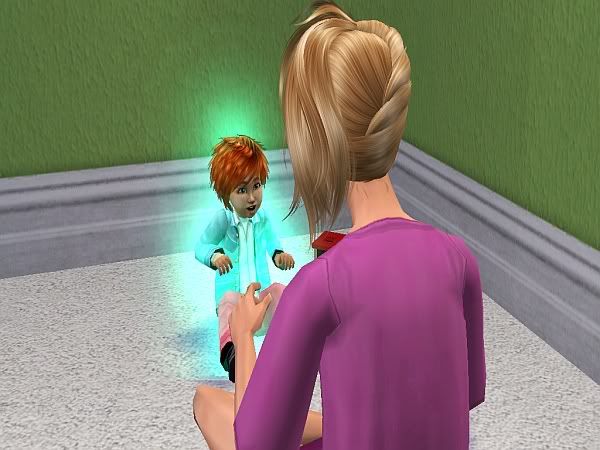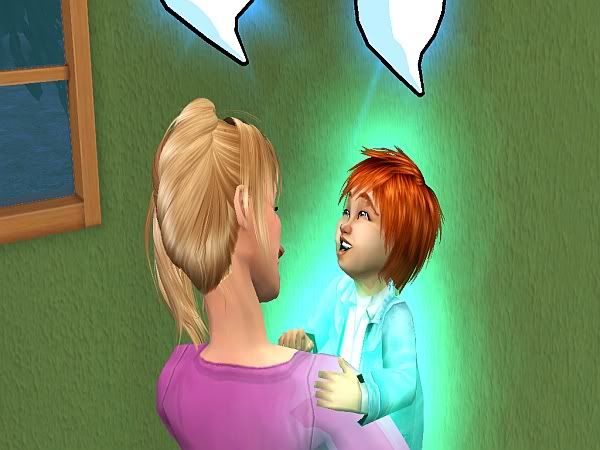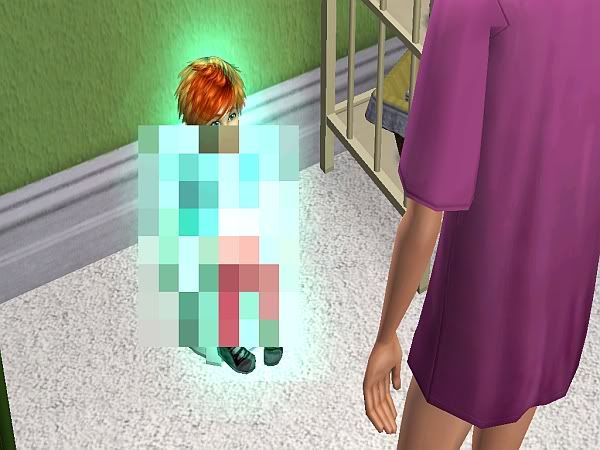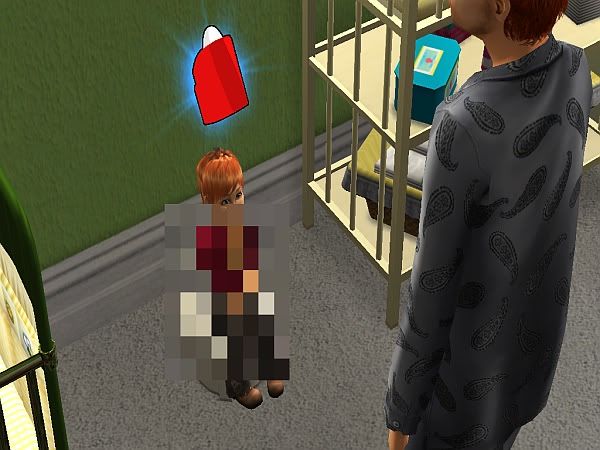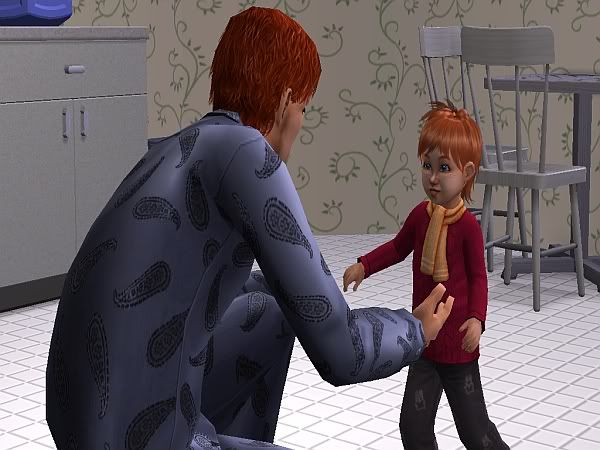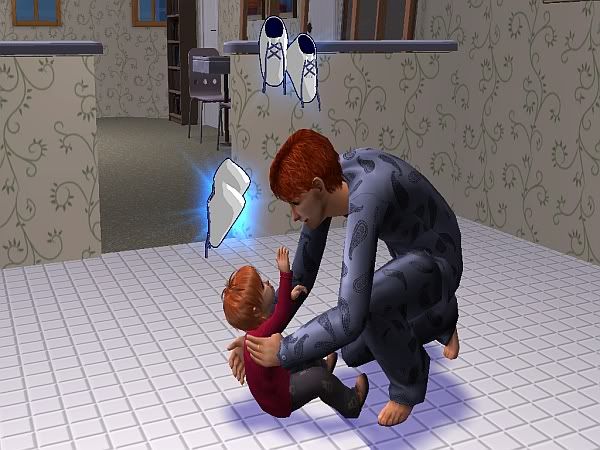 In no time at all, Cameron was taught all of his toddler skills and is now ready to age into a child soon.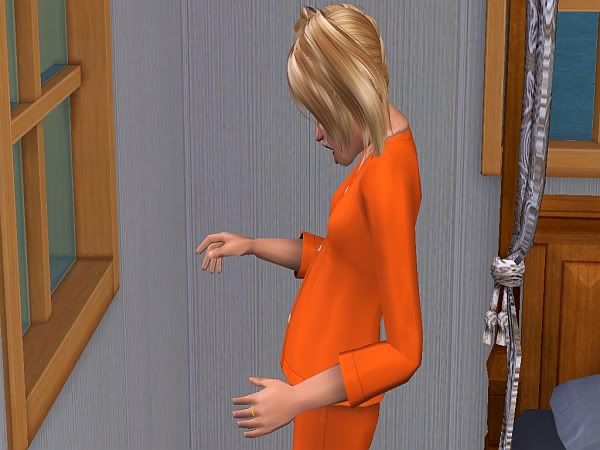 Soon Rachel entered into her second trimester and then the week was over. Hopefully she doesn't have twins because their house is too small as it is anyway.

Stats:
Rotation: 3
Households: 2 of 2
Playable Sims: 9
# of Total Residents (PS + Graves): 9
Community Lots: 3 (0 NPC)
Business Districts: 0
Universities: 0
Downtown: No
Sim Multiplier: 2
Population: 18
CAS Sims Available: 2/3
University Funds: $5,166
Number of Fires: 2
Number of Burglaries: 0
Number of Electrocutions: 0
Number of Graves: 0
Businesses:
Club Carnahan - Russell Carnahan - 3
Electric Avenue - Russell Carnahan - 2
Fresh Fish and Veggies - Rachel Lieman - 1
Careers: Slacker - 0/1
Current Mood:
sick