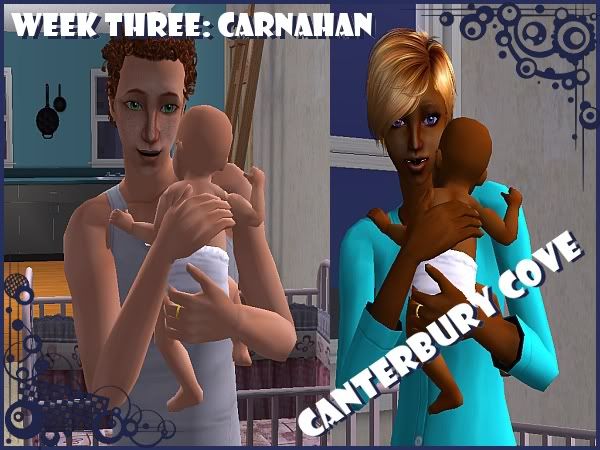 I'm back with Week Three for the Carnahan's. Sorry it has taken me so long to get it out, I've actually had the playing of this week for the family done for a bit but since I was so busy with graduation stuff, I really didn't have much time to write it up. It's summer now though and I'm going to have tons of time for this challenge now and I hope to start to make some more notable progress.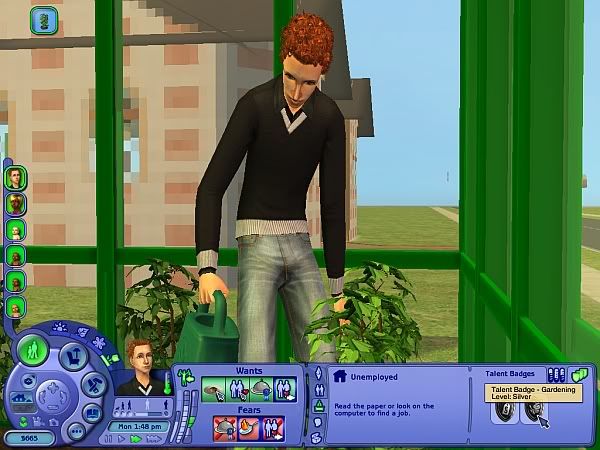 Russell started off the week by successfully earning his silver badge in gardening. This means that the things he plants will turn out better than their first batch of tomatoes which looked rather brown, sad, pathetic, and frankly quite gross. (Not that I like tomatoes anyway.)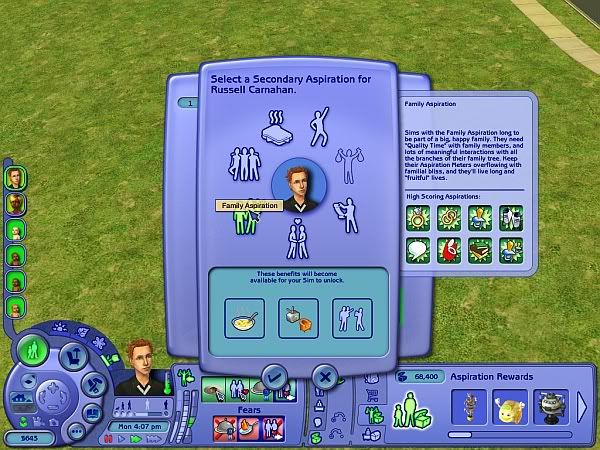 Russell also chose family as a secondary aspiration. I figured with all the little ones running around it would be a big help.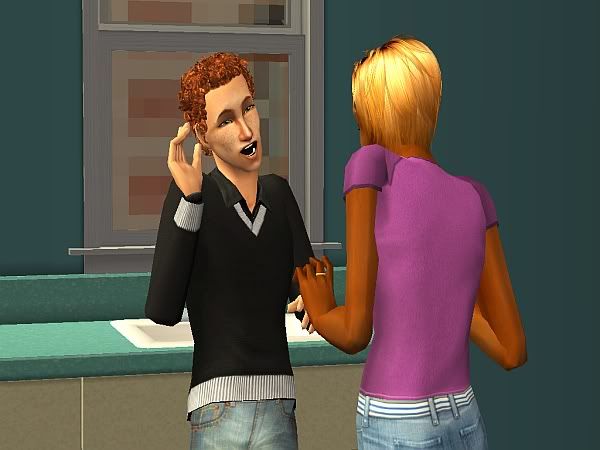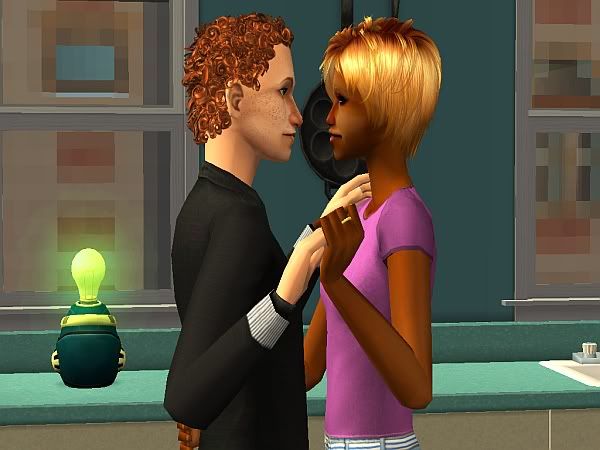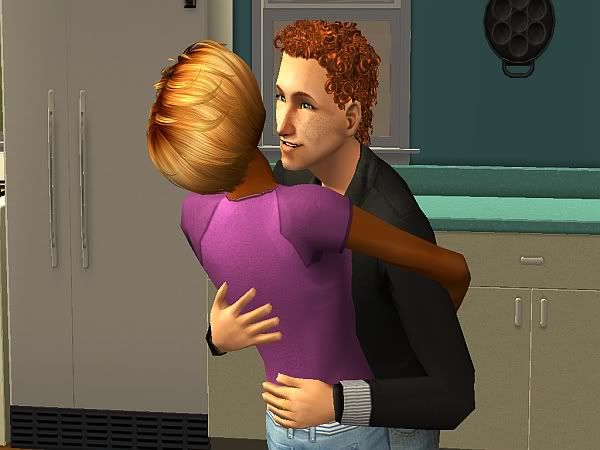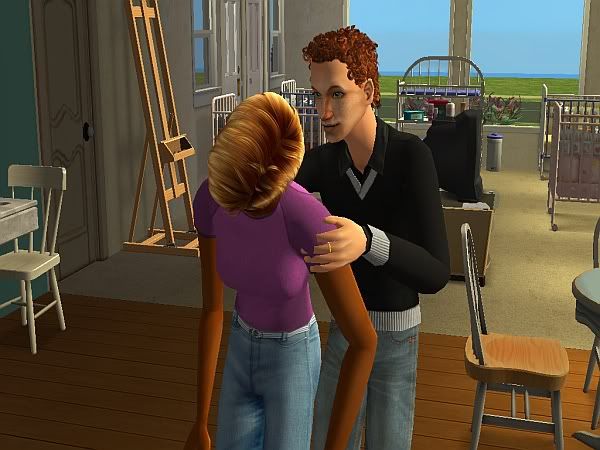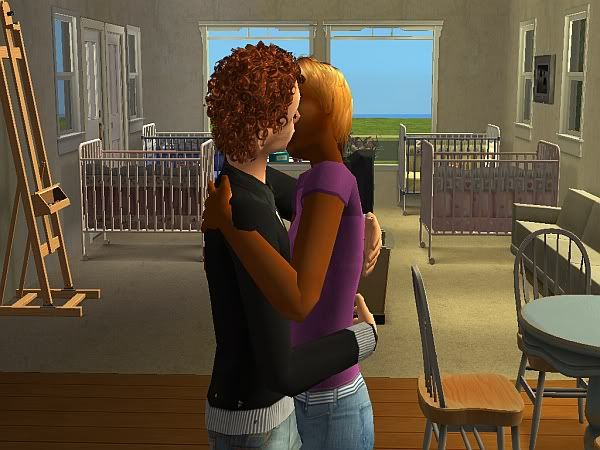 I had Russell ask Jackie on a date because they both really needed a mood/aspiration boost at that point. Hopefully all the making out that they did in front of the kids did not scar them for life. It's a good thing they are still babies.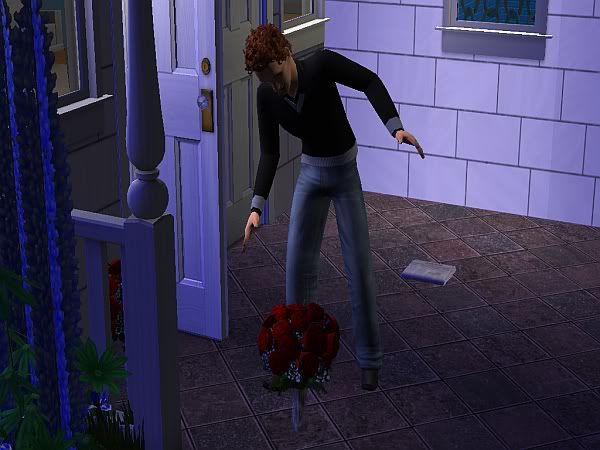 Of course, the date was a dream date. Probably because these two are so sickly sweet together.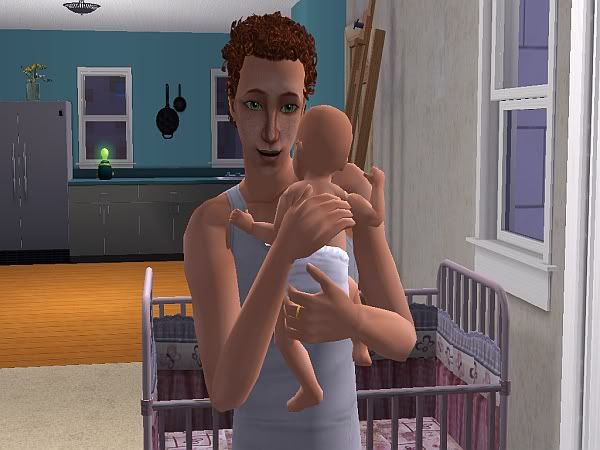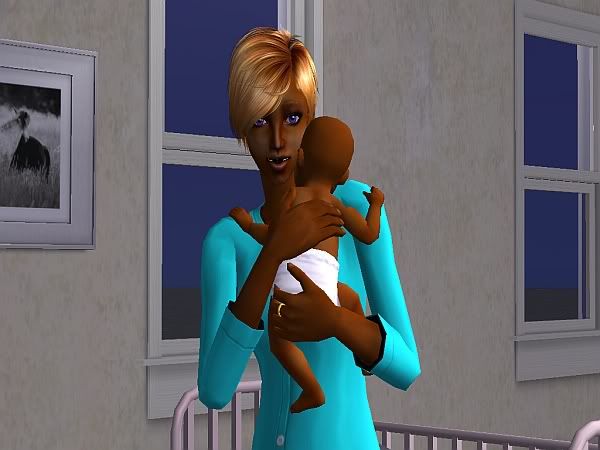 Then they went back to taking care of the kids. I think Jackie is holding Becca and Russell is holding Abrianna, but I'm not sure.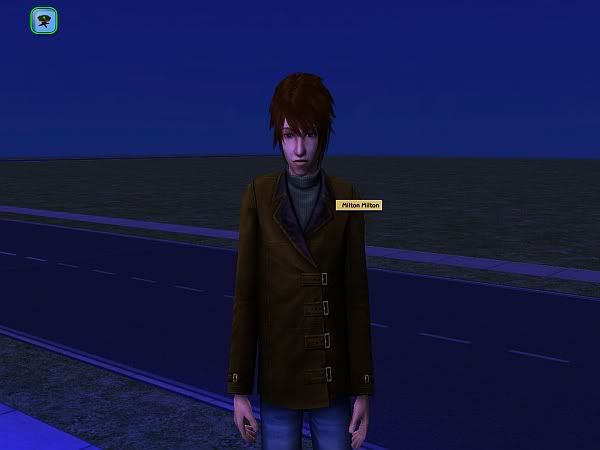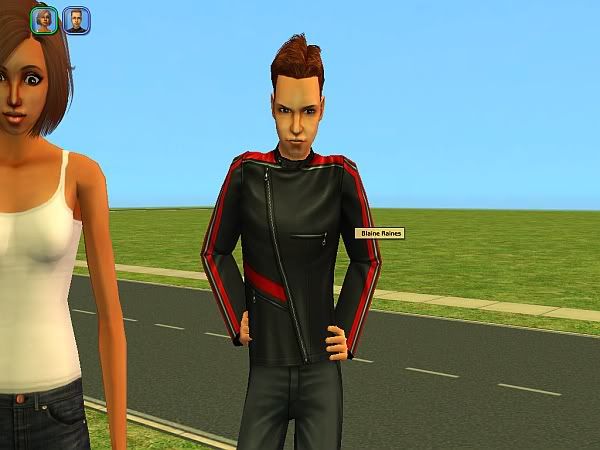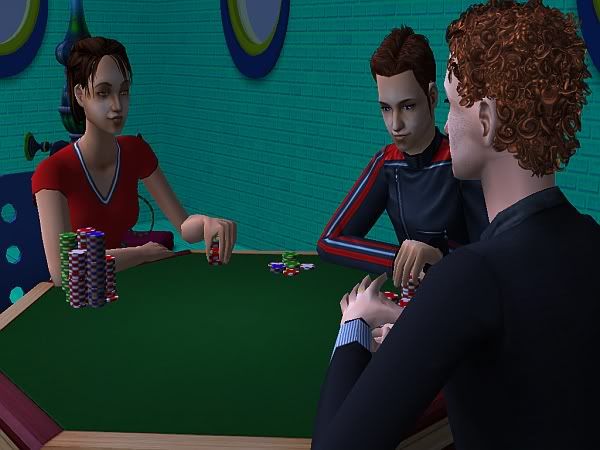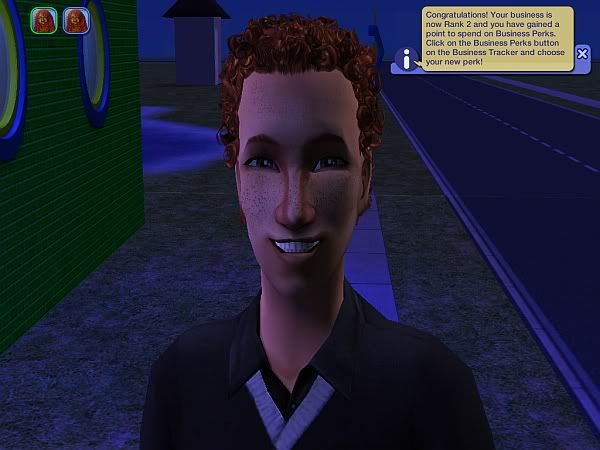 In one of the rare moments when all of the babies were taken care of and Russell was in a good mood, he went down to Club Carnahan to work for a bit. There he met some interesting new people (Blaine Raines and Milton Milton... hehe), and got the club up to level 2.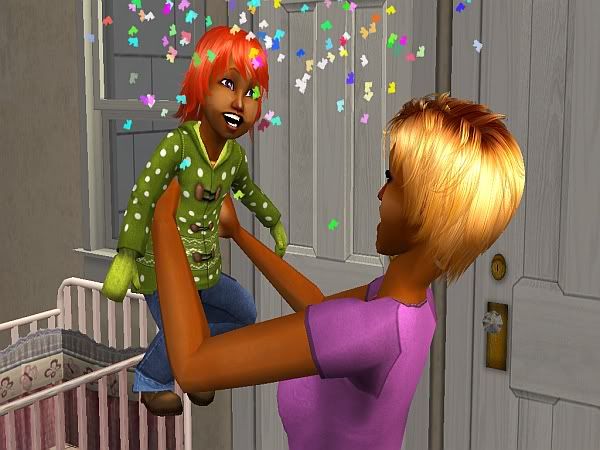 Then it was time for the quads to toddlerize. First was Adam.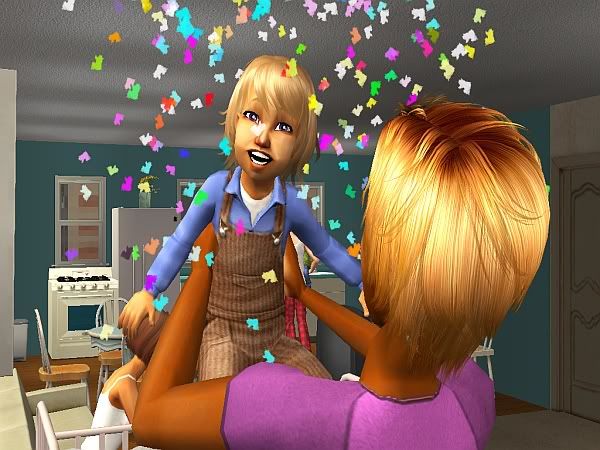 Then Bennett.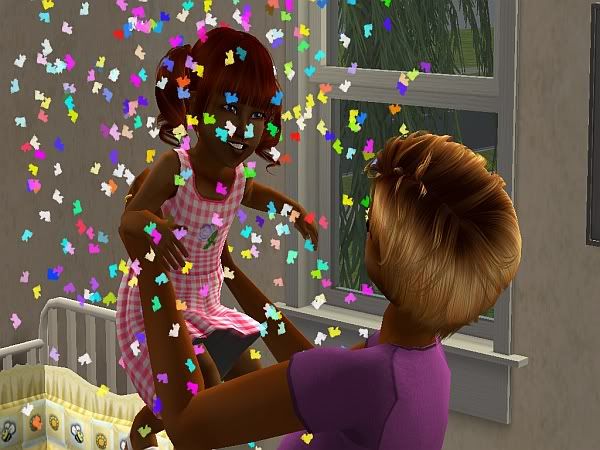 Becca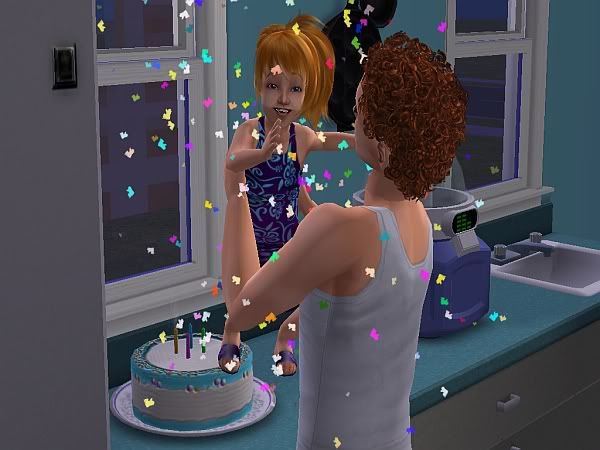 And after a few failed attempts, Abrianna.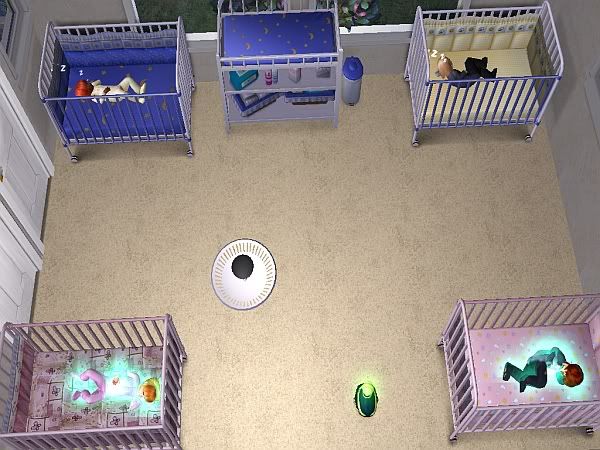 They are still in the living room because the family has barely any money at all. Plus, their lot is so small I am afraid that I won't be able to make another room fit onto the house.
After a nap, the kids got started on their potty training right away. I like to get the tot skills out of the way in the beginning so that I don't need to worry about them later.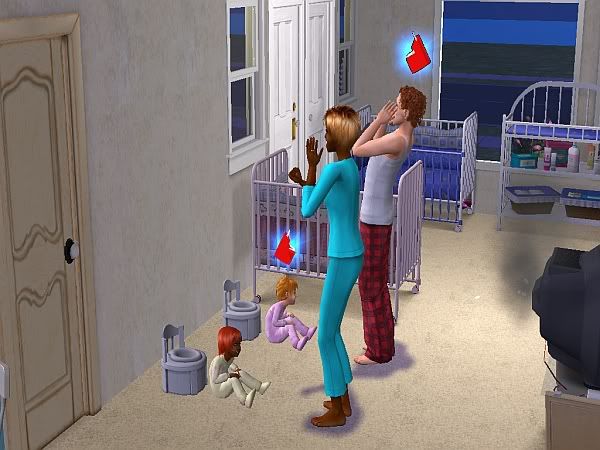 Abrianna learned it in one sitting which reminded me that I don't have the patches installed.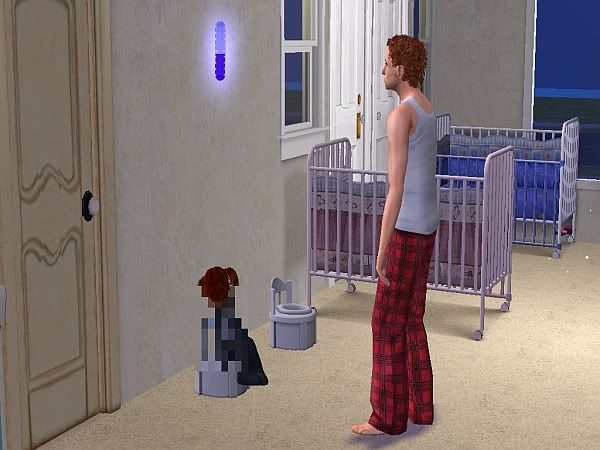 Then Becca.
Bennett.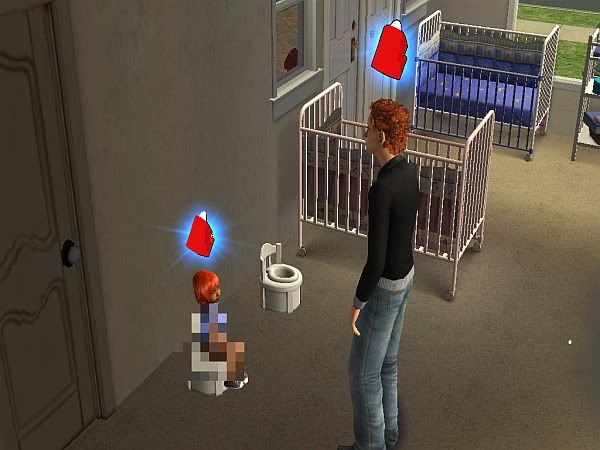 And the next morning, Adam finished.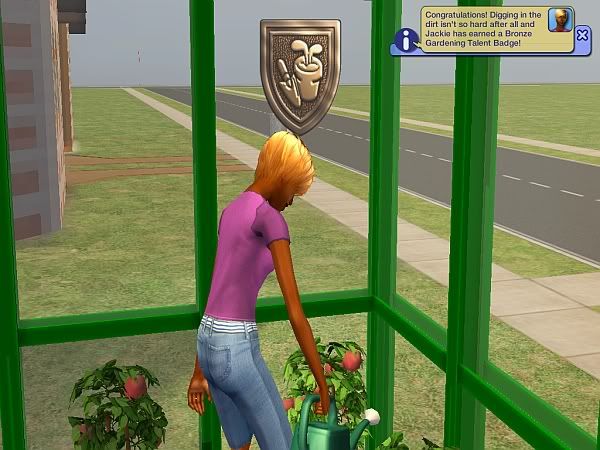 While Russell was busy with the quads, Jackie found time to finally earn her bronze badge and become a bit more of a help with the gardening.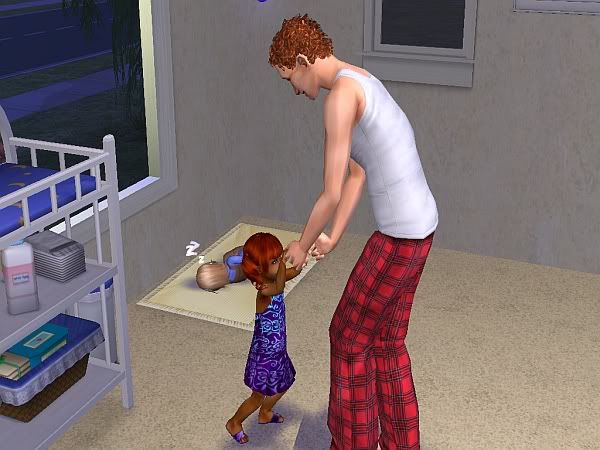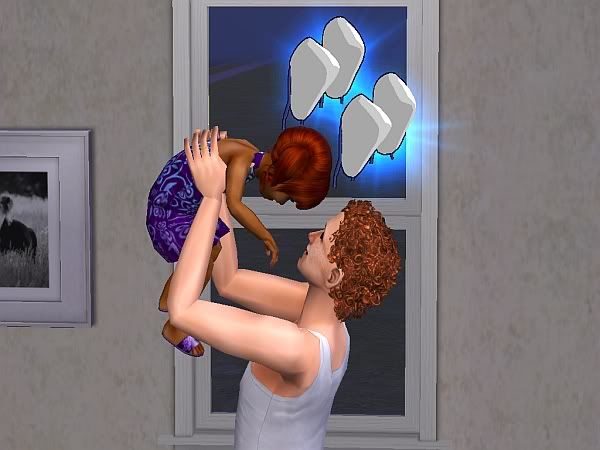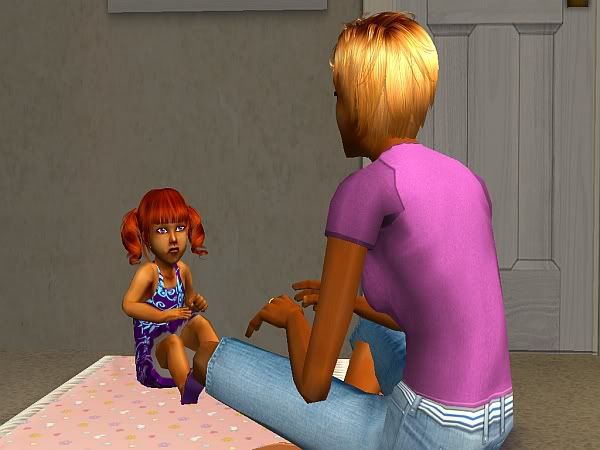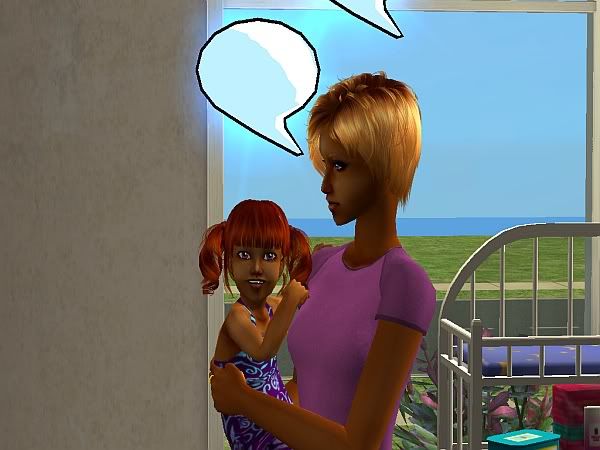 Becca...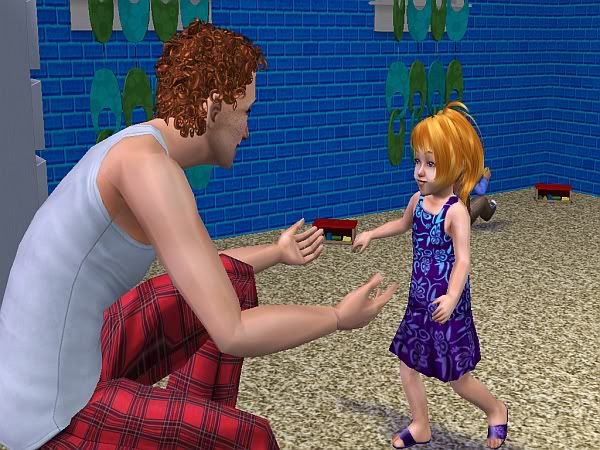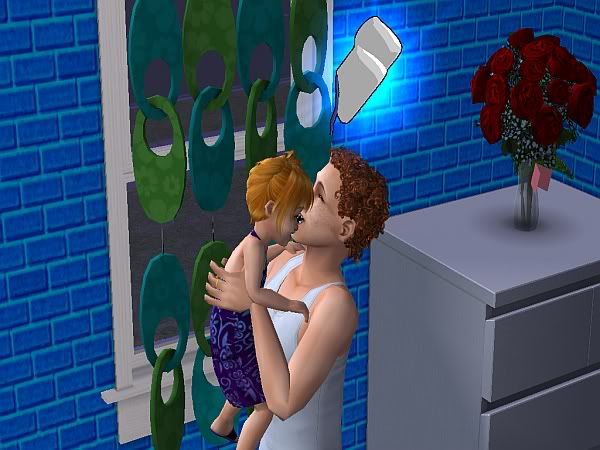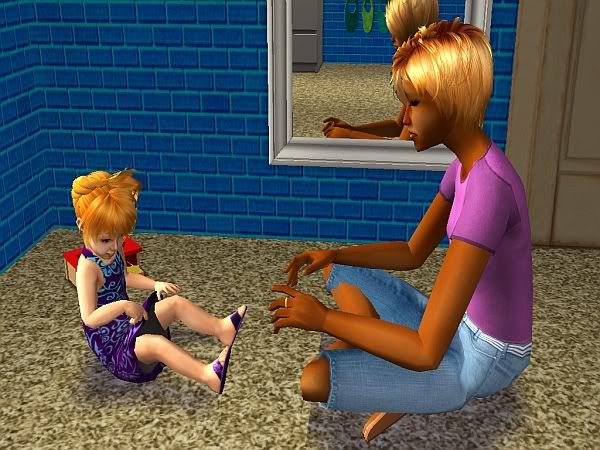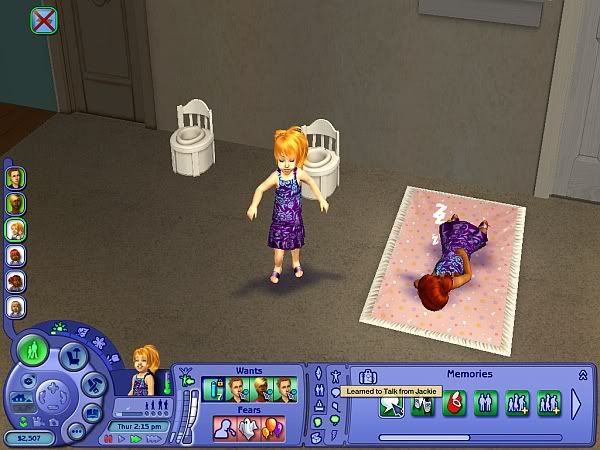 Abrianna...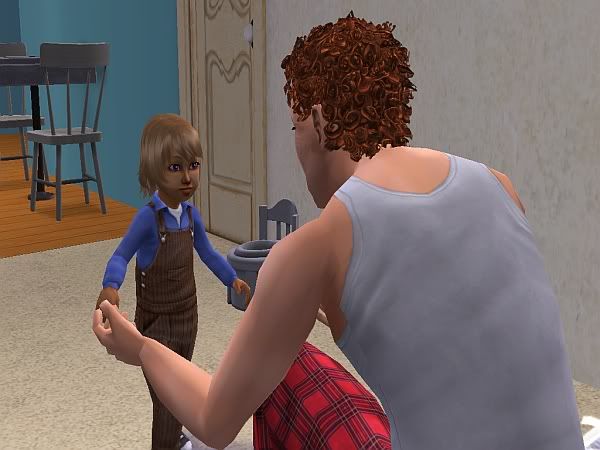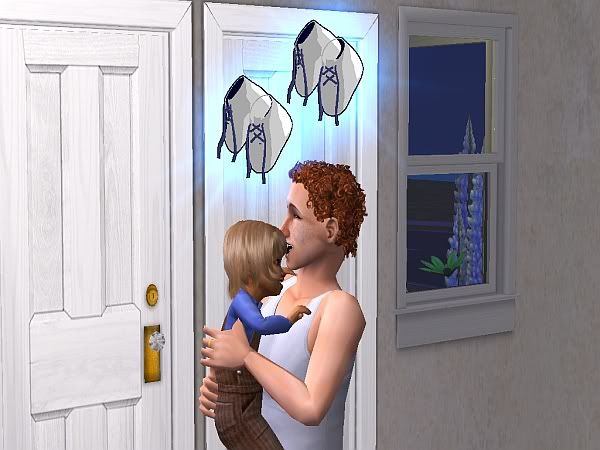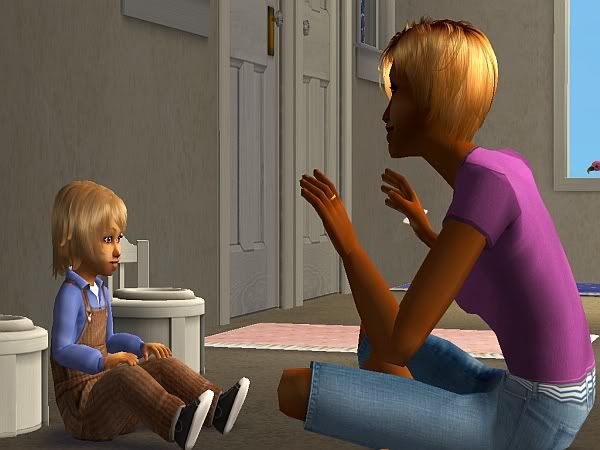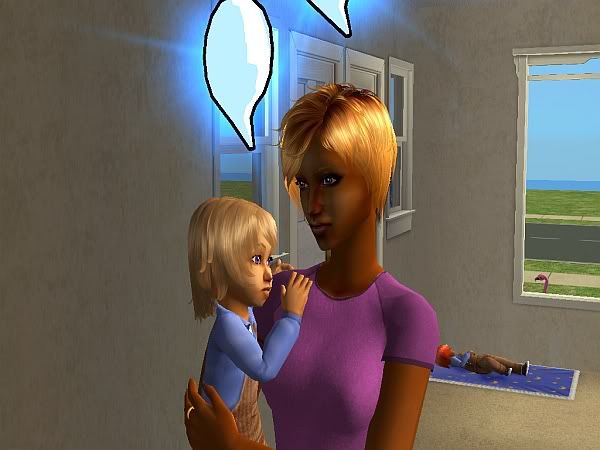 Bennett...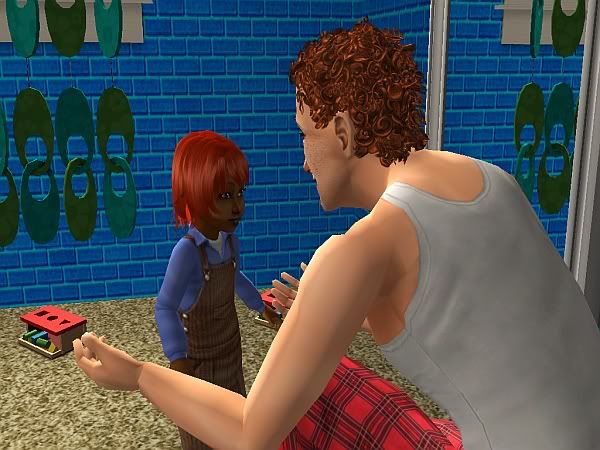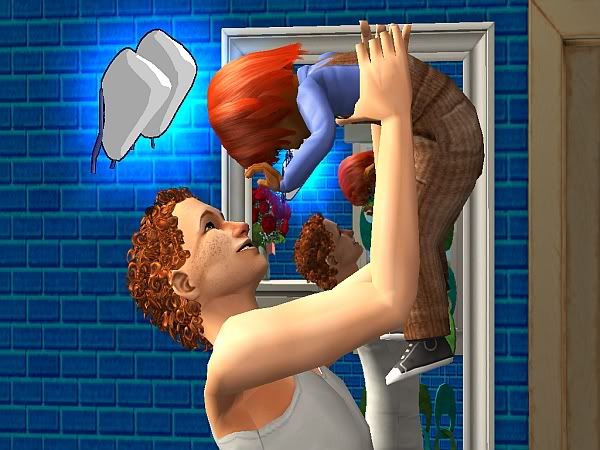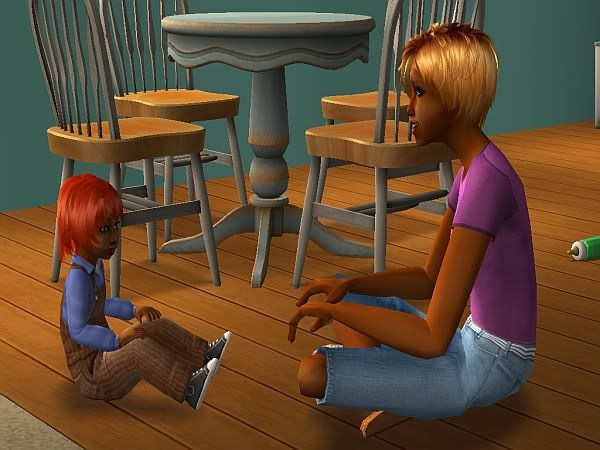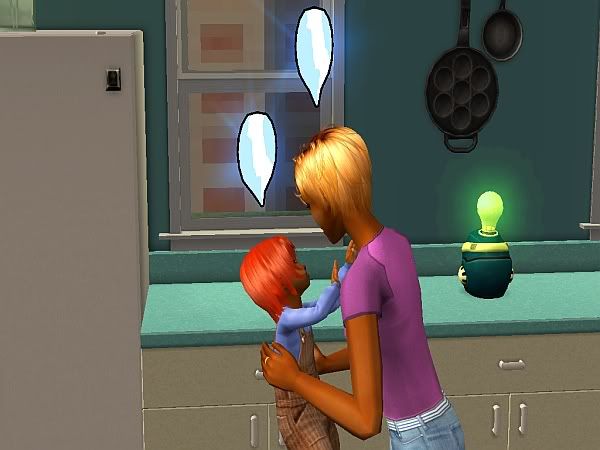 and Adam then all learned to walk and talk.
I am not sure, but I think this may be either the second or third time that I have taken this exact shot of Russell unclogging the toilet in his jammies and I think it's pretty hilarious.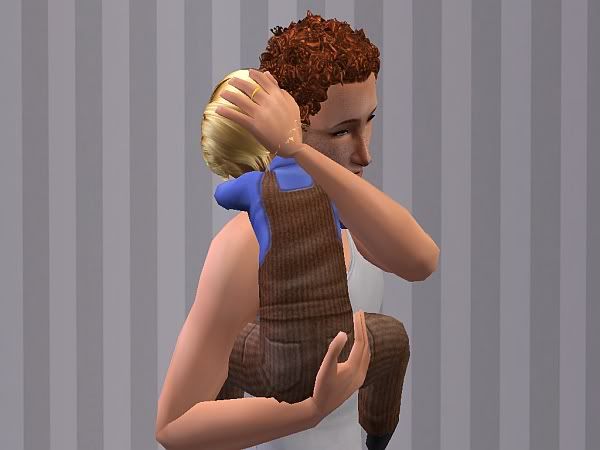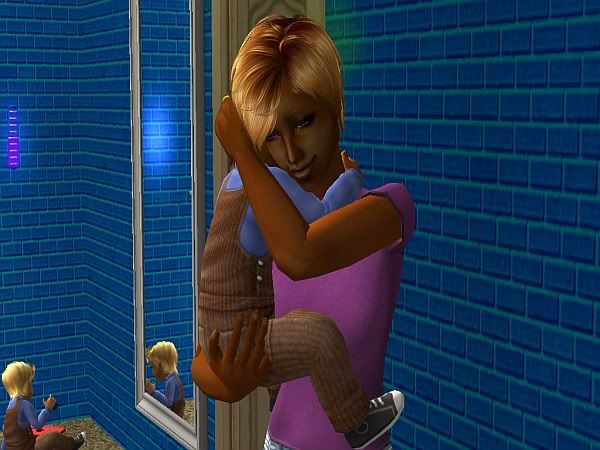 As you can see, although they can be a handful about 99% of the time, Russell and Jackie really do love their kids.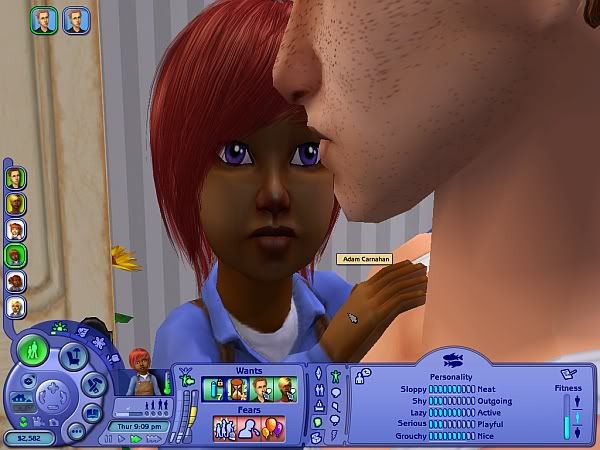 Adam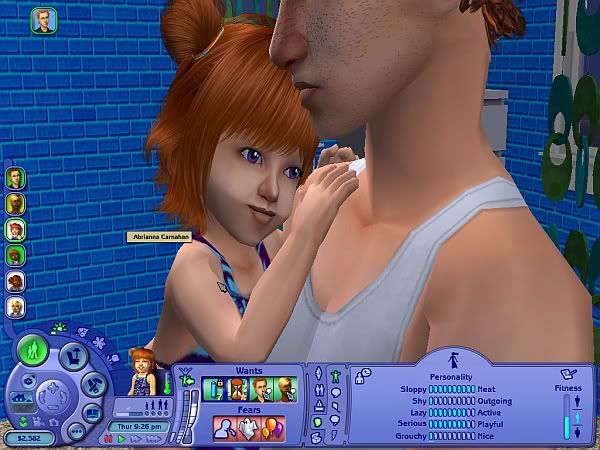 Abrianna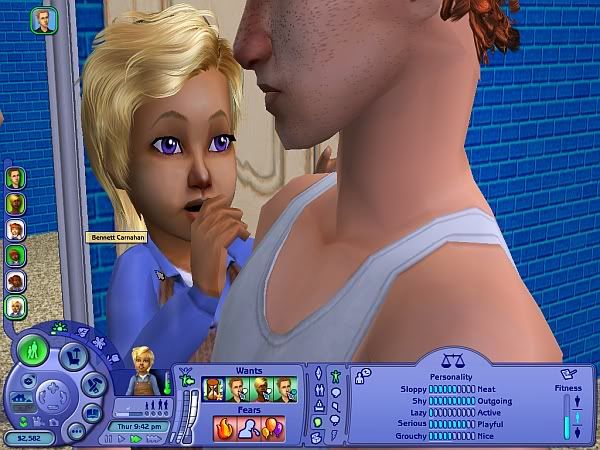 Bennett
These are their personalities in case you were wondering. I have no idea what happened to the picture of Becca's... I may have just not gotten around to it since there are so many of them!
I know you guys are probably going to want to punch me after this but I couldn't help myself! They are just too cute. So, here is tons of toddler picspam of Abrianna...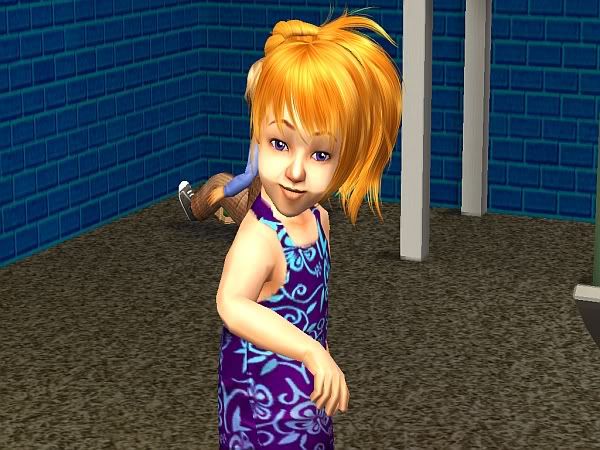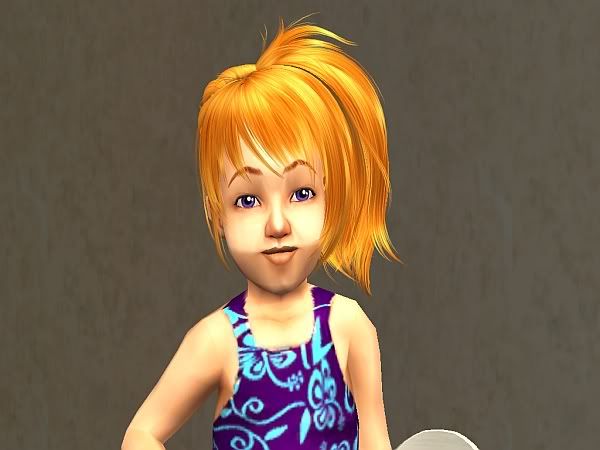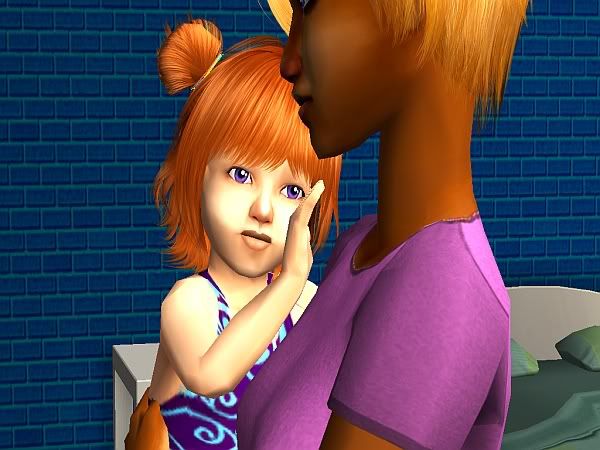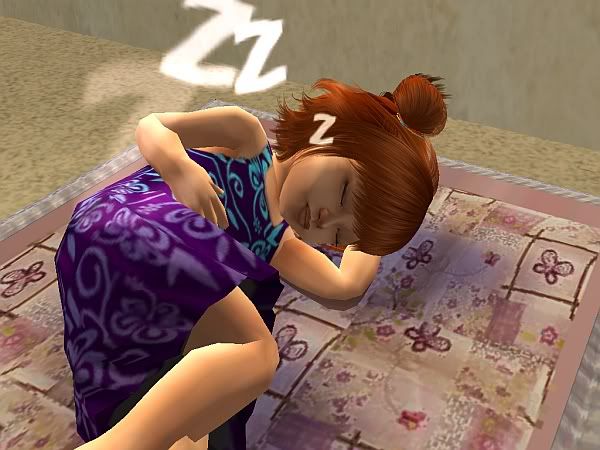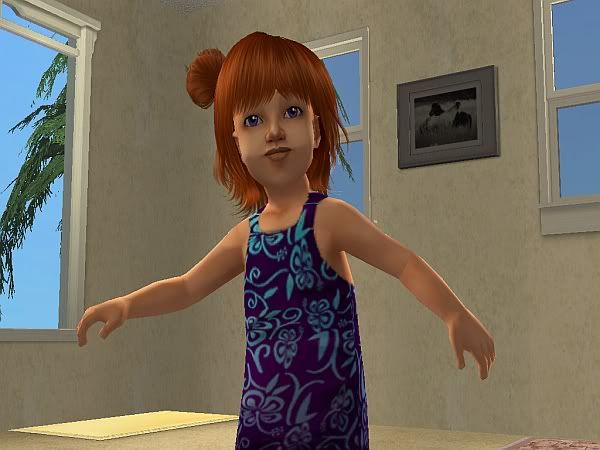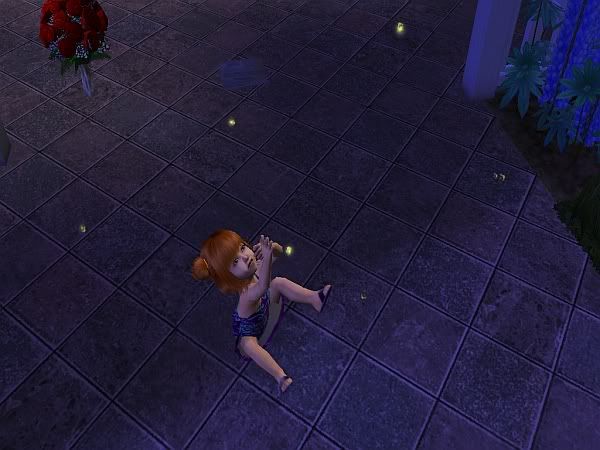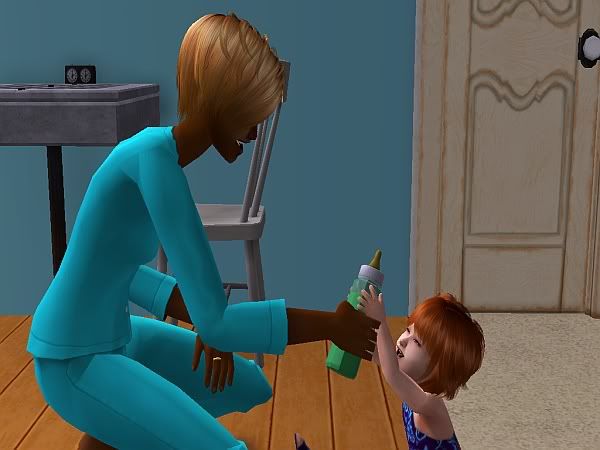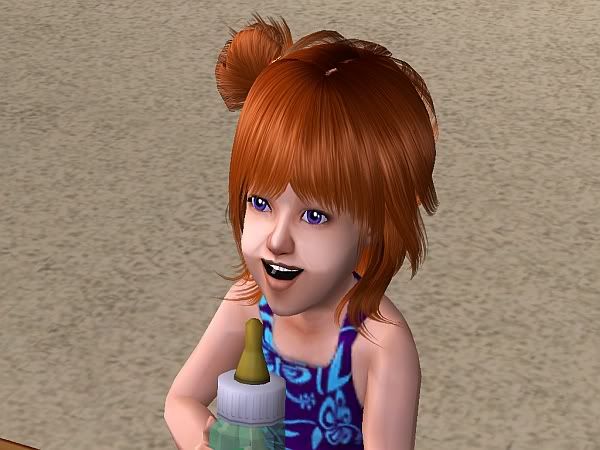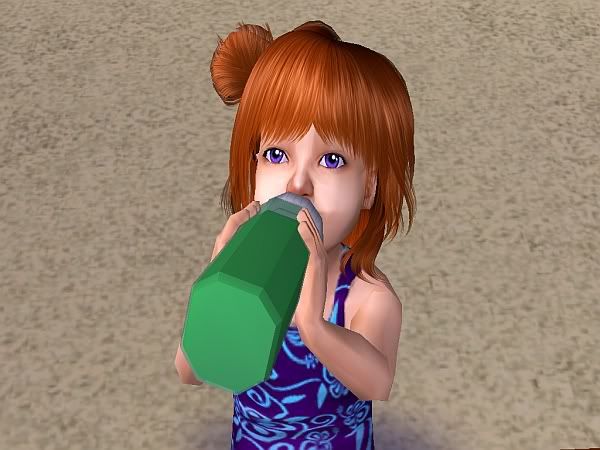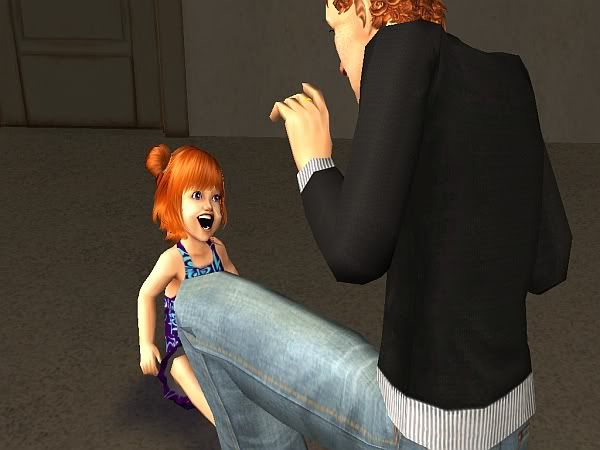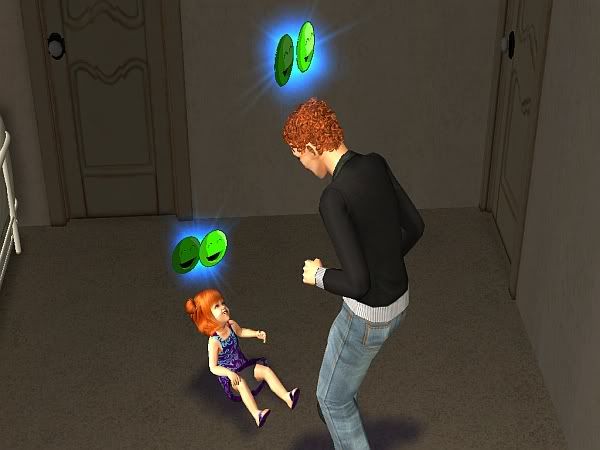 Becca...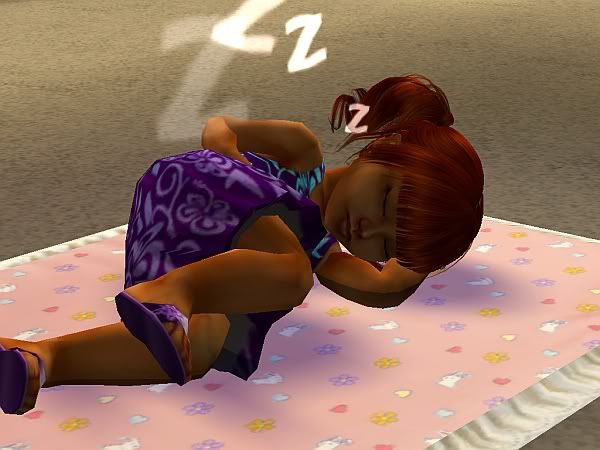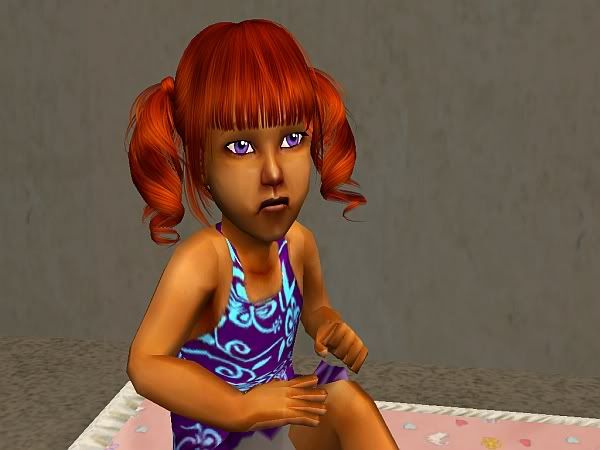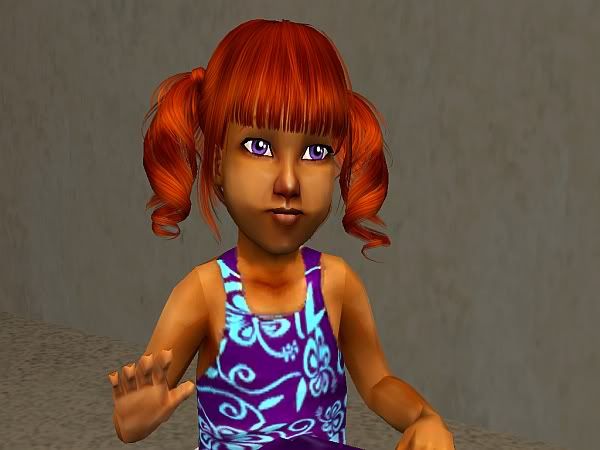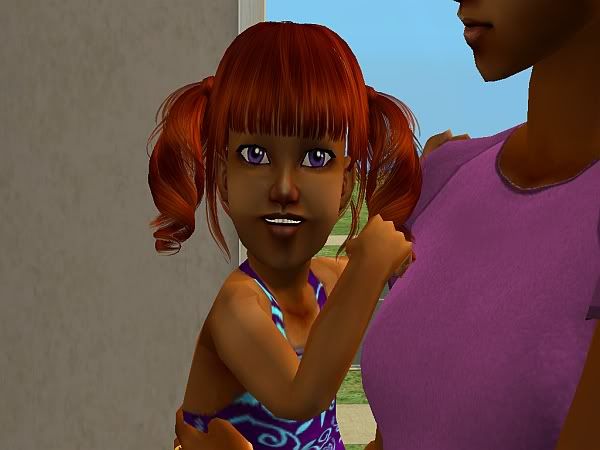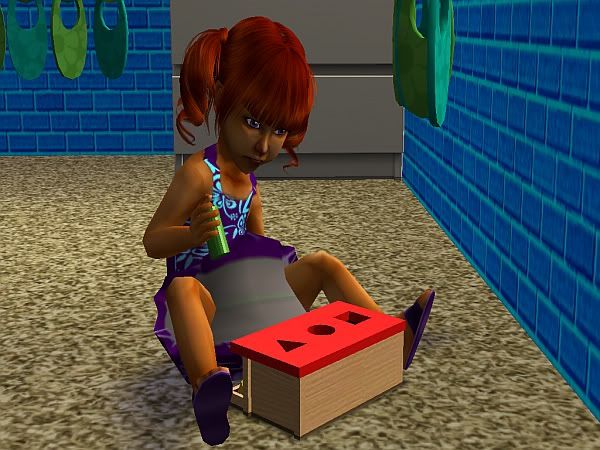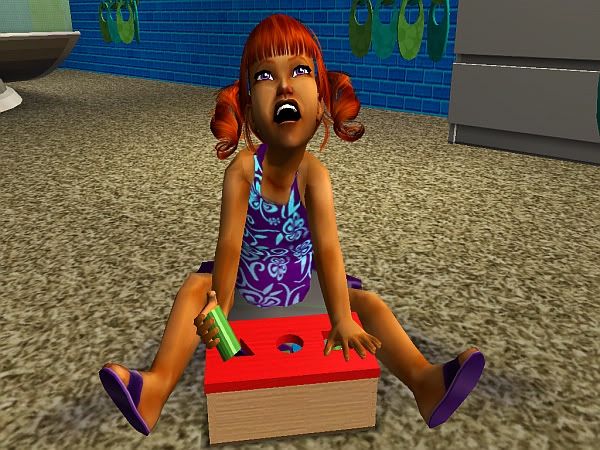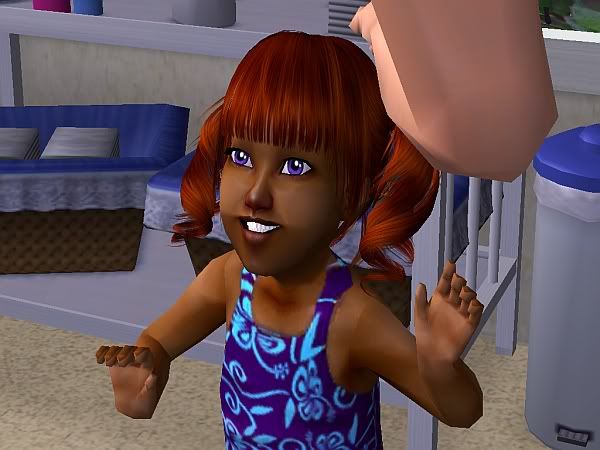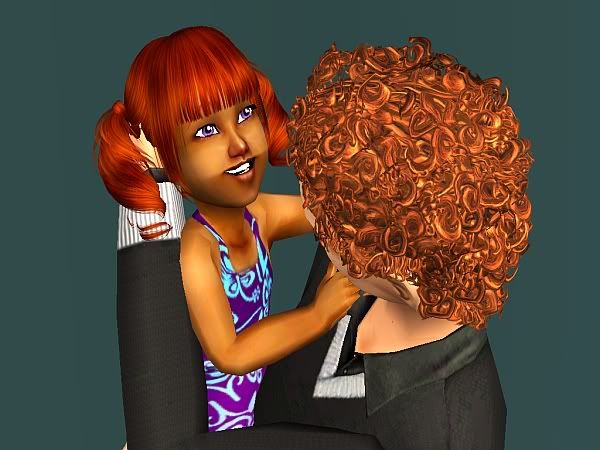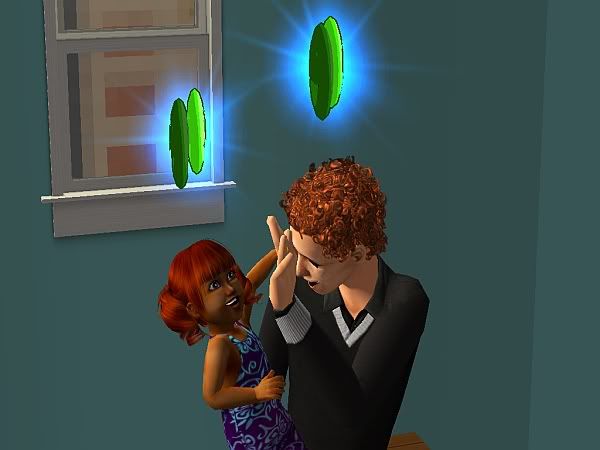 Adam...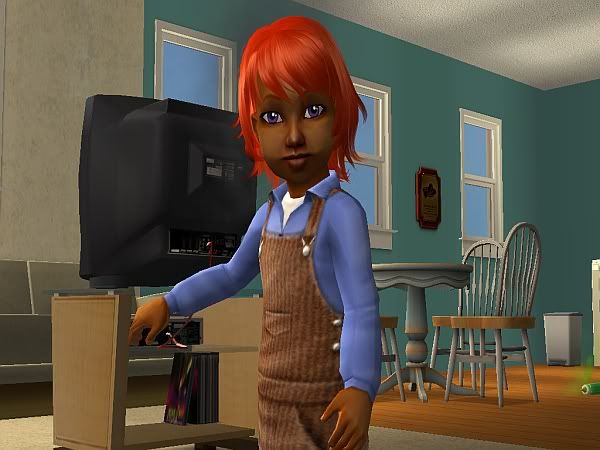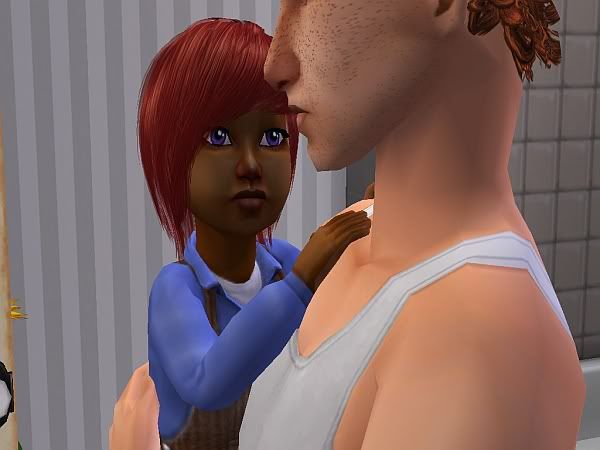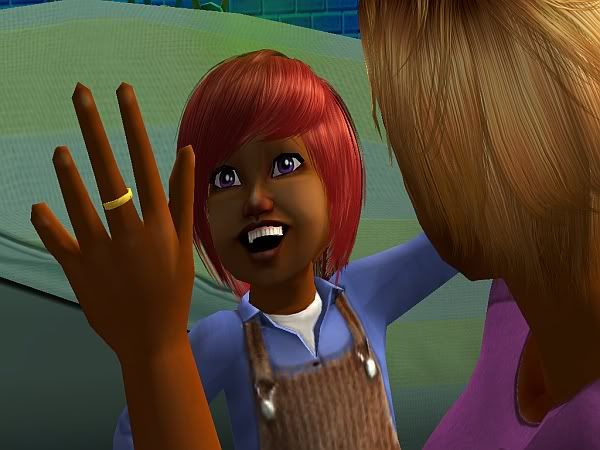 Bennett...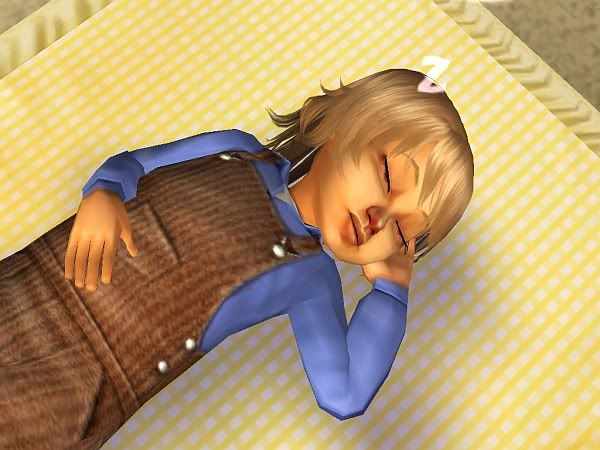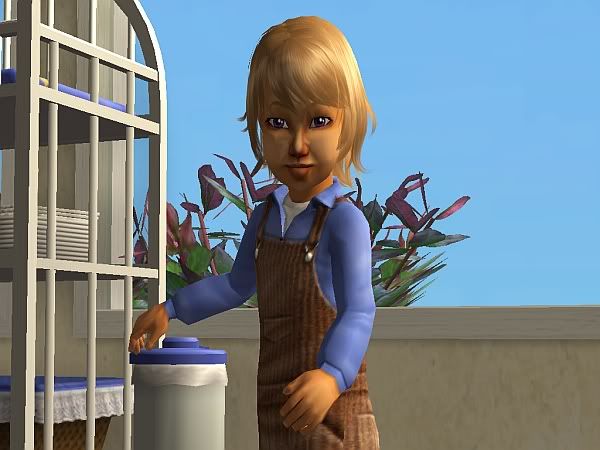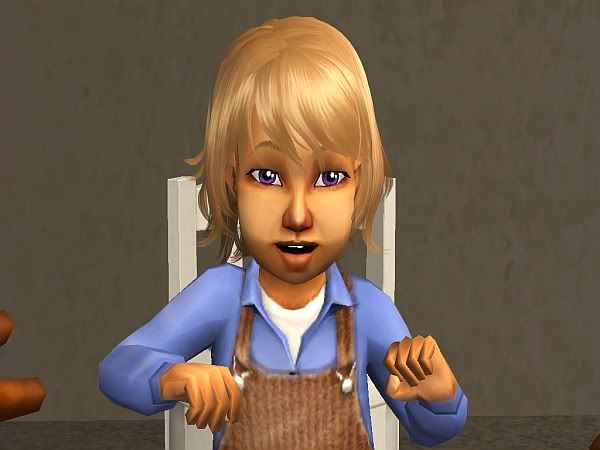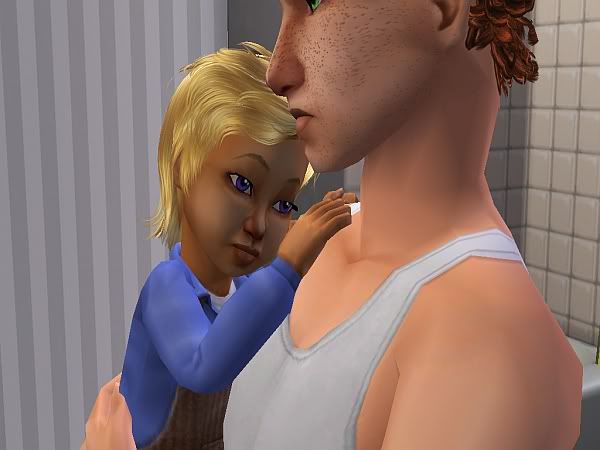 Becca and Bennett...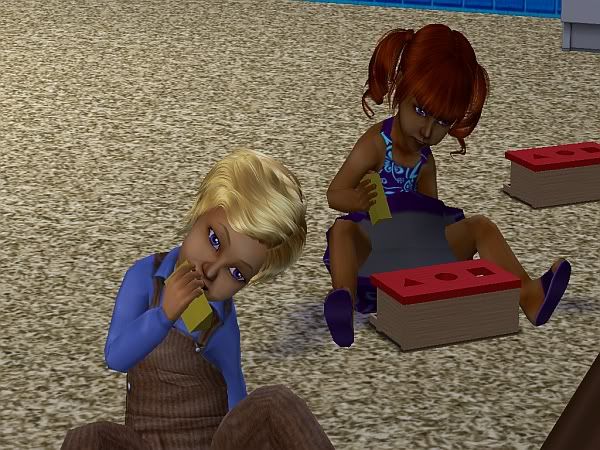 I know I said I was going to be disappointed if they didn't get Jackie's eyes, but I wasn't expecting them ALL to get her eyes. None of the kids ended up with Russell's beautiful green eyes. Oh well, we may see them pop up in a later generation.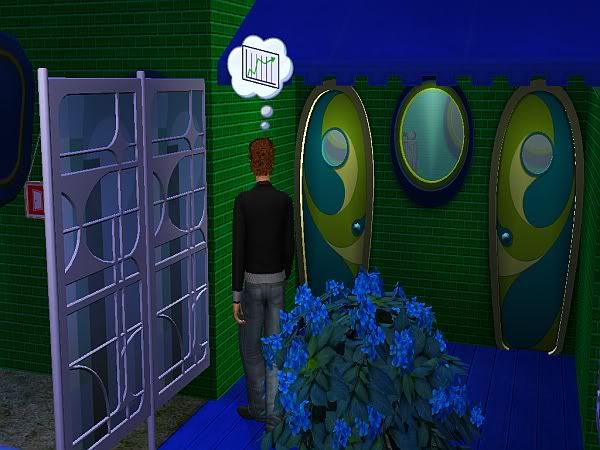 Russell headed back to the club, thinking of making more money to support his family.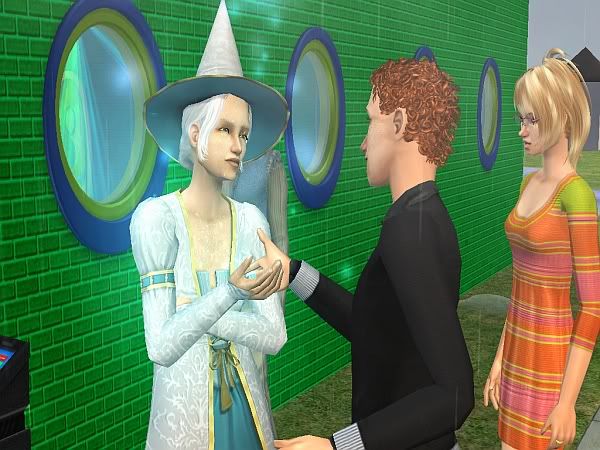 While there he met this good witch and then...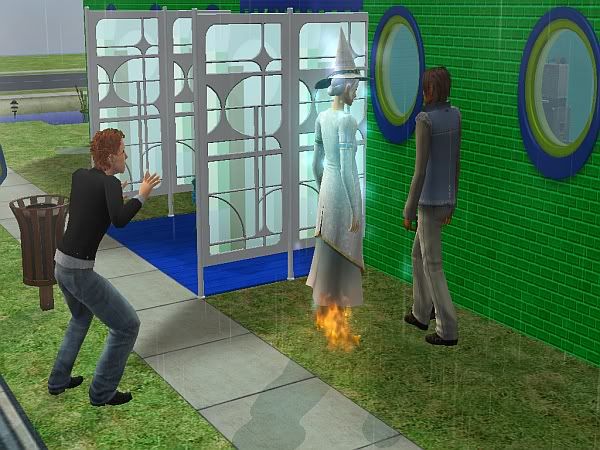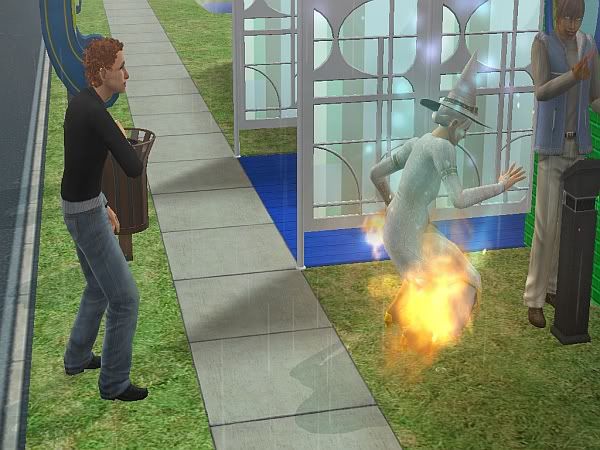 Next thing I knew she had caught on fire. I don't know if she was electrocuted because she doesn't look like she was...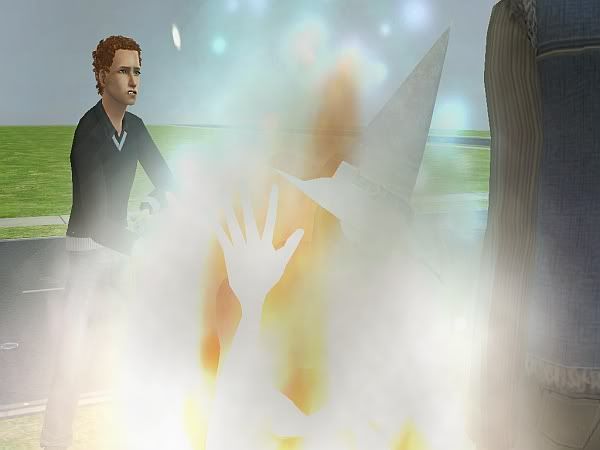 Luckily, Russell acted quickly and put her out.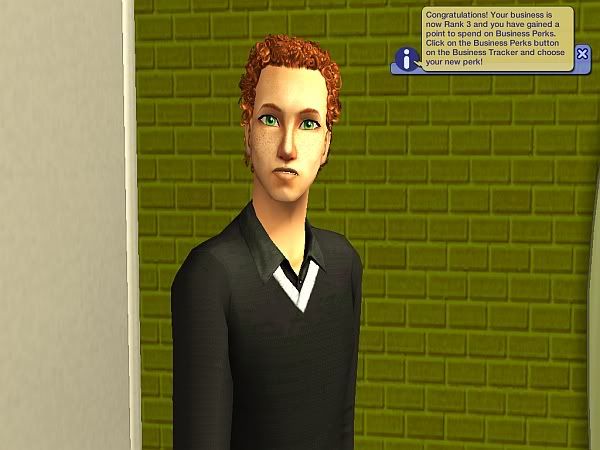 And then the business went up to rank three. It really surprised me that no one lost any stars when the witch caught on fire. Not even the witch herself had a negative reaction to it!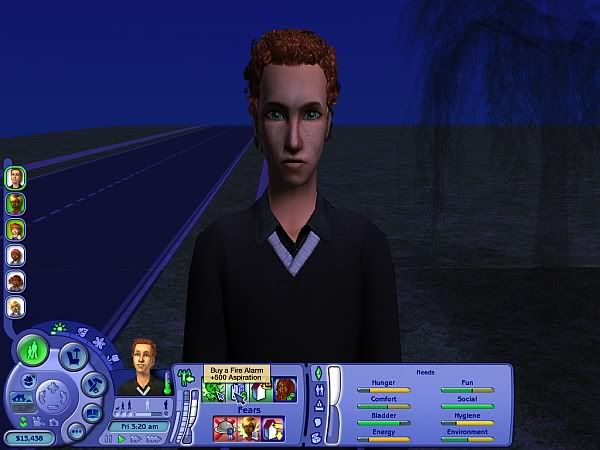 The first thing that Russell did when he got home was roll the want to get a fire alarm. I am assuming he doesn't want to have to put anyone else out. Unfortunately for him, I won't be able to do that until I have two more fires. (The one that involved the witch does not count as one of the fires.)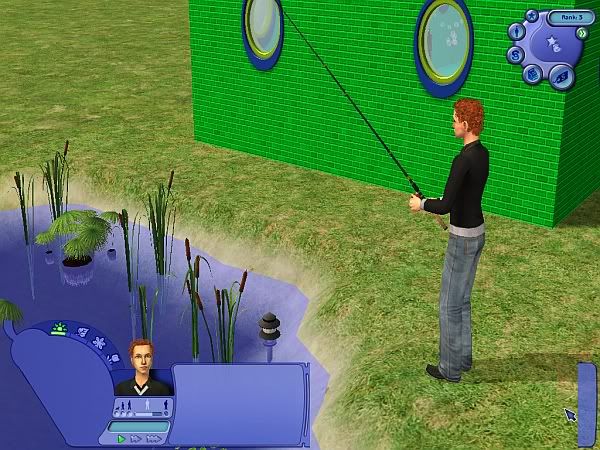 This picture was supposed to show you that Russell earned his bronze fishing badge, but apparently my computer hates me, so you will just have to pretend that you can see the badge.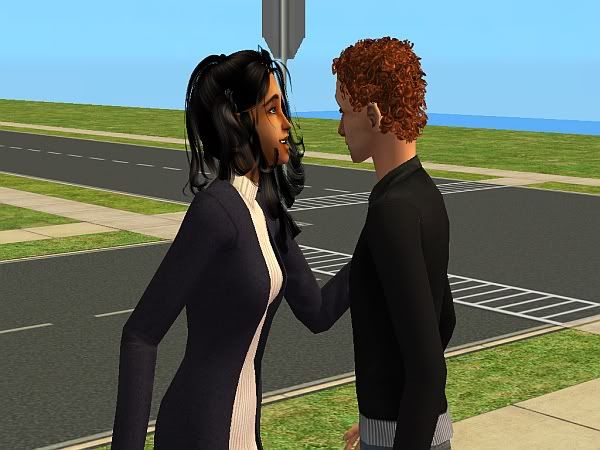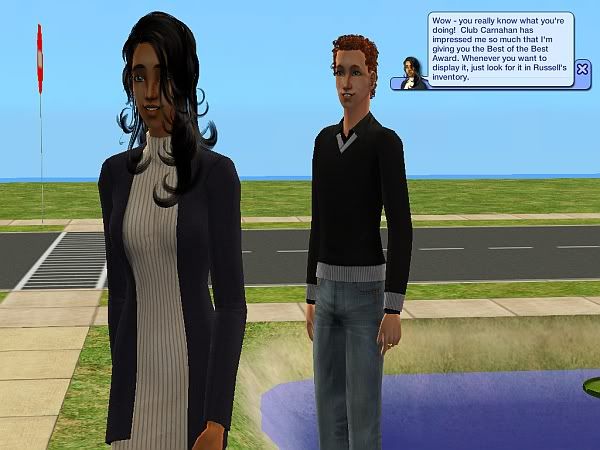 The reporter stopped by Club Carnahan and Russell earned a good review as well as the Best of the Best award.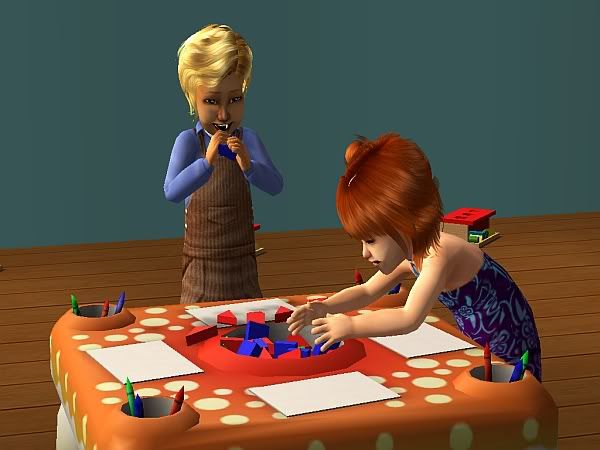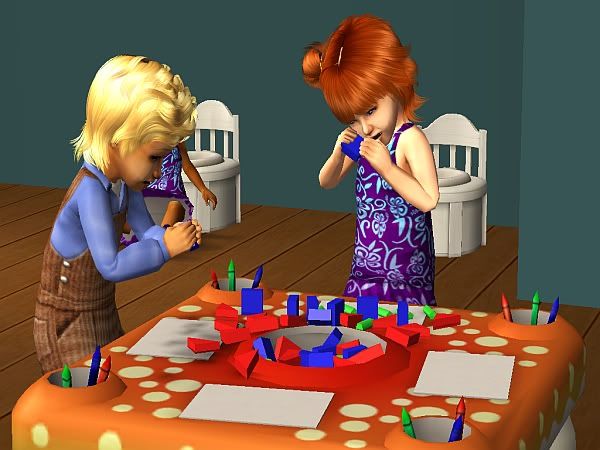 I spent the business perk points on money and with this money added a new room to the house for the quads which features the awesome toddler table that came with FreeTime.
All too soon it was time for the kids to grow up.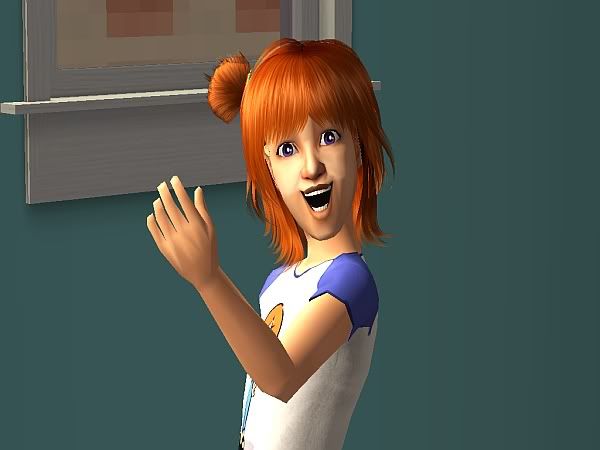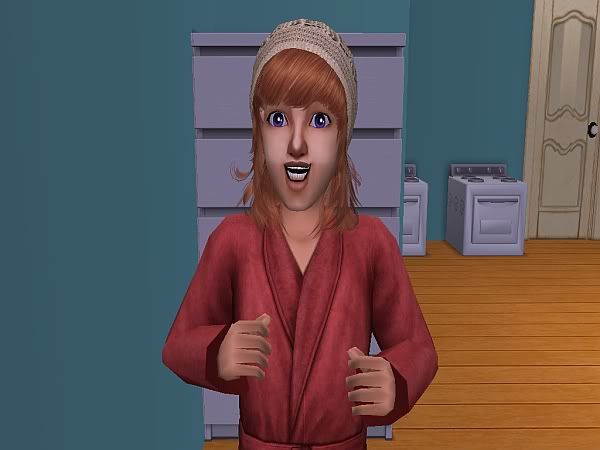 First up was Abrianna.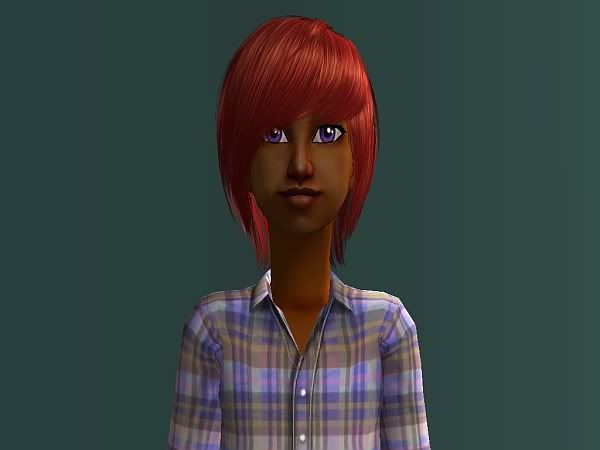 Then Adam.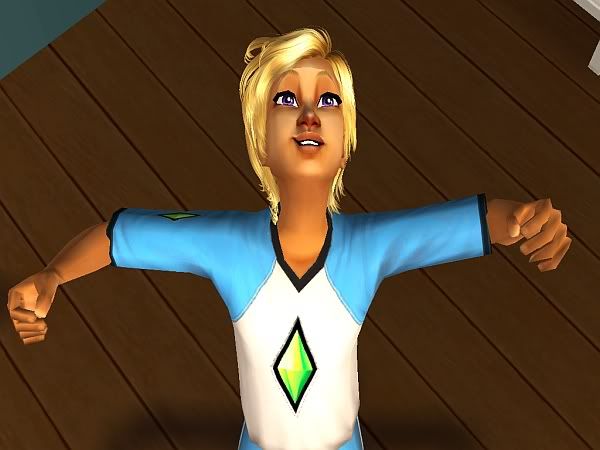 Next was Bennett.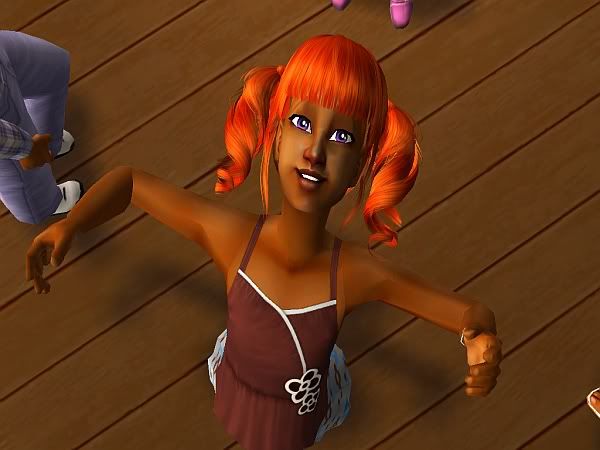 And last, but not least, Becca.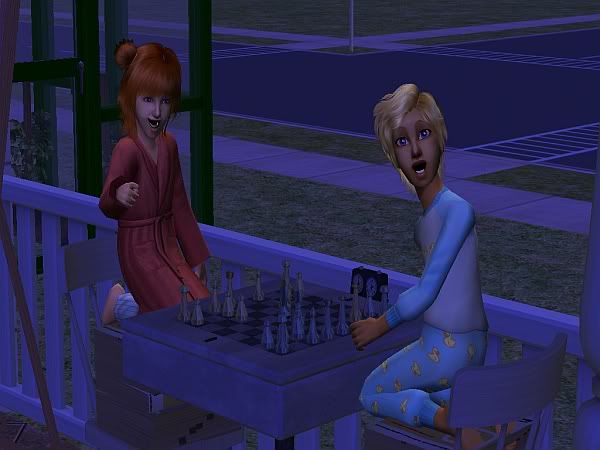 Since many of the kids spent their time skilling logic when they were tots, almost all of them had the want to max the logic skill so here is Abrianna and Bennett working on doing just that. Unfortunately for Bennett, Abrianna spent most of the time cheating and she seemed to get caught at least a few times.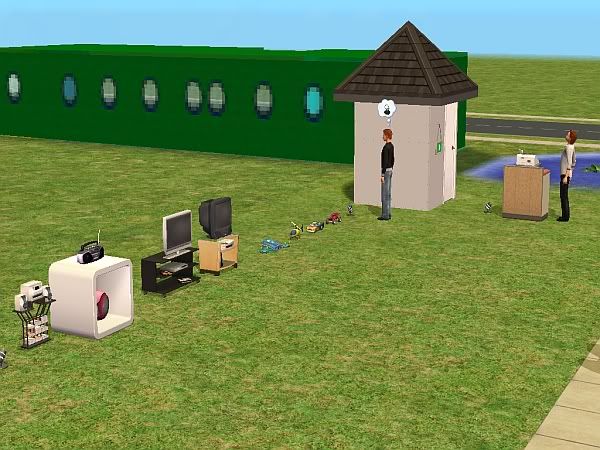 Russell rolled the want to buy another community lot, so he bought Electric Avenue, a store that sells all things electronic. From personal experience I know that electronic stores are a quick way to earn money in the sim world.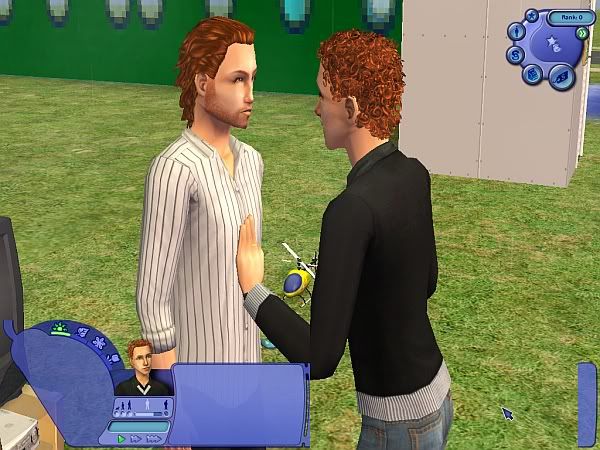 This was supposed to show that Russell earned his gold sales badge, but once again my computer hates me.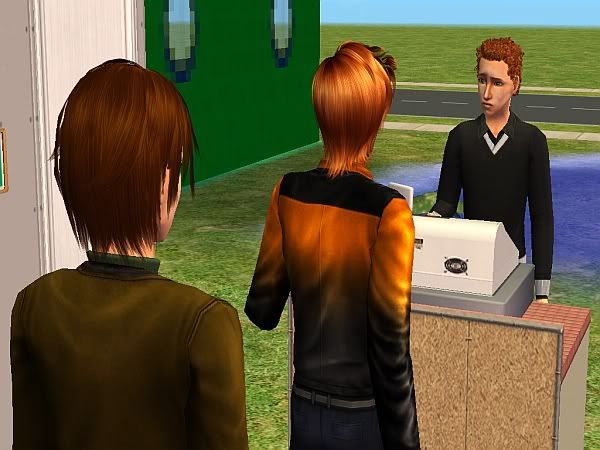 Poor Russell hadn't, at that point, had any experience with cash registers so he looks rather sad and pathetic trying to ring them all up.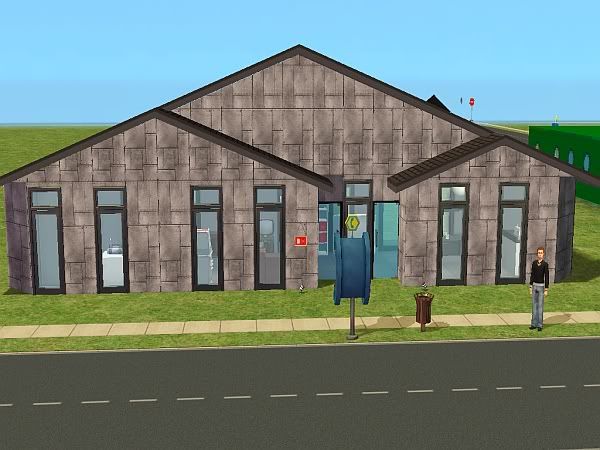 The business reached rank one and so it was given some walls, floors, a roof, and I put in some more expensive merchandise in order to earn even more money.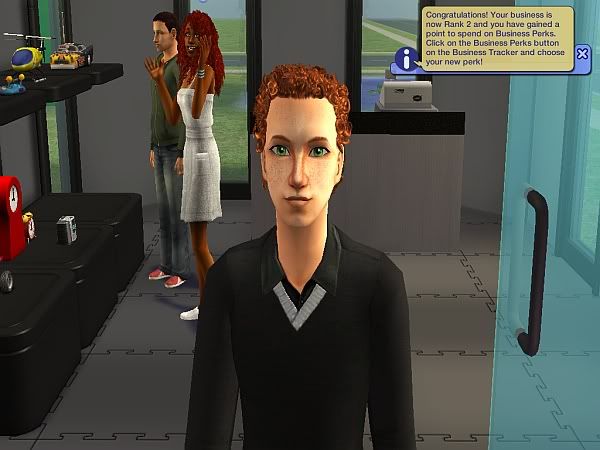 Soon the business reached rank two.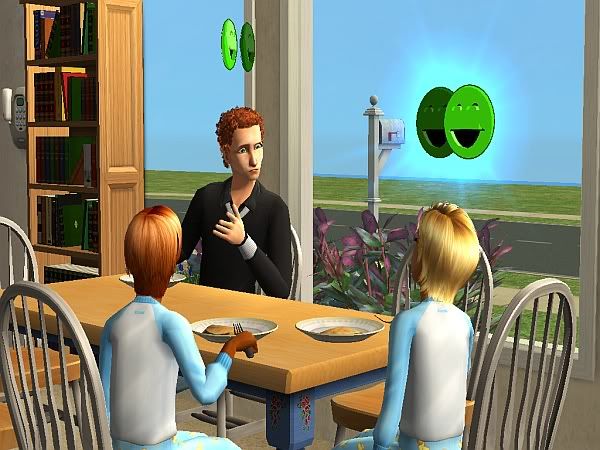 After a hard day's work Russell meandered on home to have some breakfast with his family.
And thus, the end of week three at the Carnahan household came about. Sorry for the rather large amount of pictures. =/ I hope you enjoyed reading it anyway.
Stats:
Rotation: 3
Households: 1 of 2
Playable Sims: 8
# of Total Residents (PS + Graves): 8
Community Lots: 3 (0 NPC)
Business Districts: 0
Universities: 0
Downtown: No
Sim Multiplier: 2
Population: 16
CAS Sims Available: 2/3
University Funds: $3,001
Number of Fires: 1
Number of Burglaries: 0
Number of Electrocutions: 0
Number of Graves: 0
Businesses:
Club Carnahan - Russell Carnahan - 3
Electric Avenue - Russell Carnahan - 2
Fresh Fish and Veggies - Rachel Lieman - 0
Careers:
Slacker - 0/1
Current Mood:
accomplished
Current Music: Picture - Sheryl Crow and Kid Rock