Welcome to the second installment of Diary of a Queen Bee, a story told by Winnifred Bee about her life as a simple girl who struggles to deal with the combination of her love for having children and her deathly fear of marriage.

In the first part of the story, Winne met Toby Bruenig and found him so utterly wonderful, that she had him move in on the first day that they had met. So far they've had two children: Timothy, who is a teen, and Thomas, who is still a baby. They've also had to deal with Winnie's fear of marriage, and for the time being, any plans for getting married have been postponed.

Now, onto Part Two.
-------
After being laid off from his teaching job, Toby got back his job as a dishwasher. Poor Toby though did not seem to be a very career oriented person though, because as soon as he was promoted, he was demoted again the next day. I knew that he was trying his best, but the family really needed the money as we were pretty much dirt poor, and Toby's failures were becoming increasingly frustrating.
-------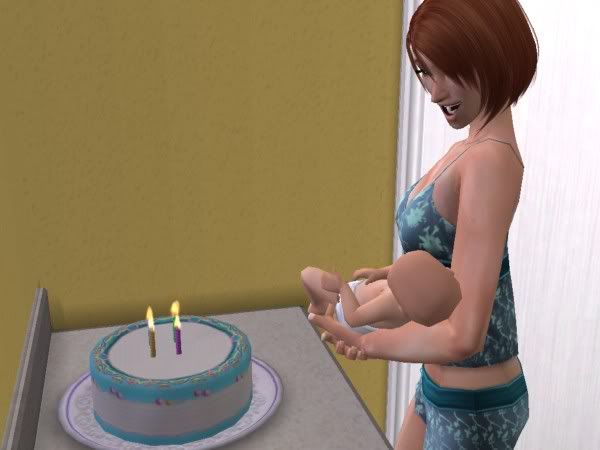 Though, even with the troubles we go through, there are wonderful moments in life that make it worth living once again, and one of these moments was Thomas' birthday. He was going to become a toddler, and I was very excited.
-------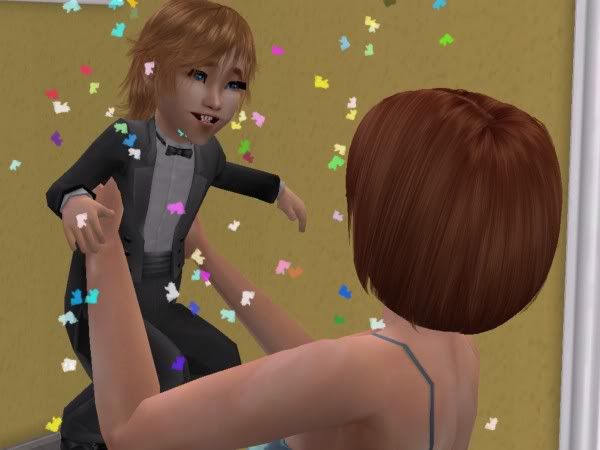 He grew up to be quite a cutie, and even though he had red hair and dark blue eyes like his older brother, they looked nothing alike.
-------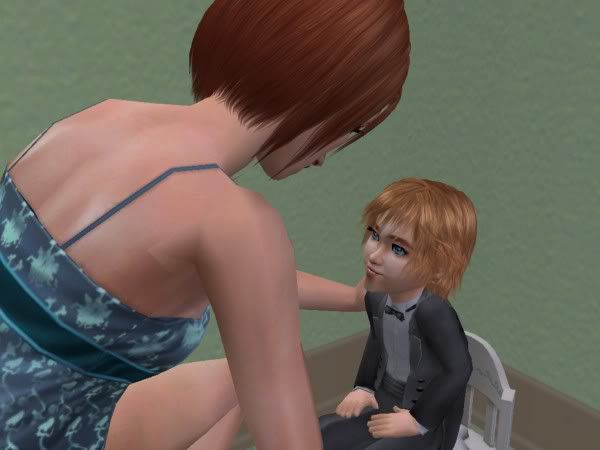 I started straight away with teaching Tommy his toddler skills, and he turned out to be almost as bright as his older brother. He caught on quite fast, and before we knew it, he had already been potty trained.
-------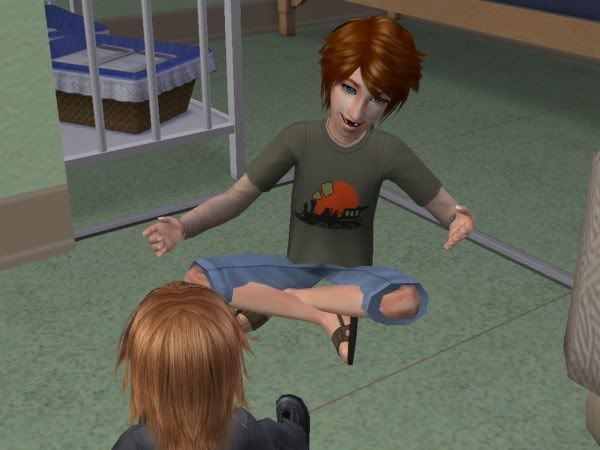 Timmy turned out to be a wonderful older brother as well. All on his own he decided to teach Tommy the same nursery rhyme that I had taught him when he was a toddler. They looked so cute sitting on the floor together, and I knew that it wouldn't take long before they would be best friends.
-------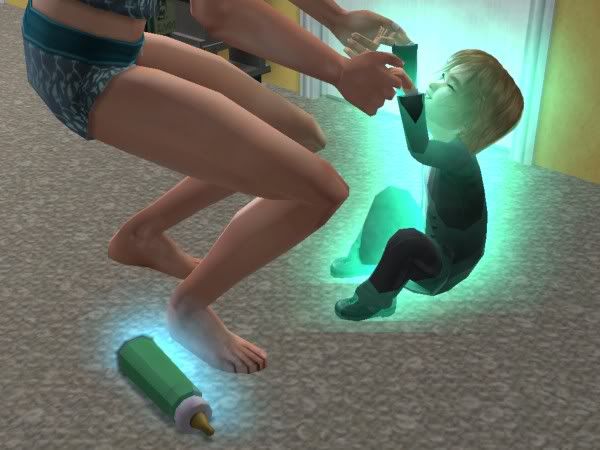 When Timmy wasn't teaching Tommy the nursery rhyme, and I wasn't busy with housework, I would work on Timmy's other skills such as learning to walk.
-------
Which he learned almost as quickly as he was potty trained.
-------
Soon after I had taught Tommy to walk, I realized that I was pregnant again. It was strange, this time I had had no morning sickness, and therefor hadn't really seen it coming. Once again I was very excited. I couldn't wait to give little Timmy and Tommy another brother or sister.
-------
The next morning I taught Tommy his very last skill, and he learned to talk. He was now ready to become a kid just like his older brother. He still had a few days left before he grew up though, but now that he had learned all his skills, he was better able to take care of himself, which I was glad for. Being pregnant was sure taking a toll on my body, and I was more tired than usual.
-------
Timmy wasn't the most social child ever. He was more content to either play with his brother, or play outside by himself. One day he even caught a jar of butterflies and gave them to me. That night when he was in bed, I secretly let them all out as I was afraid they would die being kept in the jar.
-------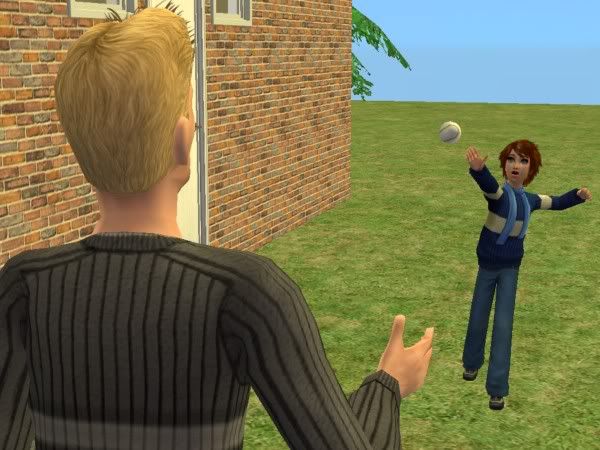 One day Toby brought a friend home from work. His name was Benjamin Long, and he seemed like a really nice guy. He even humored Timmy and played catch outside with him for a little while while he was waiting for me to finish making dinner.
-------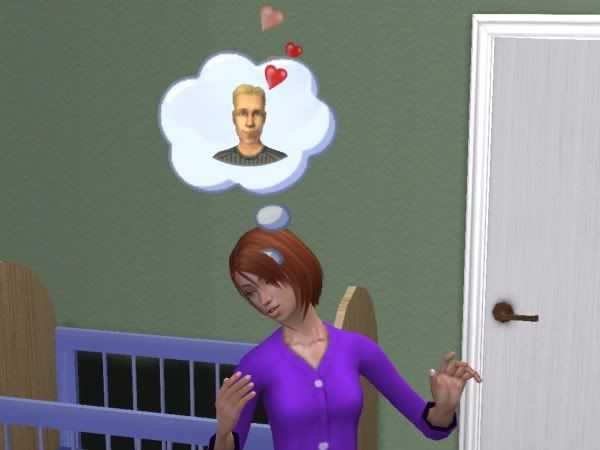 I also found him pretty attractive, but then, I had Toby, so I made sure not to act on any impulses I might have felt. Though I must say it was quite hard to ignore his lovely face as we sat across from each other eating dinner.
-------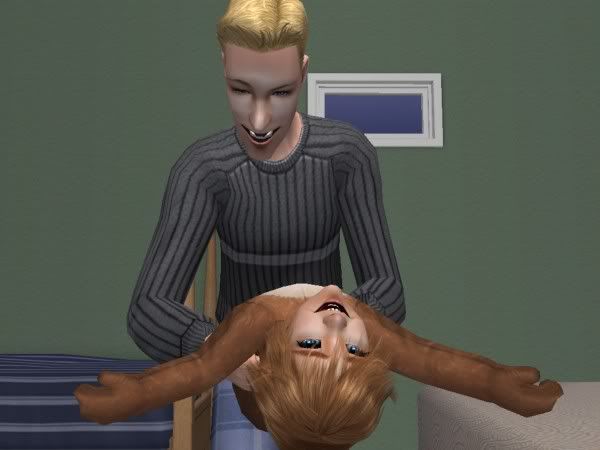 And he was so good with the kids. Tommy was thrilled to get attention from anyone and everyone, so when Ben picked him up and played around with him, he enjoyed it a lot.
-------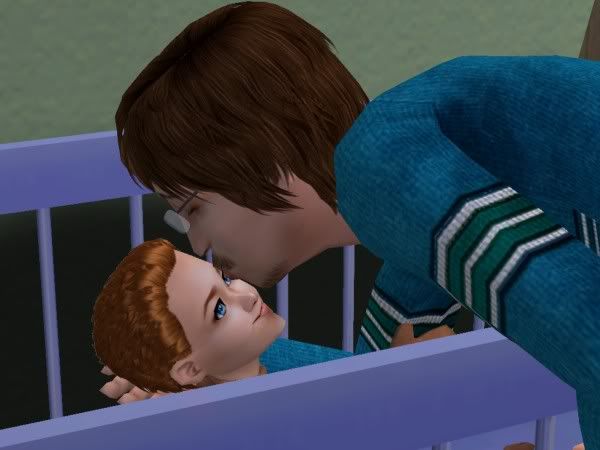 Still, there was no way that I could ask for a better dad then Toby.
-------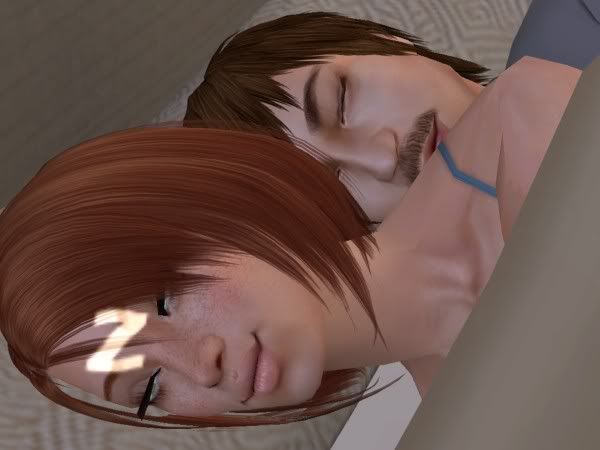 Or a better partner.
-------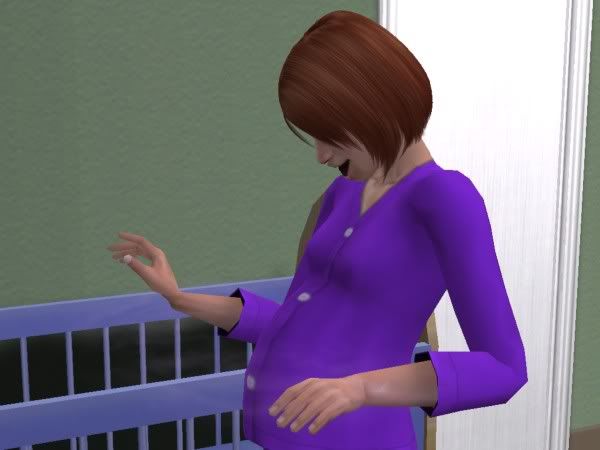 Soon my belly was getting pretty big, and I knew that I would have my child very soon. I was hoping for a little girl as the boys were quickly outnumbering the one girl in the house. I knew I would be just as happy with either, but I couldn't help wishing. I'd always wanted a little girl I could dress up.
-------
Timmy continued to be a role model for kids everywhere on the best big brother behavior ever. He was sweet and gentle with Tommy and even helped me take care of him a lot of times.
-------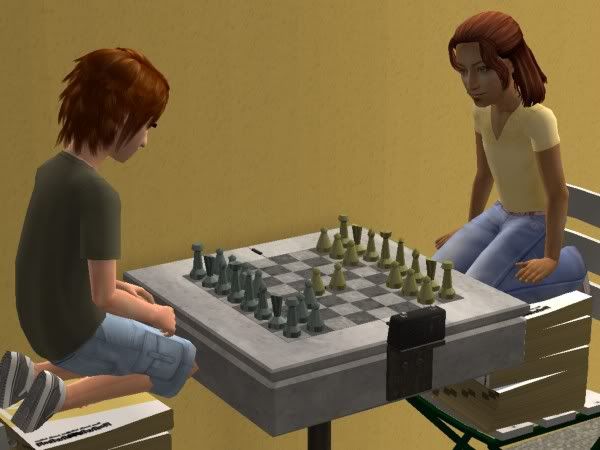 "No, that's not how you do that Stupid." I overheard Marsha saying to Timmy one day while they were playing chess together. Timmy had brought her home from school, and while at first I thought she was a very nice little girl, she turned out to be rather mean.
"I'm sorry..." Timmy said, and I could see tears forming in his eyes. He was quite a sensitive little boy, and I was going to make sure to encourage him not to bring her home anymore.
-------
He brought this girl home a different day.
"WHEEE! TIMMY! Come try this, it's SO FUN!" From the other room I saw Timmy look at her with disapproval on his face.
"Does your mom let you swing on the fridge door?" He asked, sounding very much like a grown up.
"No, but your mom's not my mom. Come on, just try it." Timmy didn't try it, in fact he asked the little girl to go home. I was very proud of him for being so mature.


-------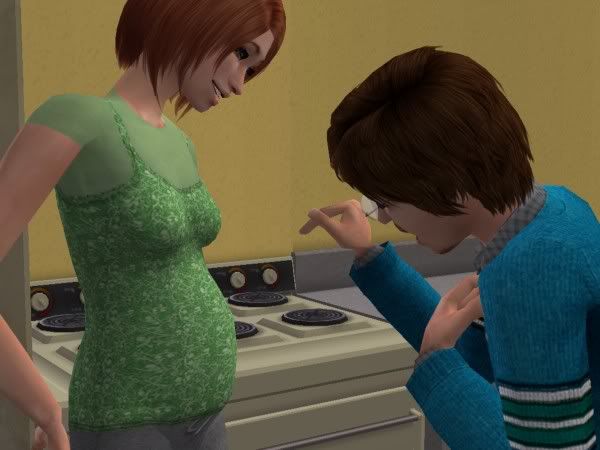 "Hi little baby, I'm going to be your daddy!" Toby caught me one day in the kitchen and began talking to my belly.
"I hope this little baby will be born soon." I said and sighed. This pregnancy seemed to be even longer than my other two, and I was ready for that baby to pop out.
"Don't worry dear, she will." He replied and smiled.
"How do you know it's a girl?" I questioned. But he didn't say anything, he just winked and walked away.
-------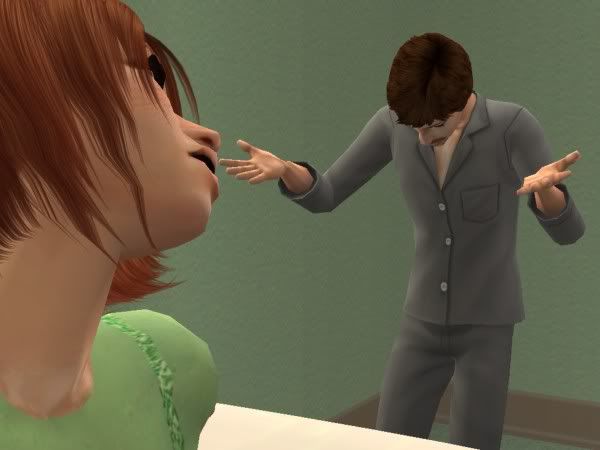 Lucky for me, that night I went into labor.
"What do you want me to do!" Toby asked, throwing his hands into the air, looking defeated.
"ARGH! I don't know!" I nearly screamed.
-------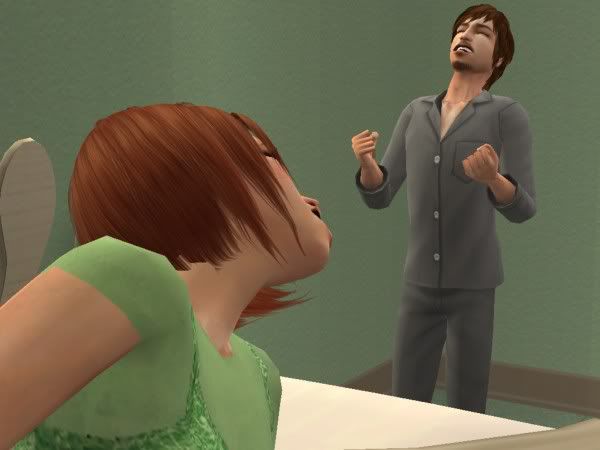 "Push Honey, push!" He shouted above my yelling.
"I AM! Gosh dangit!" I replied in a bitter tone.
-------
And finally, little Tabitha Bee was born, my first little baby girl.
-------
Then one day while idly looking at the paper, Toby found a teaching job! He could start working toward his dream again. He seemed just about as happy to get back into teaching as I was with having babies. I could understand how he felt, and I was very happy for him when he got the job.
-------
He ran over to me and gave me the sqeeziest hug ever.
"I'm so happy!" He said, smiling with the biggest cheesiest grin I'd ever seen.
-------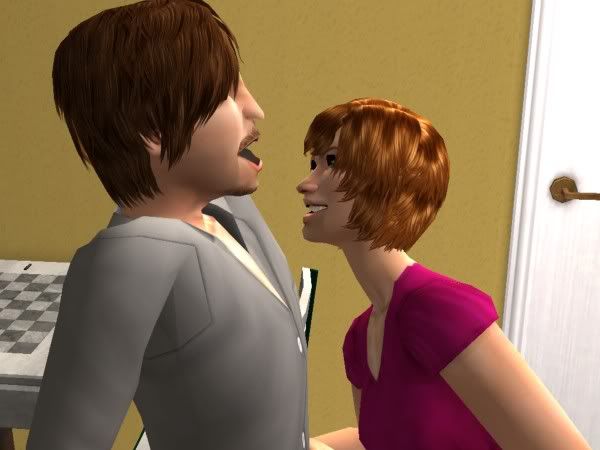 "How about we celebrate you getting your new job..." I said slyly as I goosed him.
He giggled and we quickly ran off to the bedroom.
-------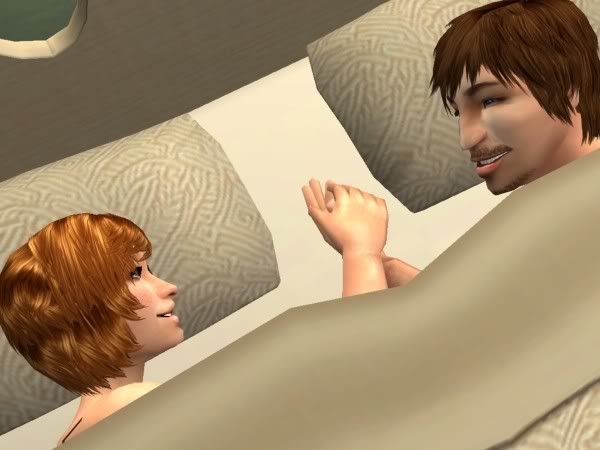 What would I do without a man like Toby to give me tons of babies and not be unhappy about it?
-------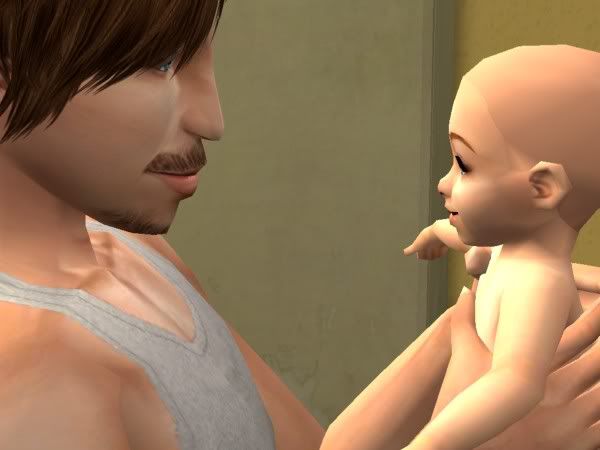 I overheard Toby talking to Tabitha one day in the kitchen after he had given her a bottle. "Hey little Tabby, you turned out pretty cute, didn't you? You'd better look more like your mum anyway, she's the prettier of the two of us."
Tabby just gurgled and smiled.
-------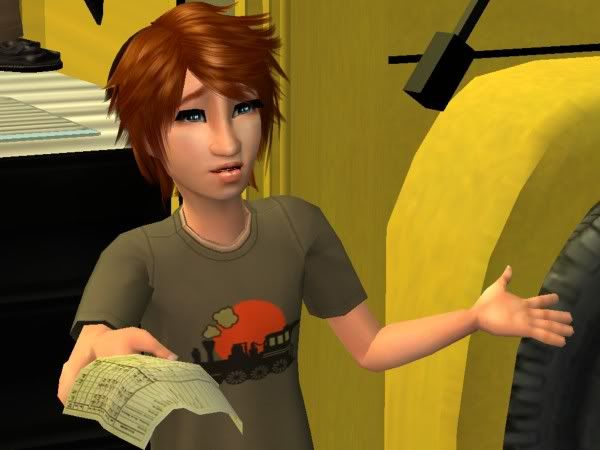 Now that Timmy was in school, we tried extra hard to make him study so that he could get the best grades that he could. He was a very bright boy, and we knew if we pushed him a little that he could be anything he wanted. We wanted the best for our kids, and just because we were dirt poor didn't mean we wanted our children to be too. We were hoping they would all become very successful.
The problem was though, that Timmy wasn't getting the kind of grades that we knew he could. We helped him with his homework every night to make sure that he did it, but when it came to school work, he was slacking.
-------
When Toby took him aside one day to talk to Timmy about his homework, he finally said, "Dad, my school work is just too easy for me, and I don't enjoy doing it, so I don't really pay attention."
Toby and I decided that we would have a talk with his teacher, and so after a call to the school, Timmy's teacher agreed to give him harder work. Toby started helping Timmy with his homework after that.
-------
Soon it was time for little Tommy to become a kid. One more child to send off to school. My, how quickly they seem to grow.
-------
Tommy was very excited to have grown up. Now he could play big kid games with his older brother.
"Come on Tommy," Timmy said after Tommy had grown, "let's go play."
-------
They were the two cutest little kids I had ever seen. And now that they were older, I could definitely tell the difference between the two. They definitely looked related because of their big blue eyes and dark lashes, but they were definitely different. They were quite a good mix of Toby's and my genes.
-------
The day after Tommy's birthday, I realized that I was pregnant again. It must have been from the "celebration" of Toby getting his new job. I was excited, but I was worried that Toby wouldn't be. I mean, we were still very poor, and we already had three children to take care of.
-------
When I told Toby, he didn't seem excited or disappointed... just indifferent. I took that as a good thing, and as days went by, I began to get bigger.
I started spending my extra time painting to earn some extra money. My paintings at first didn't really sell for much, but I was hoping when I got better that I could make enough money to actually help out a little.
-------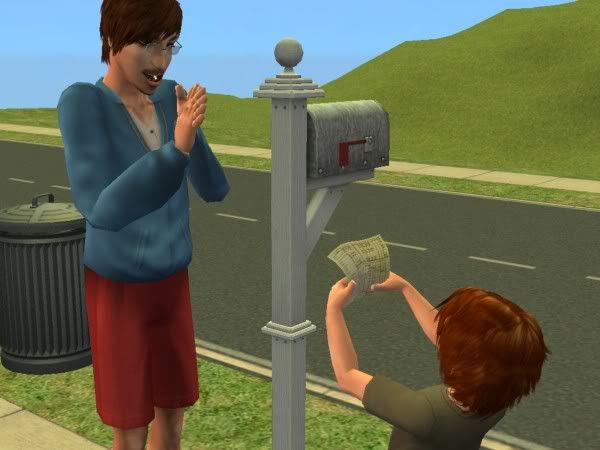 "Dad! Look! I got an A+!" Timmy was so excited that he jumped up and down.
Toby clapped excitedly for him and then gave him a huge bear hug. "I knew you could do it son."
-------
He was turning out to be a very bright little kid, and the star pupil of his class!
-------
Then it was time for Tabitha's birthday. I was excited for Tabby to become a toddler. I couldn't wait to dress her in a pretty dress and do her hair.
-------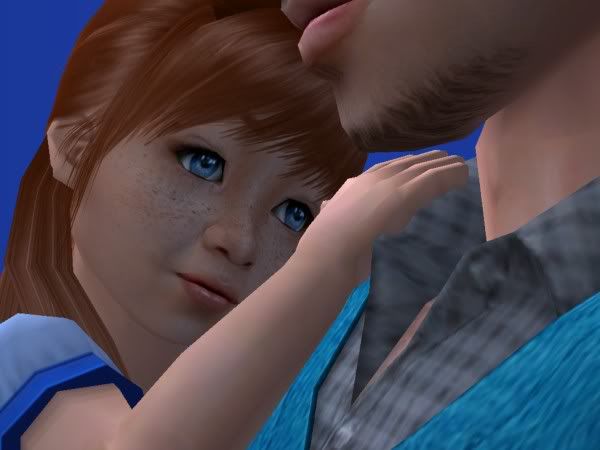 Tabby turned out absolutely adorable. I dressed her in a little light blue dress and brush her long red hair into a half ponytail. She was the cutest little girl I had ever seen. But then, I may be a little biased.
-------
Just like her brothers before her, I quickly started with Tabby's potty training. She didn't learn quite as quickly as either of her brothers, but I didn't mind.
-------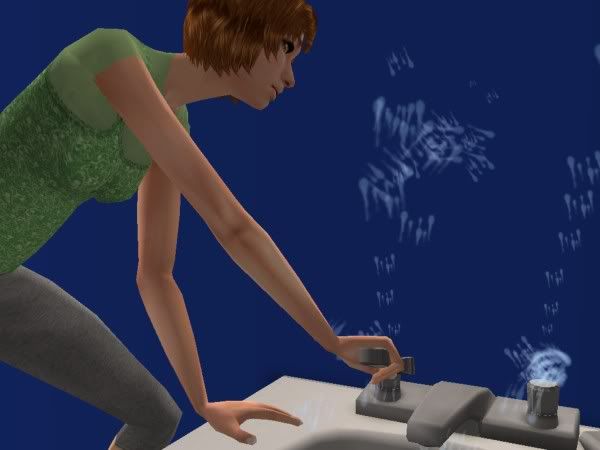 It turns out that learning how to fix things ended up being a good thing. Toby still had a knack for breaking things, and I had to constantly fix the tub or the sink in my free time.
-------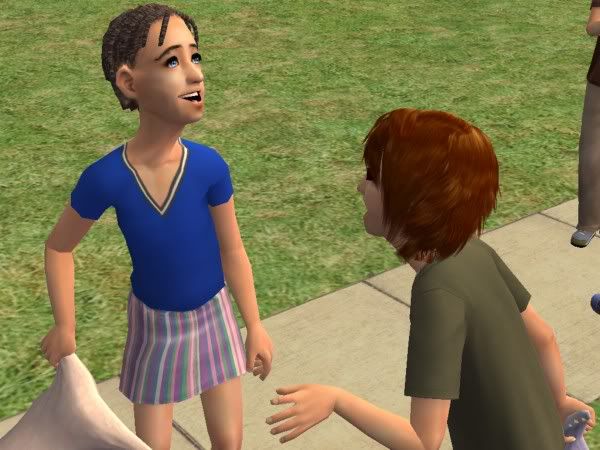 "Hey, want to have a pillow fight?" One of Timmy's friends asked. I looked warily at Timmy, about to tell him that I didn't want him ruining our pillows, but when I saw the way his eyes lit up, I decided it wouldn't hurt.
"Please Mom?" He begged.
"Alright," I said and sighed. "But only if you go outside."
-------
So him and his friend took some pillows outside and started an all out pillow fight battle.
-------
Soon Tommy and the little girl that he had brought home from school joined in as well and it became a pillow war. As I watched out the window I smiled as I remembered being a little kid myself and how fun it had been.
------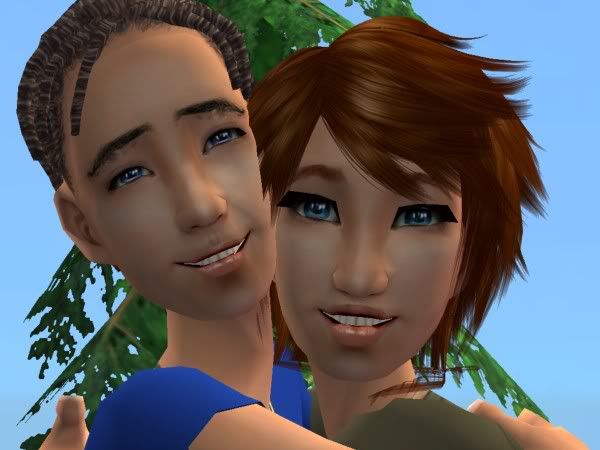 I was also very happy that my boys had no problem being friends with girls.
-------
It was actually pretty cute, though I didn't tell them that or I knew I would get the classic, "Mo-om, you're embarrassing me" lecture.
-------
Since Tommy was turning out to be just as bright as his brother, Toby helped him out with his homework as well, and set it up so that his classes were more challenging as well.
-------
And while Toby was teaching Tommy homework skills, I was teaching little Tabby how to talk.
"Say 'Mommy'." I said to Tabby as I worked on teaching her.
"Mommy!" Tabby said proudly, and it brought a little tear to my eye. Raising kids would never get old for me.
-------
Especially such bright kids!
"Mommy! I got an A+ too!" Tommy called out one day when he came home from school.
"I'm so proud of you Tommy! You're so smart." I smiled, I really meant it.
-------
Timmy and Tommy spent a lot of their free time together. And they soon became the best of friends, as well as partners in mischeif.
"Come on... you have to admit running over to Old Man Jenkin's house and playing Ding Dong Ditch was quite a laugh!" Timmy bent over double laughing.
"But... his wooden leg fell off when he ran to catch us!" Timmy shrugged, feeling a little bad.
"But that was the funniest part!" I was going to need to have a talk with my boys.
-------
But not at that moment, because I went into labor.
-------
"Honey, remember to breathe, ok?" Toby said as he imitated how I should breathe.
"I am breathing!" I shouted.
-------
And then little Talia was born. Looking very much like her older brothers and sister.
-------
Speaking of older brother, soon it was time for Timmy to become a teen. I was excited but sad at the same time. I wasn't ready for my baby to grow up just yet, but I didn't really have a choice in the matter.
"I wish for... knowledge. Lots and lots of knowledge." He said quietly, and then blew out his candles.
-------
He turned into quite a handsome teen, looking more and more like his father everyday. I was proud of him for picking such a great goal in life, to learn all that he could. He was definitely a smart little boy... or I guess young man.
-------
Soon after Timmy's birthday, nearly everyone in the family got the flu. Toby got it worse than anyone else, and when I was taking a nap one day, I could hear his loud hacking cough echoing in the bathroom. I was a little worried, but I was sure that he was going to be okay. He had to be. I needed him.
-------
Toby and I decided that in order to get better we needed to take some time to rest. So one afternoon we just sat on the bed and talked about everything that had been going on lately. He told me all about his teaching job, and I told him about Tabitha learning how to talk.
-------
But of course, being a family minded person, I couldn't just sit on a bed with Toby and rest... *cough*
-------
I really did love Toby, even if it didn't seem like it. Yes, I may have been scared of marriage, but that didn't mean that I didn't love him.
And... I was secretly hoping that this "rest" would result in another baby.
-------
Of course, it really hadn't help my flu at all.
-------
The next morning I threw up, and I couldn't tell if it was because I was sick or because I was pregnant again... but I was really hoping it was the latter.
But... if I was, what would Toby think this time? I was worried.
Current Mood:
aggravated
Current Music: The Murder Ship - Inner Sanctum