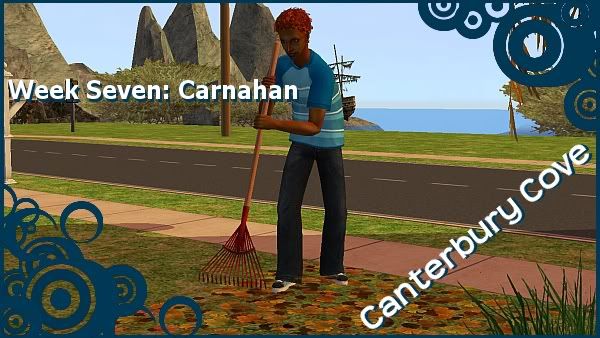 I played all day today. It was really fun. :) Only bad thing is, now I have to do all my homework tomorrow. Oh well, I don't have that much. Anyway, I hope you enjoy this update. I had a LOT of fun playing it and perhaps you will see why.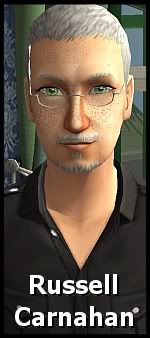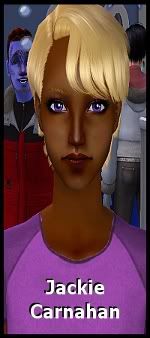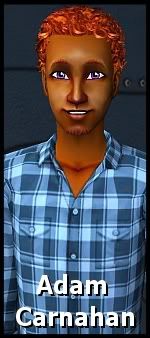 Life at my house drastically changed. I'm an adult now and both of my parents are getting on in years. When you are a kid, you can't wait to grow up, but once you do you realize that the responsibilities that you have replace the fun you had as a kid. Luckily I have my mom and dad to help me out. I think I'm excited for the next part of my life.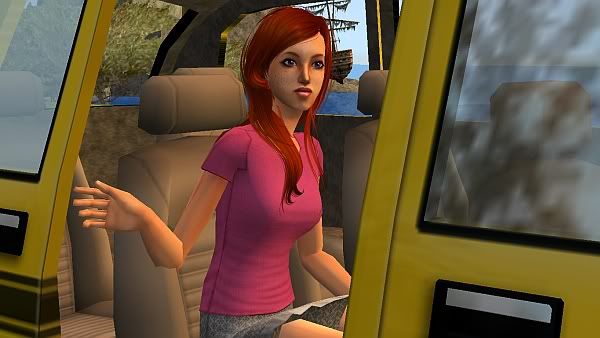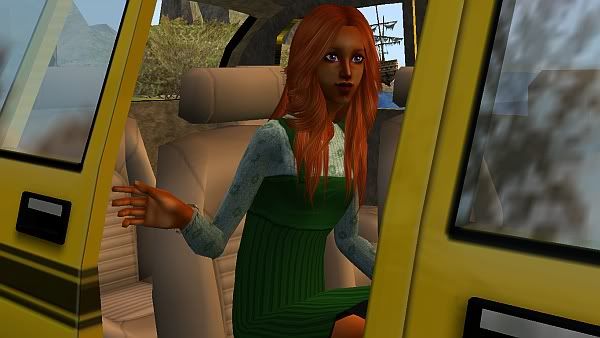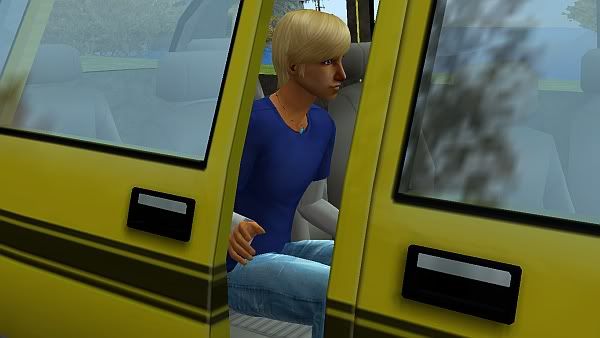 At the beginning of the week I said goodbye to Abrianna, Becca, and Bennett. It's going to be weird not having them live in the same house anymore, but I can understand that they want to go off and start their own lives.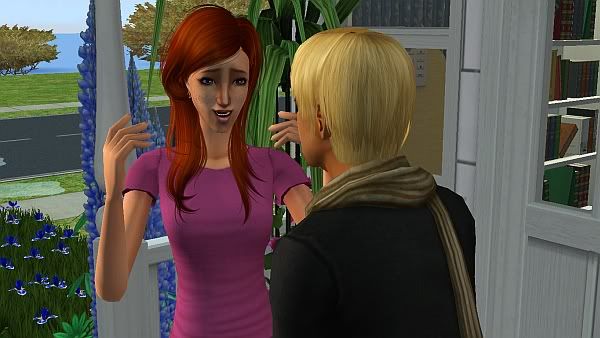 Plus, they only live just around the corner so I see them quite often.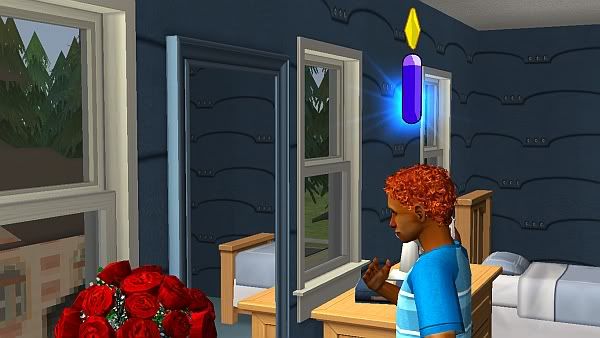 Even though I was unable to go to college, I feel like I've learned so much with all of the studying that I have done after school. I feel like there's not much else that I could really learn.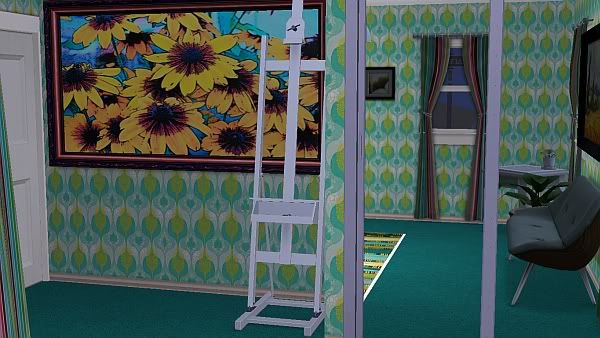 A few days after my siblings moved out my mom helped me to redecorate the girl's old room to be my new room. I really like all of the greens and blues, although perhaps the flowers are a little much. My dad and I just let my mom do what she wants when she decorates and I think she does a nice job.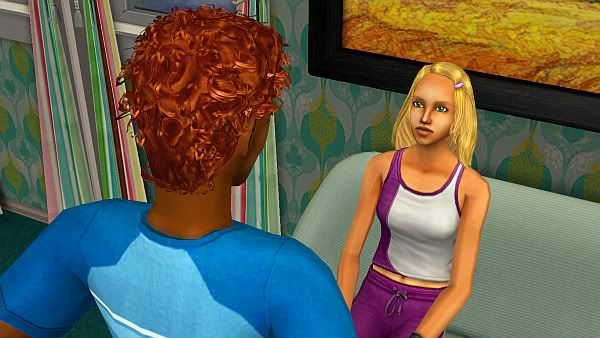 After my mom was done with my room I went up to look at it and I found the most beautiful woman that I had ever seen sitting on my new couch.
"Hi," I said, the confusion at seeing her there probably evident on my face. "My name is Adam... who are you?"
She smiled and replied, "I'm Tansy Hanson, I was walking by and I started talking to your mom, Jackie, and she was telling me about how she had just redecorated and she invited me in to see. I'm sorry if I am intruding."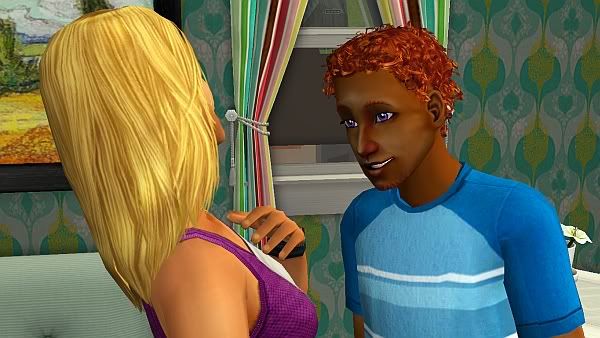 She got up to leave but I stopped her.
"Perhaps you would like to go on a date with me sometime?" I asked her hopefully.
She smiled, " Sure, that would be really nice."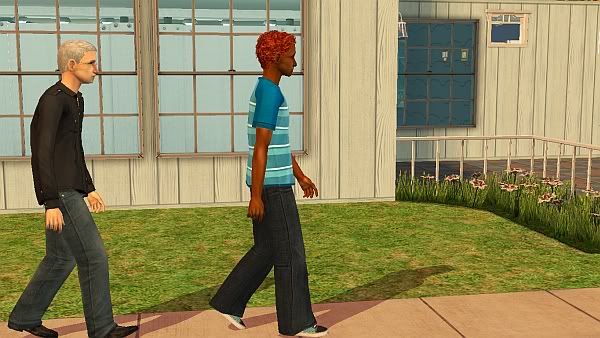 We set a date for the next day and then I went to my dad's business, Odds and Ends, with him in order to learn more about being a business owner.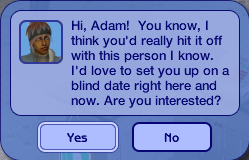 I decided that my parents were definitely trying to set me up with girls when a friend of my dad's offered to set me up on a blind date right there at the store. I was reluctant to say yes since I already had a date with Tansy, but I figured that it couldn't hurt anything.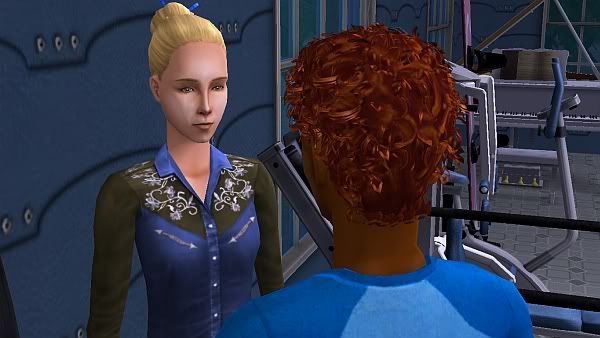 The woman's name was Corinne, and despite her questionable fashion sense, she was rather pretty. I especially liked her golden eyes. However, I just didn't feel the same instant connection that I had with Tansy.

We hung out for awhile and then I used the excuse that I had to get to work and told her that maybe we could hang out again sometime. She agreed, but didn't seem very interested herself which was good and fine with me.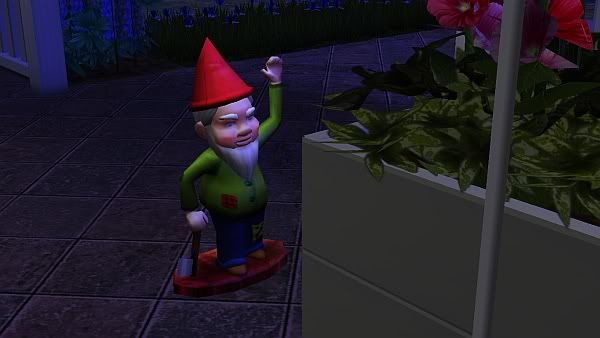 When I got home later I found that she had left me a gift on our porch. It was a cute little gnome. I hoped that it was just a friendly gift since I wasn't very interested in her.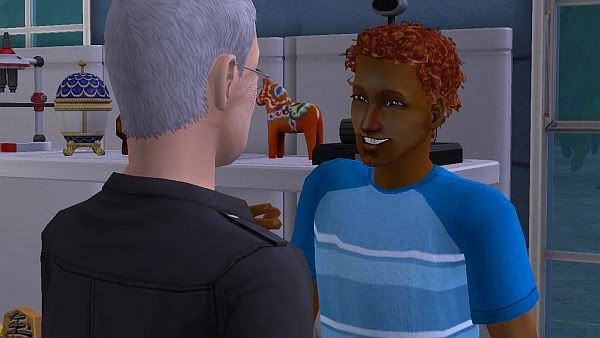 My dad passed on all of his knowledge to me about where to get the best wholesale deals, how best to approach and talk to the customers, and how to handle employees. It was a lot to take in but I was sure that with some practice, I could eventually get it down.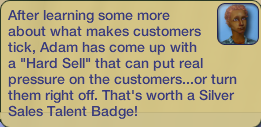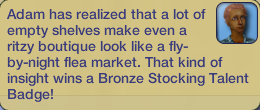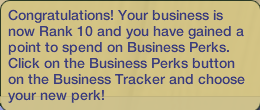 I feel like I really have learned a lot so far and I'm sure that in no time, I can take over running the businesses myself so that my dad can retire.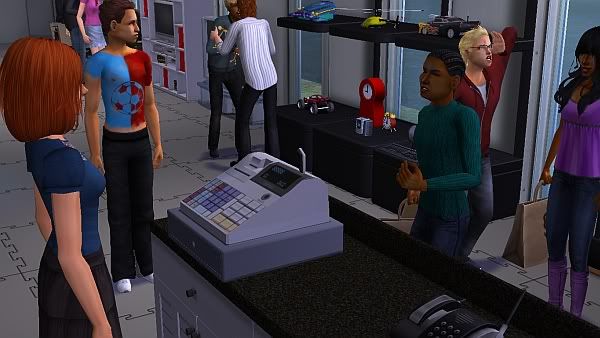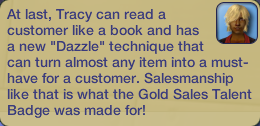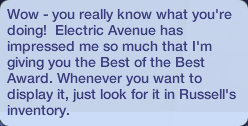 I haven't gone with my dad every time though. He usually goes alone to Electric Avenue simply because with having to take care of two employees, he doesn't have as much time for me. I hear he's still been doing quite well there and he earned another reward for his business.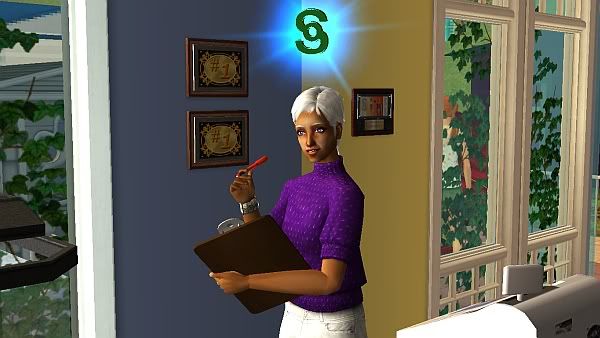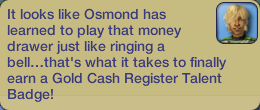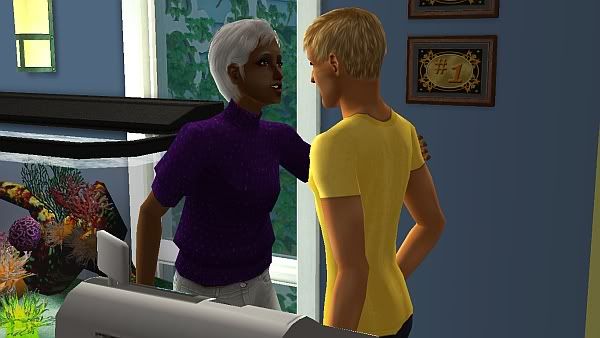 My mother has been working hard at her business as well. She also decided that her employee, Osmond, had learned enough to become manager so now she won't have to spend quite as much time working.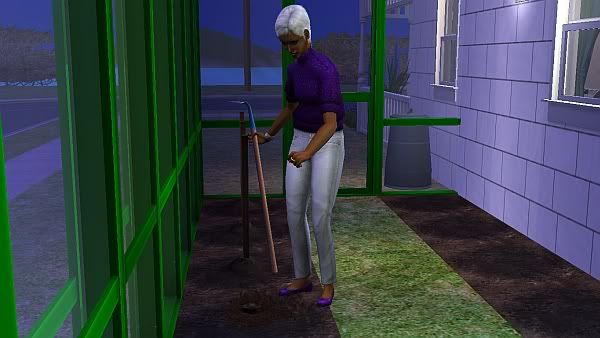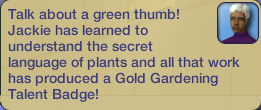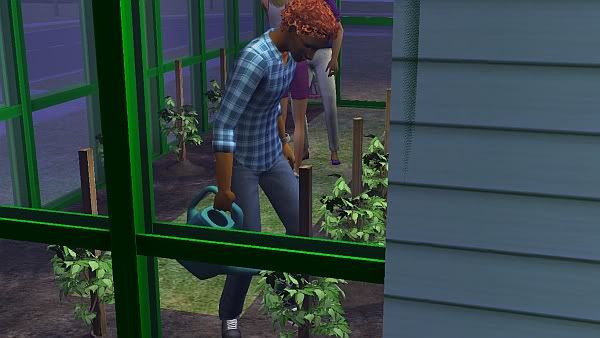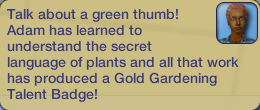 Both my mom and I have been improving our gardening skills.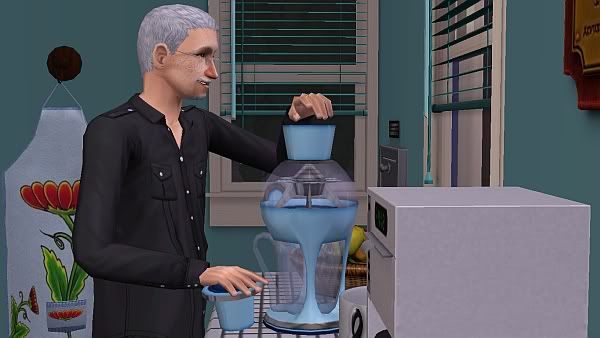 So much in fact, that my dad bought a juicer in order to make juice out of all of the great fresh produce that we were growing.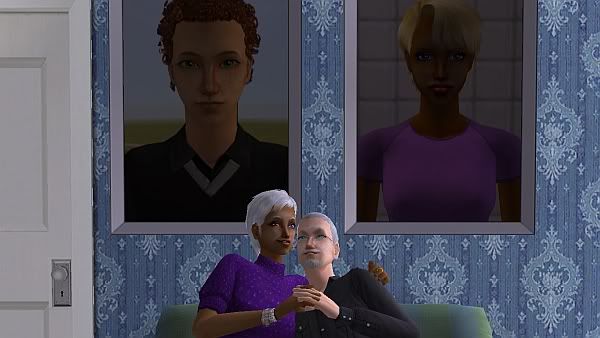 Because my parents are getting older, they've been spending more time together and more time on their hobbies. They haven't exactly retired, but then have been lessening their work load.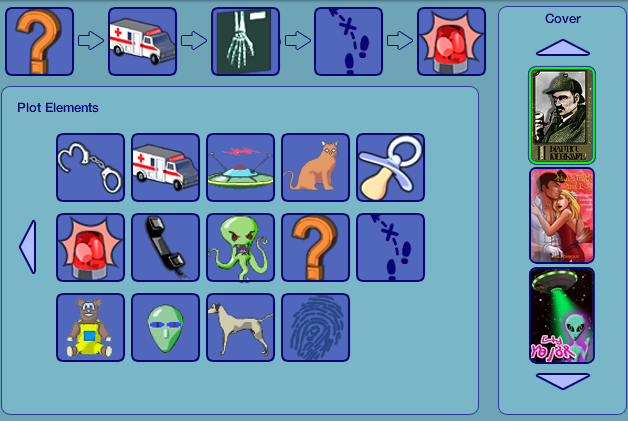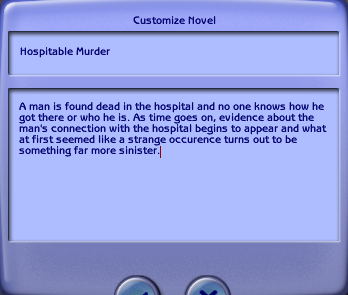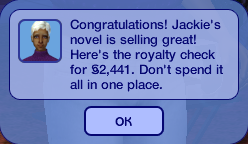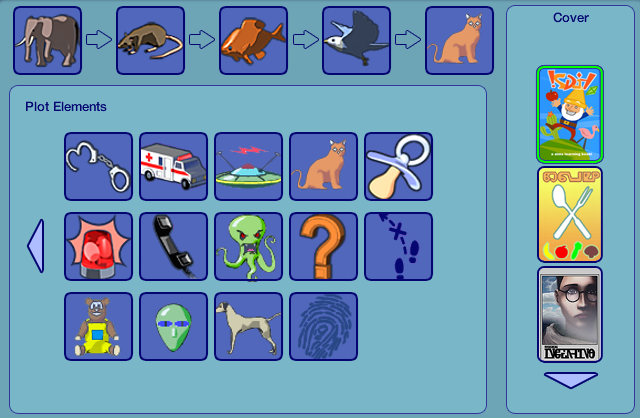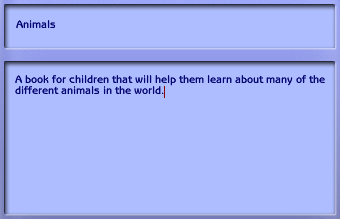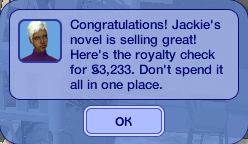 My mother has started writing books in her free time. I've read both of her books and they really are quite good.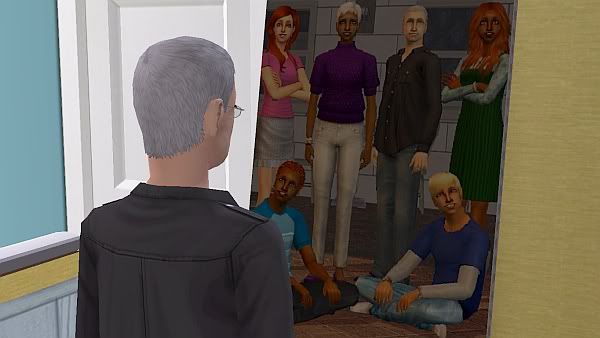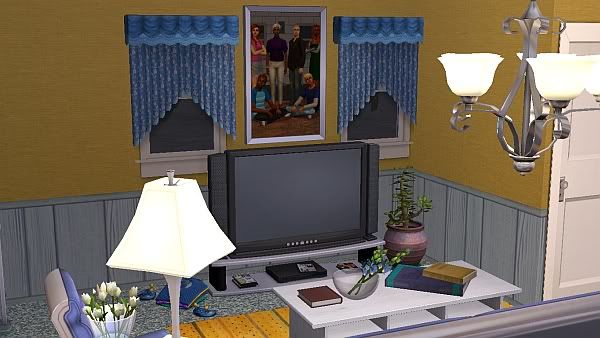 My dad, on the other hand, has taken up painting. He painted one picture of our whole family before Abrianna, Becca, and Bennett left and it is hanging up in the living room.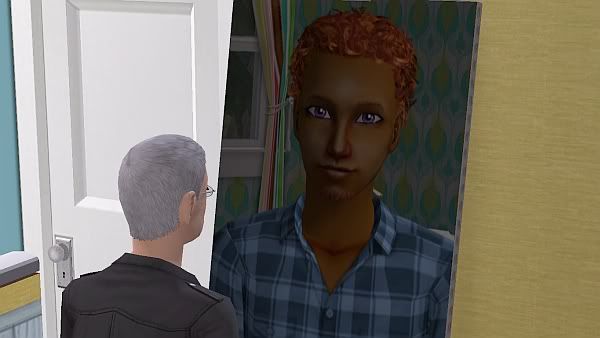 He also painted a picture of me to hang in the house just like his is, for all of the future generations to see. It makes me feel sort of important.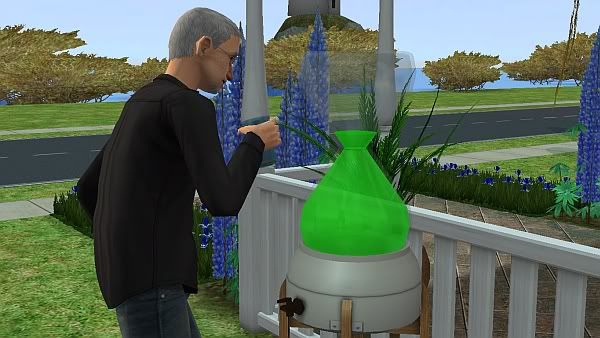 I've also noticed my dad drinking some strange stuff. Supposedly it allows a sim to live a longer life, but I'm not sure if I believe in that kind of stuff. But then again, there is a witch here in this neighborhood so I guess maybe it could be true.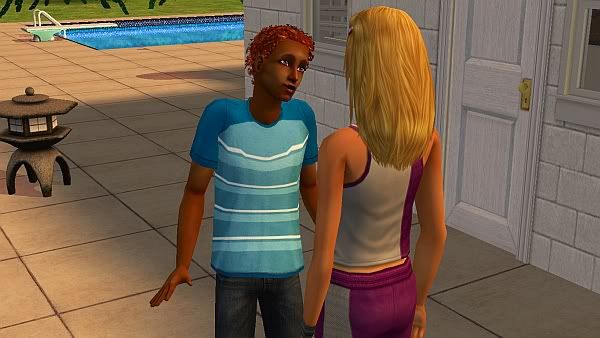 I had a really hard time sleeping the night before my date with Tansy. I was really worried that I was going to say or do the wrong thing. I only had one girlfriend when I was in high school and it definitely wasn't anything serious so I was worried that I just wouldn't know what to do. However, when I actually got there and started hanging out with her, I felt myself relaxing and I knew everything would be fine.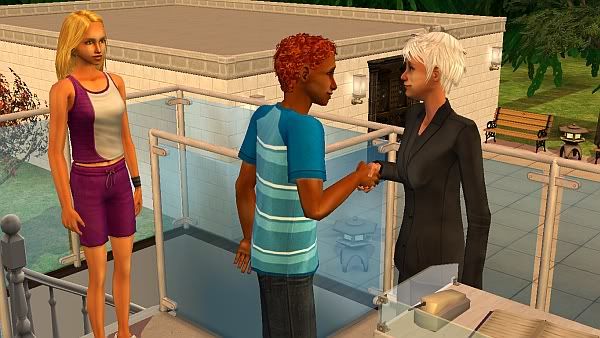 We went to the new Military Base that had been added to Canterbury Cove in order to check it out. They allow people to use their gym equipment and pool and open up their mess hall during dinner time as well.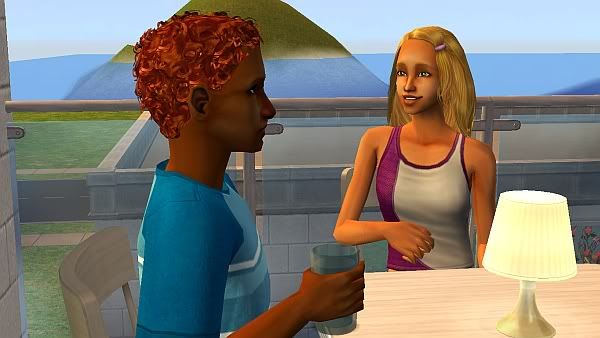 "So, what do you think of the base?" I asked as we sat down at our table, waiting for a waiter.
"I think it's nice. It's very clean and simple."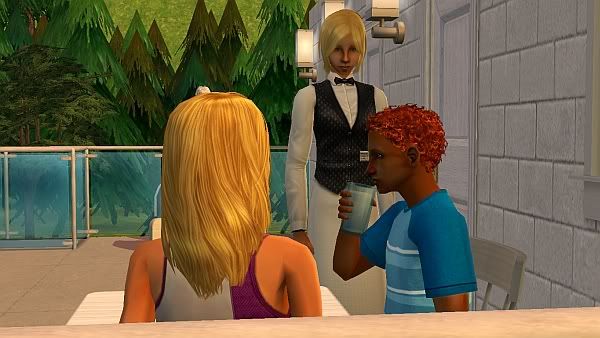 Soon we ordered our food and ate, talking comfortably with each other as we did so. We talked a lot about our families and what had brought her here to Canterbury Cove.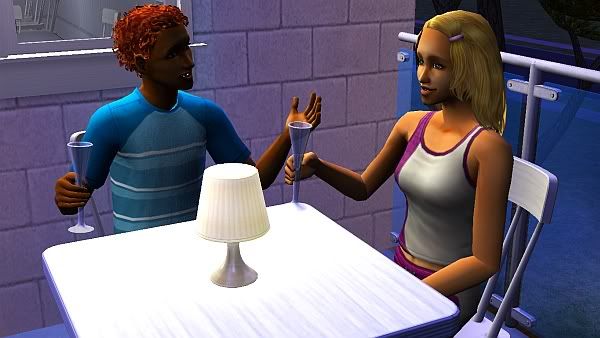 Before we knew it the sun had gone down and we were still sitting at the table.
I decided to propose a toast, "I know we just met, but I've had a really fun time with you tonight. So, I propose this toast to the prettiest woman I have ever met, and I hope we can have more dates just as good as this one."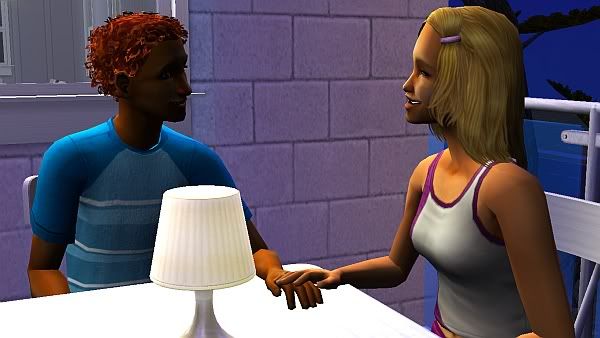 After we drank our toasts she smiled and laid her hand on top of mine. "I would like that a lot," she said and smiled at me.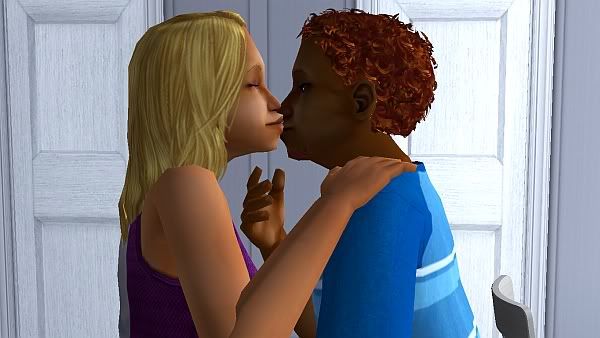 Unfortunately, we both had to leave after that. I decided to take a chance and kissed her right in the middle of the dining room. She kissed me back so I guess she must have liked it.
"I'll call you," I said to her as we left.
"Good," she replied.
As much as I hate to say it, that night wasn't all good though.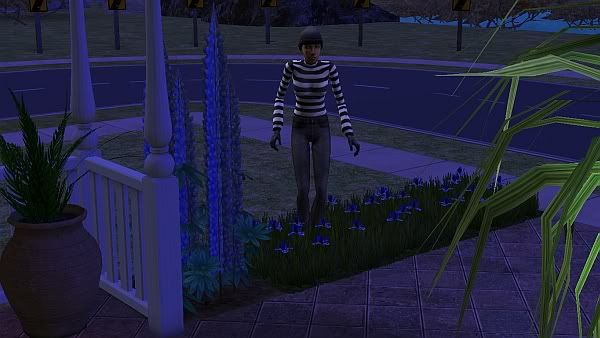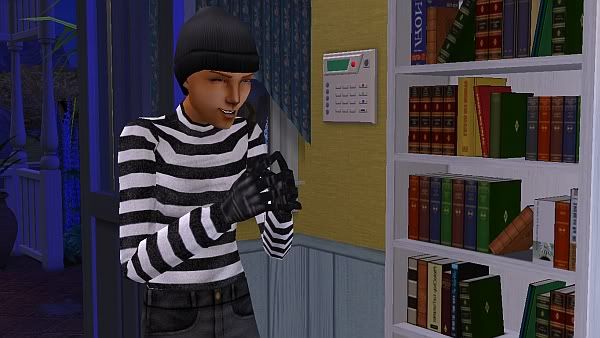 After we had all gone to bad, we got robbed.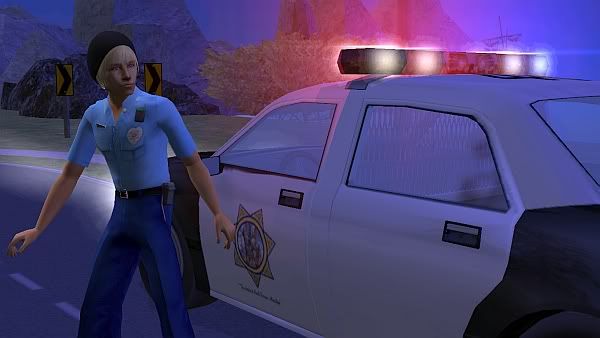 Luckily, we had a burglar alarm so the police arrived at our house right way.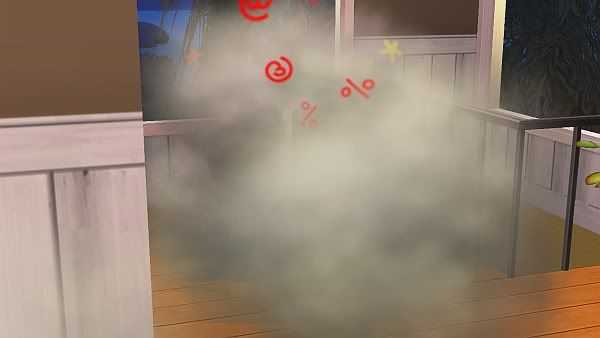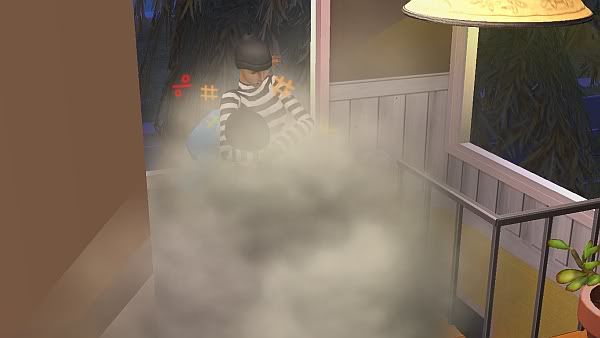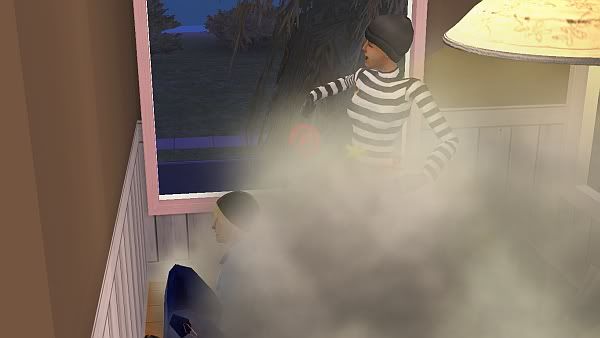 Unluckily, the burglar ended up beating the cop and got away. However, she never got time to take any of our stuff, so I suppose it could have been worse.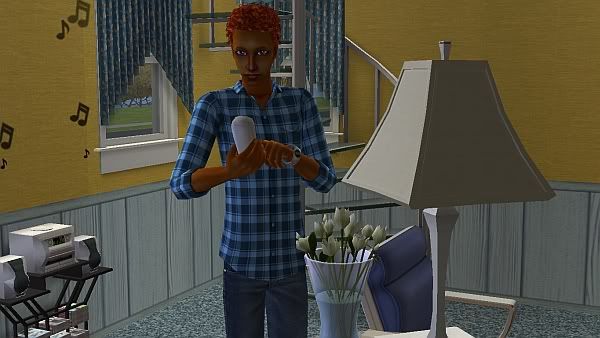 I couldn't wait to see Tansy again, so I decided to ask her out the next day. When I called her she seemed very happy to hear from me.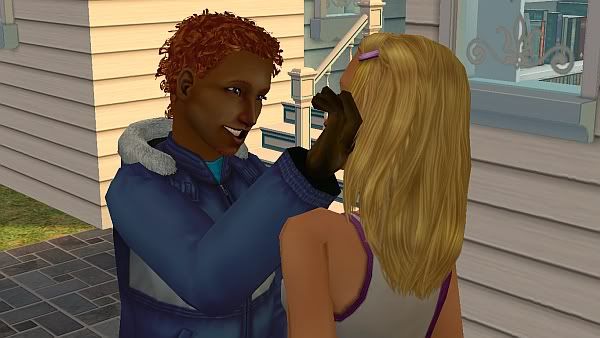 We agreed to meet at Delights, the new bakery owned by Richard Albrecht. When we got there and I saw her, I couldn't help but reach up to her face and touch her cheek.
"You are really pretty, you know that?" I asked.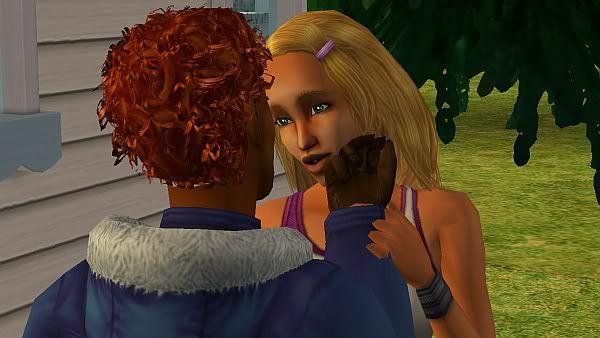 She just smiled and reached up to touch my hand.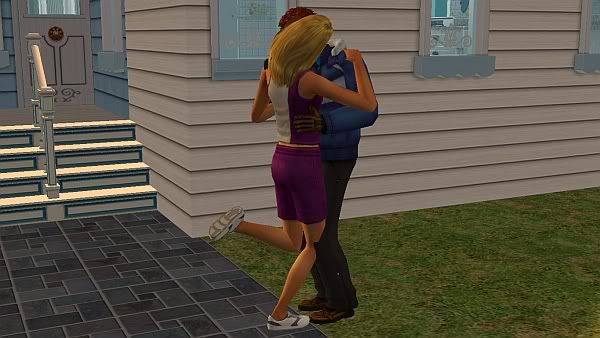 Then she surprised me by pulling me in for a kiss. I felt my heart skip a beat.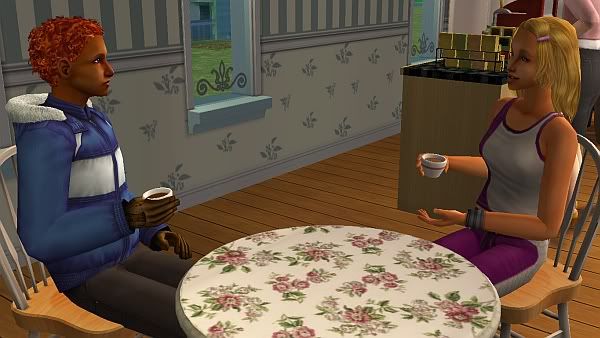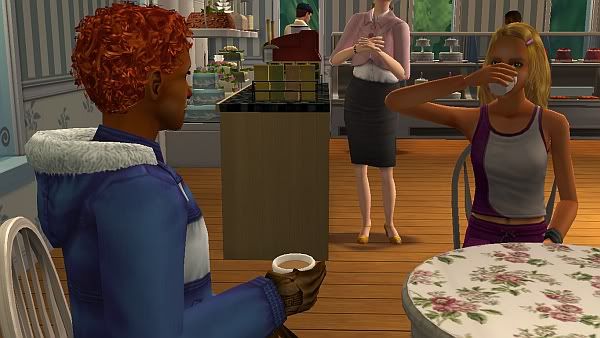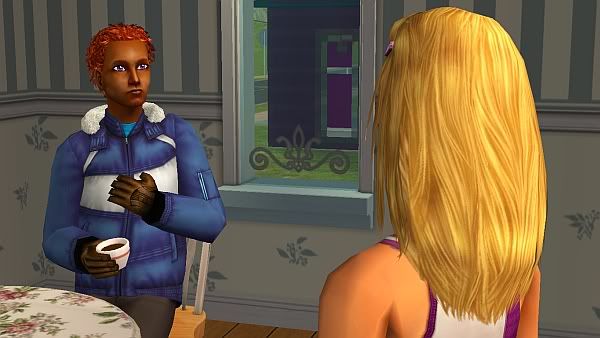 Delights was really nice. We both loved the atmosphere and we ended up spending a few hours just talking the day away. I had never met anyone that I had had such an easy time talking to as I did Tansy. She was a very attentive listener and seemed really interested in what I had to say, especially about my family since she didn't have any siblings herself.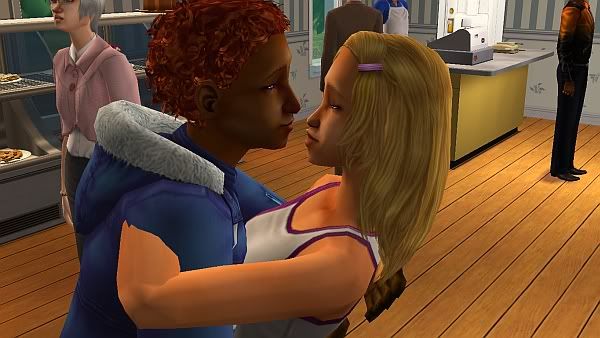 After awhile we got up to leave. When I went to kiss Tansy she stopped me and said, "Can I come home with you?" I was rather surprised at how forward she was, but it was a pleasant surprise. I kissed her and said yes.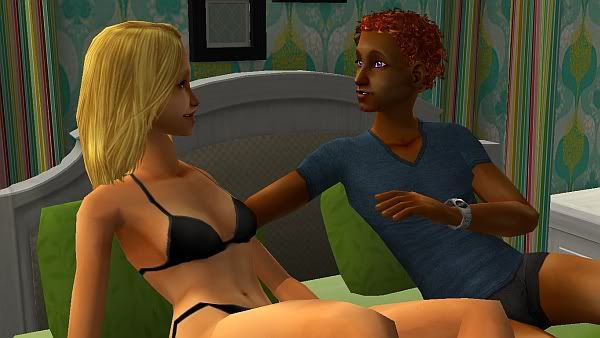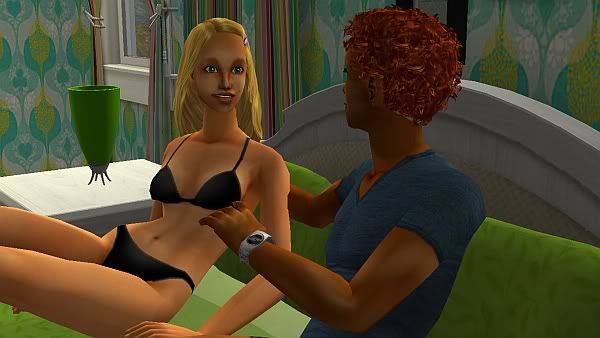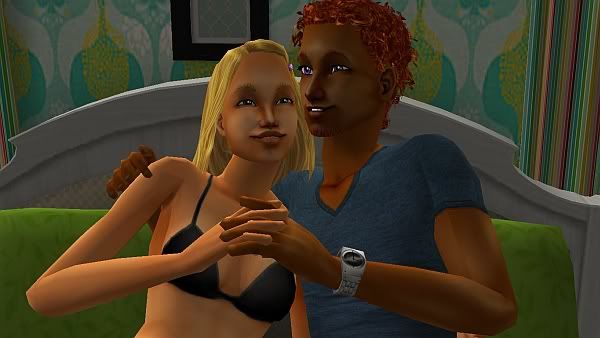 I was nervous, but Tansy reassured me that it would be fine. It ended up being much more than just fine.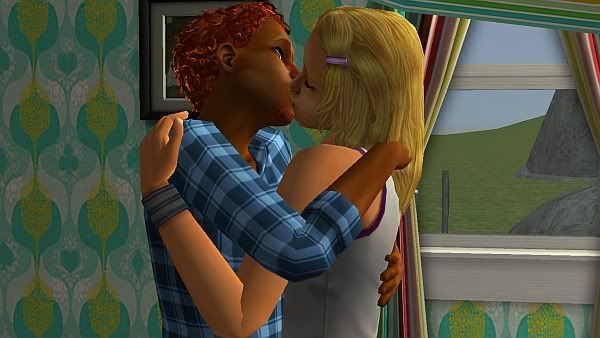 When she said she had to leave, I was quite disappointed. I made her promise that she would see me again as soon as she could.
"I will," she promised.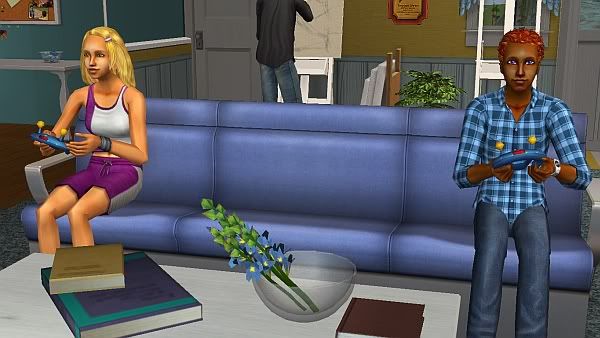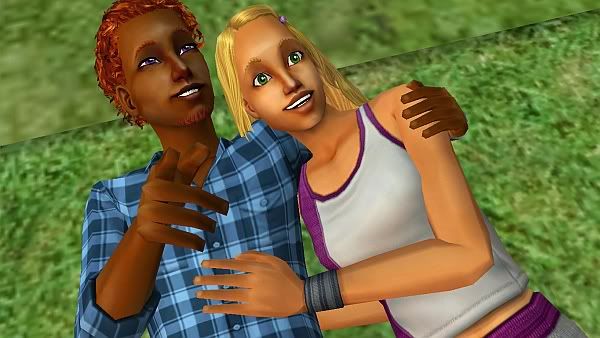 True to her word, Tansy and I started hanging out quite a bit. I had a lot of fun with her and over time, I realized that I was head over heels in love with her.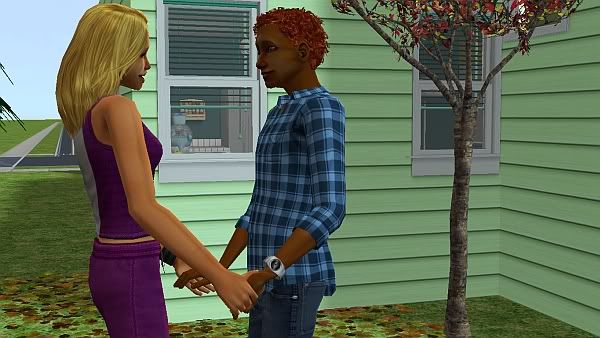 I decided to invite Tansy over for a special dinner with my parents. I had something very important to ask her.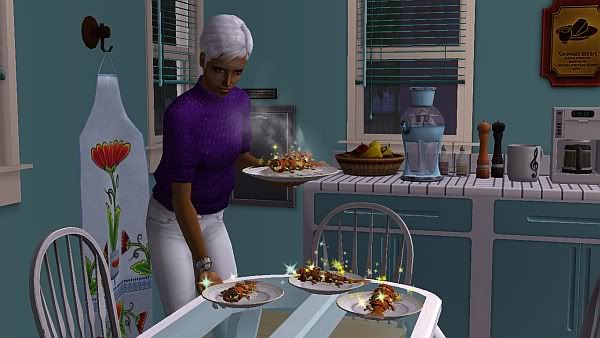 My mom made some very delicious looking fish and set the table for four.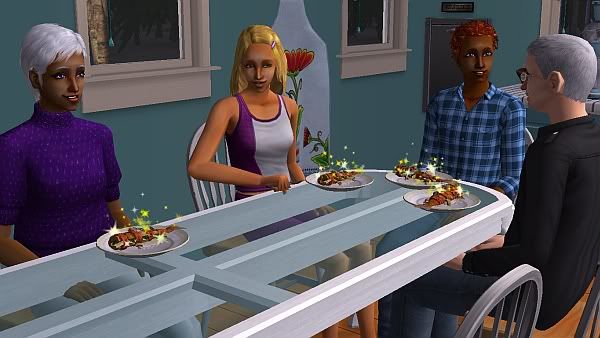 Dinner was going well. I could tell that my parents really liked Tansy. She was very kind and sweet and had a good sense of humor.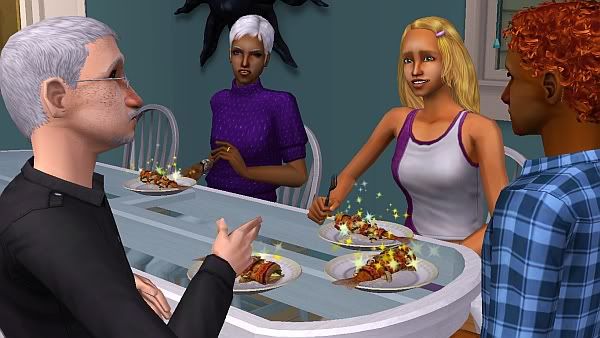 She even put up with my dad's weird ramblings - a new development in his old age.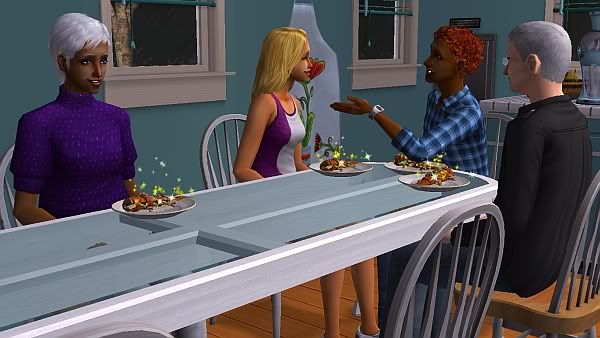 "Tansy..." I said, my voice trailing off as I tried to remember exactly what I had planned on saying.
"Yes?" she asked, not knowing what was coming.
"This time that I have spent with you has been so wonderful. You're so kind and funny, and beautiful to boot. I'd love to be able to spend as much time as possible with you."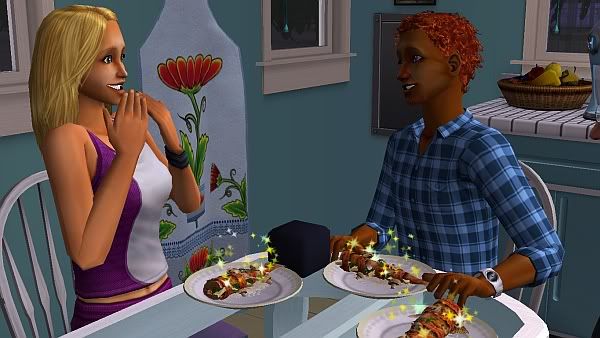 "Actually, come to think of it," I said quietly, "I think I'd like to spend the rest of my life with you. I love you Tansy. Will you please marry me?"
As I placed the box with the ring on the table I could see her eyes light up. Her hands flew up to her mouth and she grinned widely.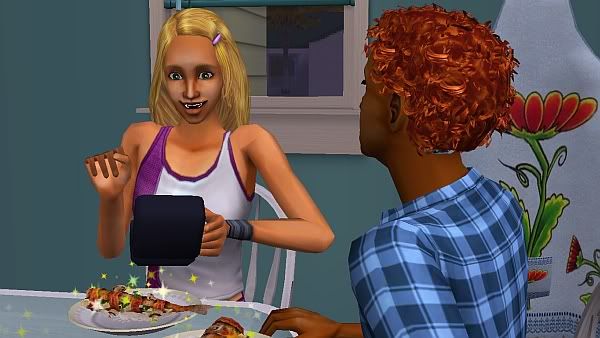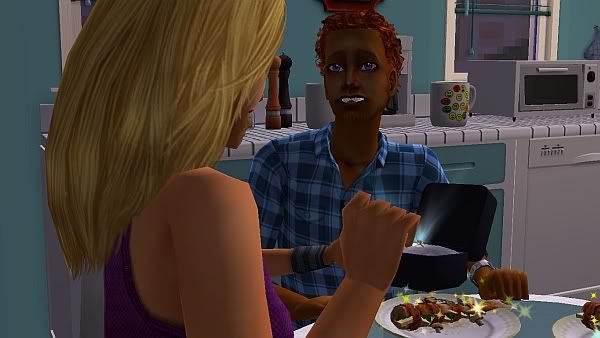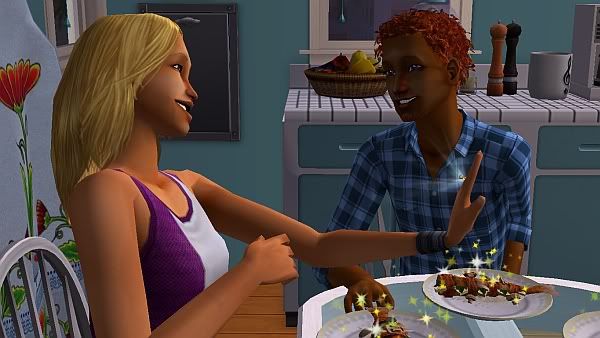 "Yes," she replied. And I felt happier than I ever thought I could feel.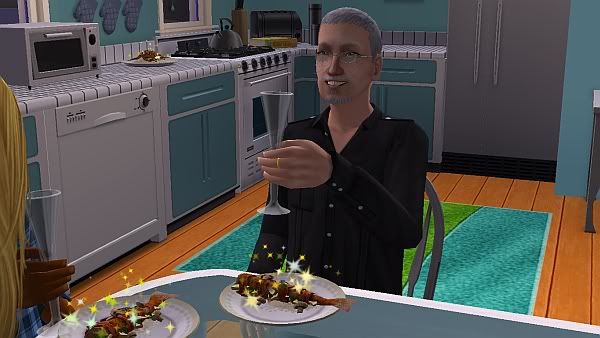 "I propose a toast!" My dad began to say, as he lifted up his glass, "To my wonderful son and his new beautiful fiancee."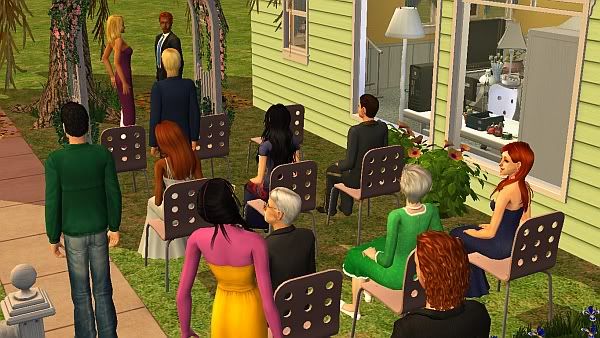 I couldn't believe I was getting married. As a family man, this was one of my biggest dreams in life. Call me a romantic, but I always hoped I would find the one perfect girl to settle down and have some kids with, and I knew that Tansy was that very girl.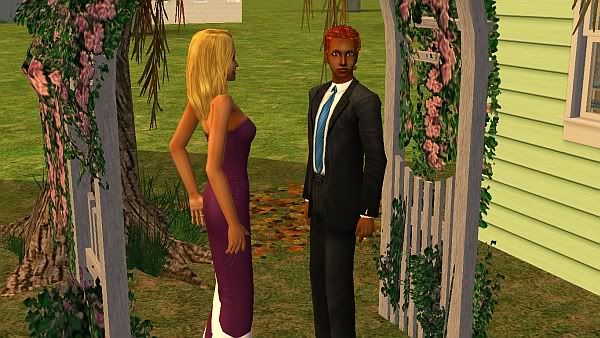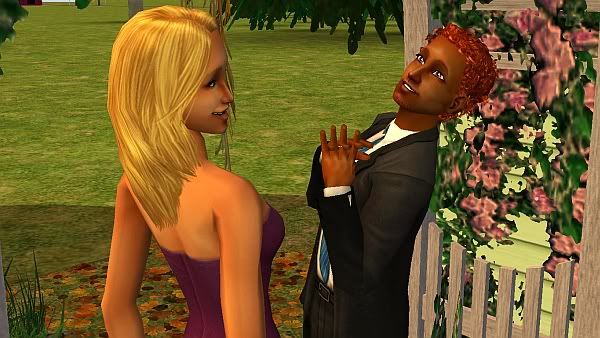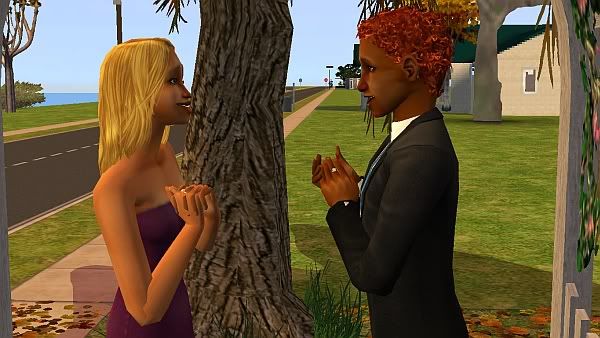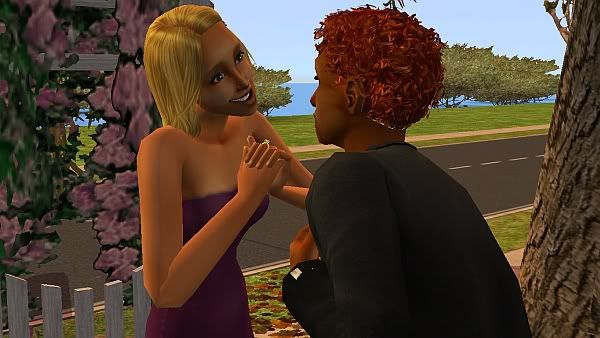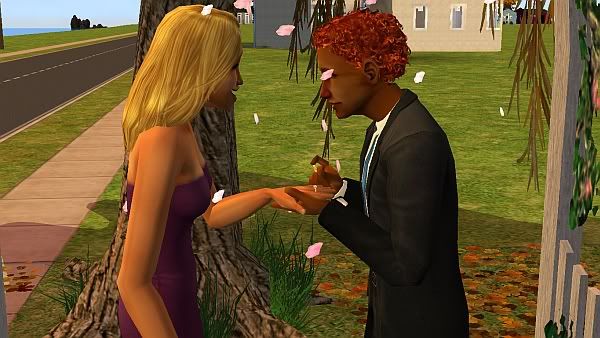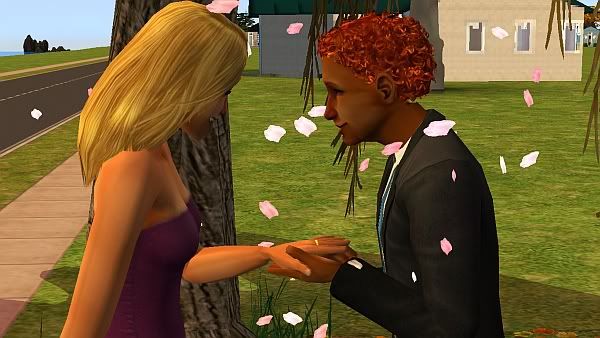 "Tansy, I love you more than anything and I promise to love you and care for you for as long as I live. I don't promise not to fight, I don't promise that we won't have our rough times, but I do promise to stick by you no matter what, until death do us part."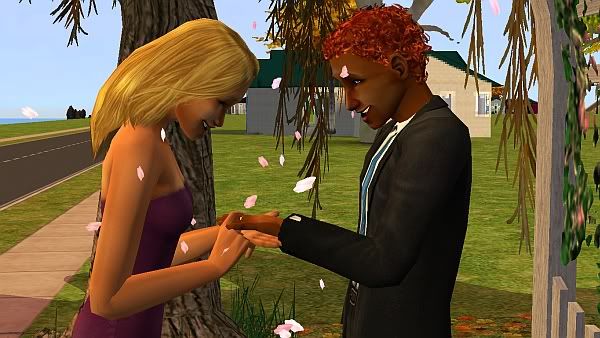 "Adam, I love you just as much. And I promise to love you until the end of my days. I can't imagine my life without you and I am so happy that you chose me to be yours. And I promise to stay yours and only yours until death do us part."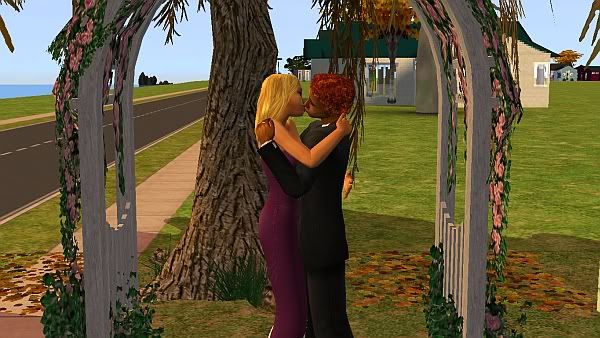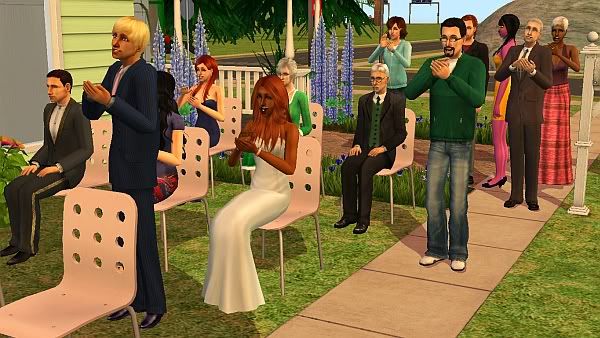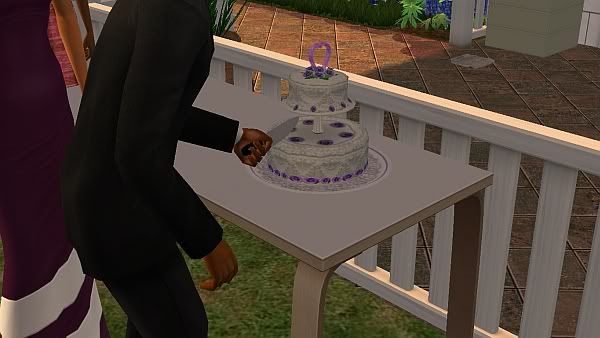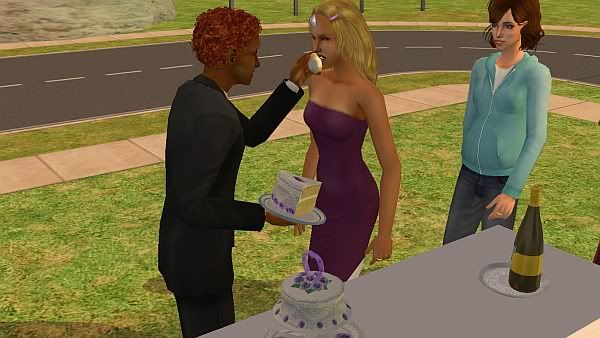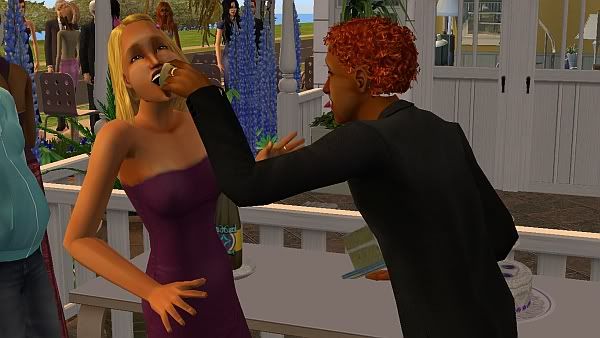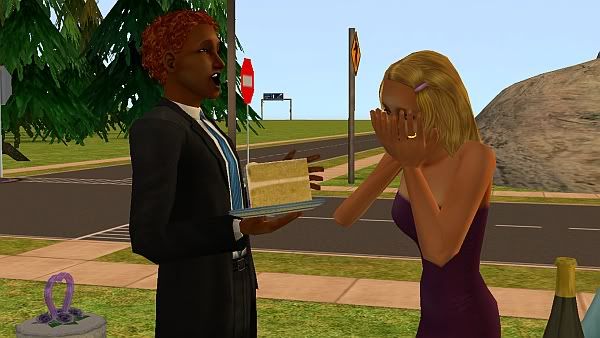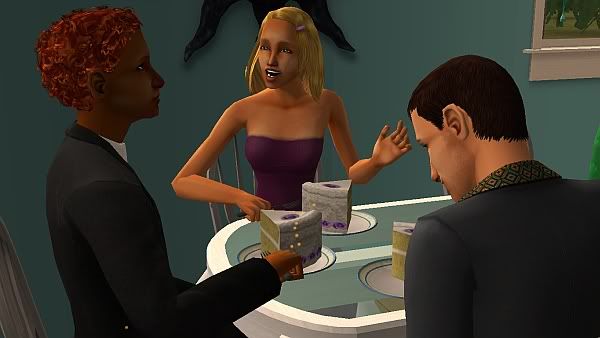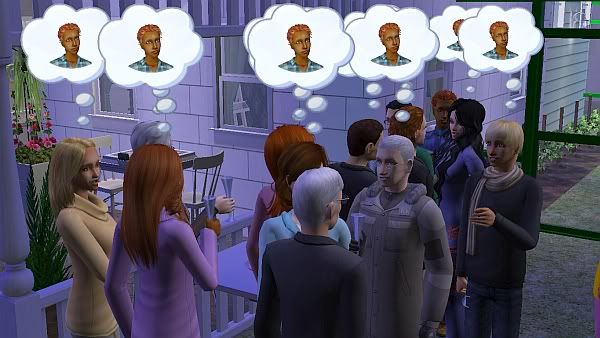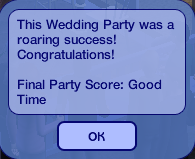 The wedding was a great success. I was happy that all of my friends, family, and neighbors could make it. Even Bailey Albrecht who was very pregnant.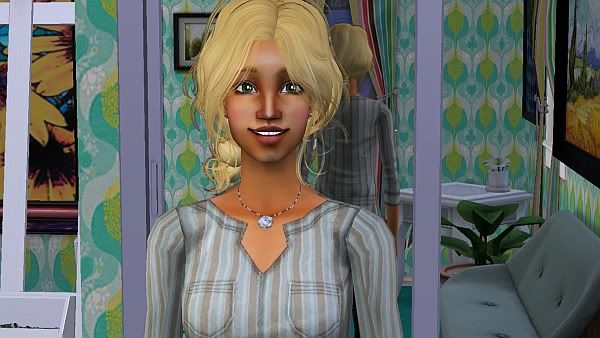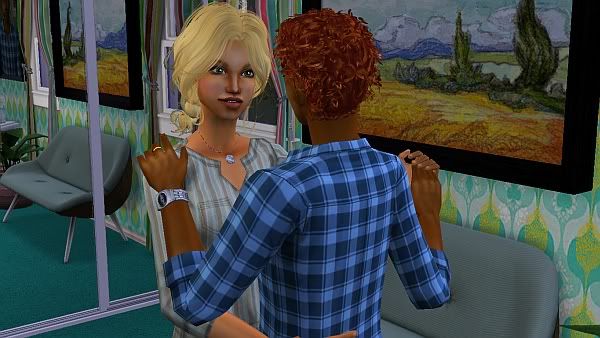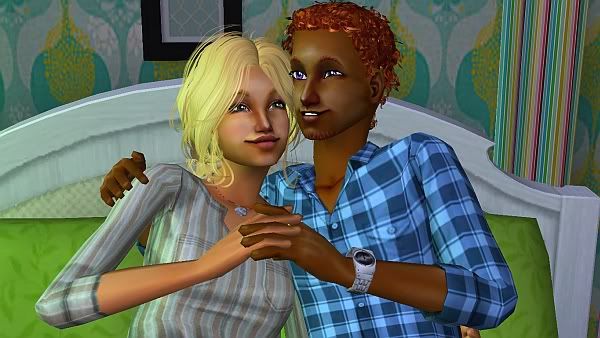 After the party was over and all of the guests had gone and my parents had gone to bed, Tansy and I had a little celebration of our own. I felt so lucky to have her. She is so beautiful.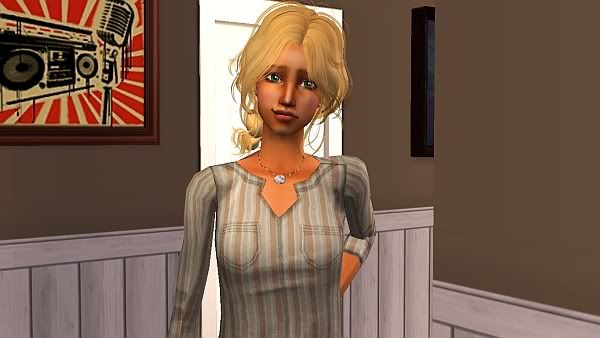 (Tansy Carnahan nee Hanson - Family Sim - Cancer)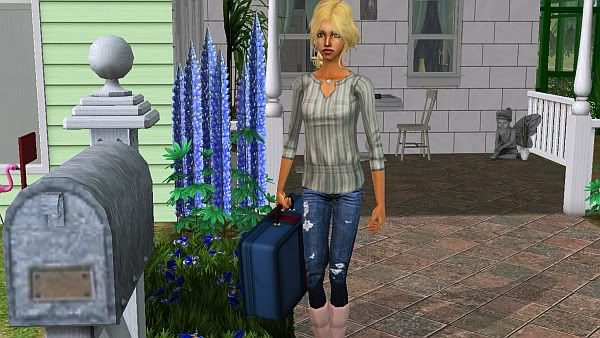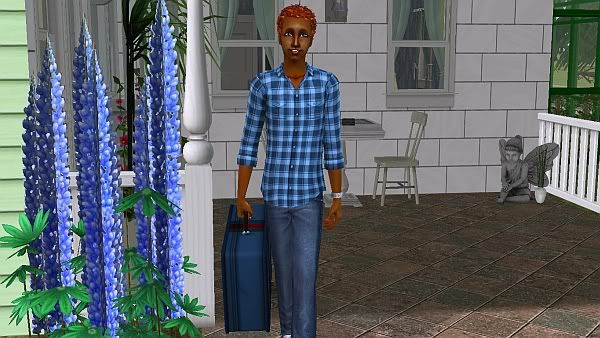 For our
honeymoon
we went to Twikii Island and stayed at our beach house. It was very relaxing and a lot of fun.
And we came back with a little more than we left with.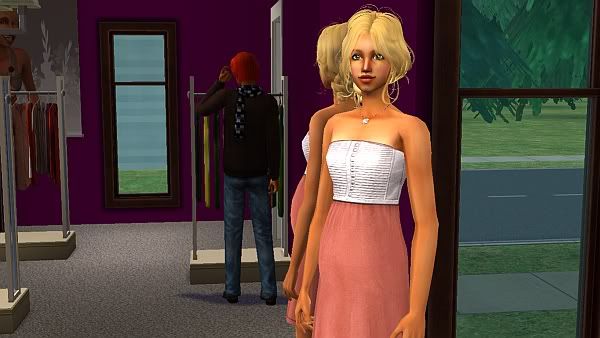 Tansy had to go to Alina's to get some maternity clothes since the clothes she already had weren't big enough. I think she looks quite beautiful in that dress. I think she looks beautiful in anything actually. I'm just so happy that I am going to be a dad.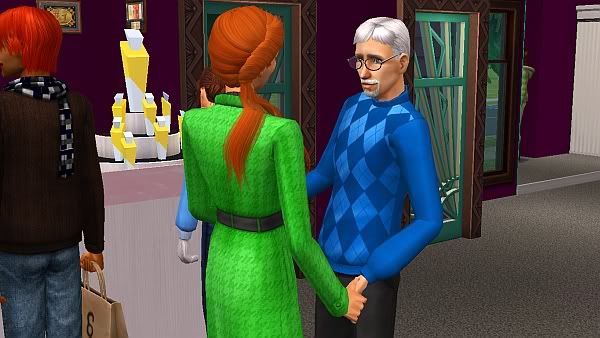 She said that while she was there she saw Edward Lieman with a red headed woman, who she thinks is named Lyndsay Palmer. It seems that almost no one in this town is faithful... I could never cheat on Tansy though. I could never hurt her like that.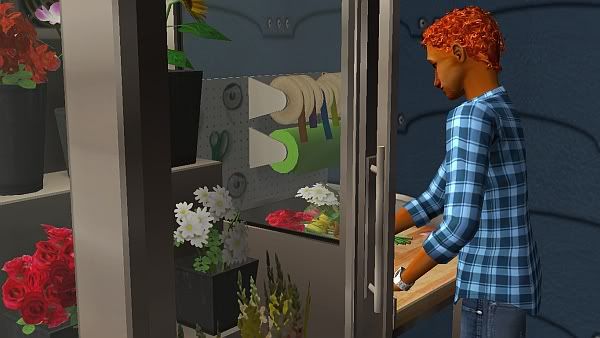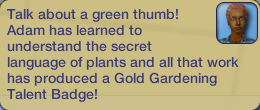 With a baby on way, I've been staying at home to help Tansy out. Since I've had a lot of free time I've been working on flower arranging, feminine, I know. But I hope that once I get enough bouquets stocked up that maybe I could open up my own shop. I know that would mean that my family would own five businesses, but I think I will probably sell Club Carnahan. Perhaps Bennett will like it since he loves people and it would give him a chance to meet many more.
Until then I will just have to wait and wait for our baby to be born. Though I'm not sure that I can wait much longer. I'm much too excited.
Stats:
Rotation: 7
Households: 1 of 6
Playable Sims: 19
# of Total Residents (PS + Graves): 19
Community Lots: 9 (0 NPC - 1 Military)
Business Districts: 0
Universities: 0
Downtown: No
Sim Multiplier: 3
Population: 57
CAS Sims Available: 6/9
University Funds: $224,794
Number of Fires: 5
Number of Burglaries: 2
Number of Electrocutions: 1
Number of Graves: 0
Businesses:
Club Carnahan - Russell Carnahan - 6
Electric Avenue - Russell Carnahan - 10
Odds and Ends - Russell Carnahan - 10
Purrfect Pets - Jackie Carnahan - 10
Fresh Fish and Veggies - Rachel Lieman - 10
Douglas Firniture - Edward Lieman - 8
Albrecht Auditorium - Richard Albrecht - 9
Delights - Richard Albrecht - 5
Alina's - Alina Albrecht - 6
Careers:
Architecture - 0/1
Business - 1/4 (Richard Albrecht)
Law Enforcement - 0/1
Military - Unlocked
Music - 1/Unlocked (Alina Albrecht)
Slacker - 1/1 (Joel Webber)
----------------------------------------------------------------------------------------
- I HAD to put Tansy and Russell in the friend zone for each other when I saw
this
. Yep... Tansy is Russell's highest match. The ONLY sim that he has three bolts for. What's really annoying is that even though they are in the friend zone, Russell follows her EVERYWHERE. He constantly tries to relax on her bed next to her when she is sleeping and I always have to cancel the action. Either that or he sits on the couch in their room, or he tries to use the computer when she is using it and then complains that it is in use. Anything to be around her. Ugh.
- Also, Tansy has three bolts for Edward Lieman, in fact, she finds him more attractive than she finds Adam. I'm hoping with some turn on/off tweaking that that can be fixed.
- Adam actually has multiple bolts with a LOT of sims. At first I was going to pair him with a sim I made and turned into a townie named Reesa Moole whom he also had three bolts with but they both had red hair and s4 so I went with Tansy since there would be more genetic variety (hopefully).
- When I caught Edward flirting with Lyndsay, I didn't see any hearts flying anywhere and they were flirting and making out all over the place which means that they were already in love/in crush and I must have just missed the hearts. That's one thing I don't like about ACR... I don't like that it makes my sims cheat. =/ I'm probably going to tweak with the settings to fix it.
- Although... it did cause Alina to flirt with that guy (Arnold), which is something she would probably actually do, so I don't really know.
- I am in love with Tansy and Adam as a couple, in case you couldn't tell. I think Tansy is adorable and the two of them are very sweet together. They love to follow each other around.
Current Mood:
sleepy