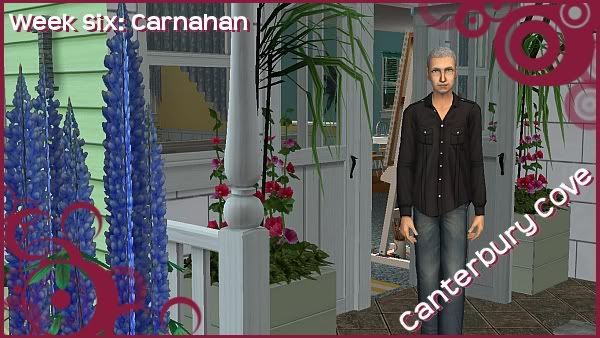 Welcome back to Canterbury Cove! I hope life has been treating you well. I've actually had the pictures for this update ready for a few days but I was swamped this week with homework. *sigh* Real college life can be extremely lame sometimes. =/
Anyway, I hope you enjoy this update! Even though it made me want to rip my hair out.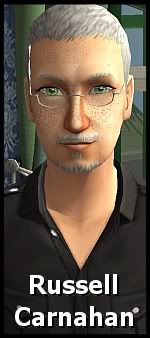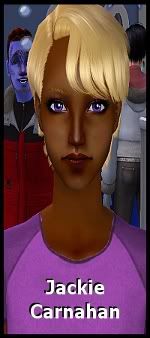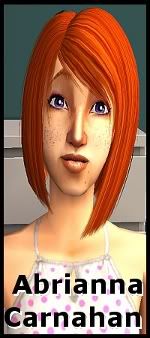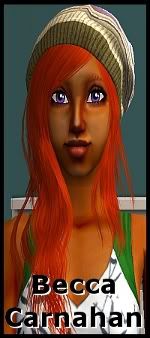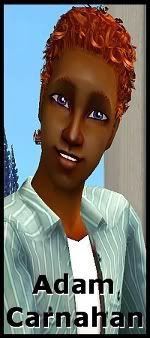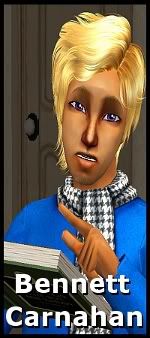 It seems that the more you try to stop time and hold onto it, the faster it slips away. Here I am, getting old, almost to where I am going to want to retire, and my wife is not far behind me. And my kids, they're all growing up too. Next thing I know Abrianna, Becca, and Bennett are going to move out and have houses and families of their own. It's very bitter sweet. Especially when Jackie and I have managed to raise such wonderful kids.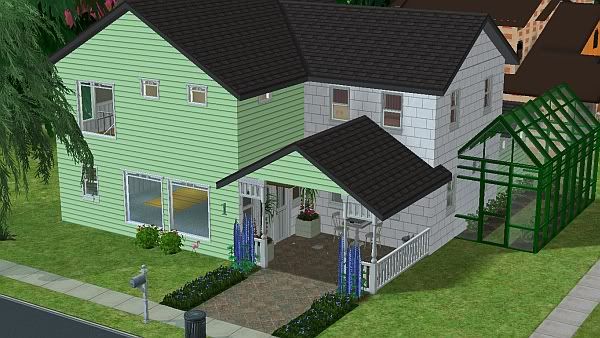 Outside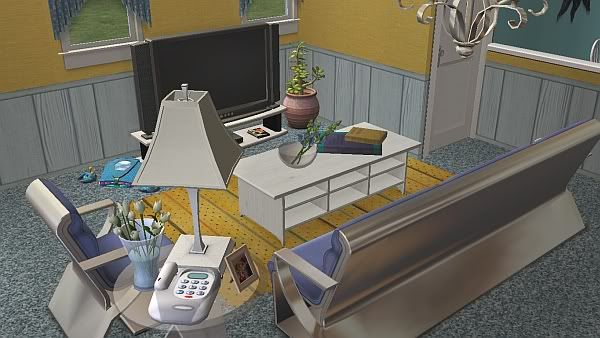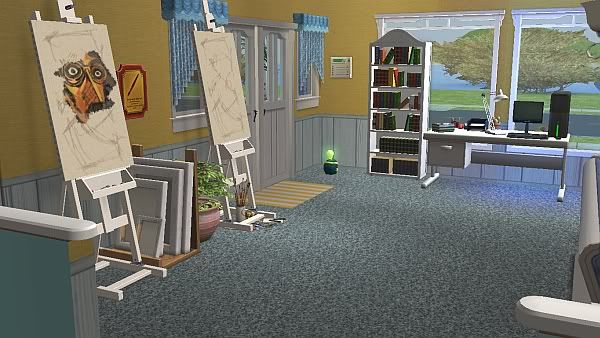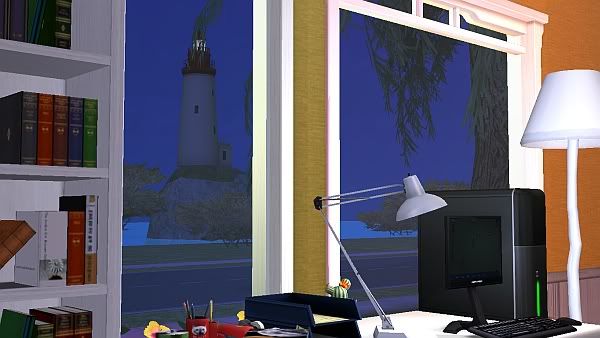 Living Room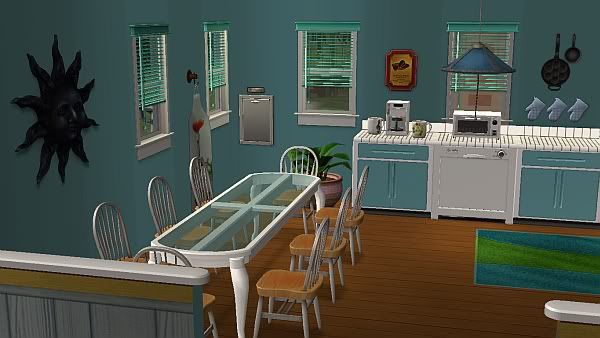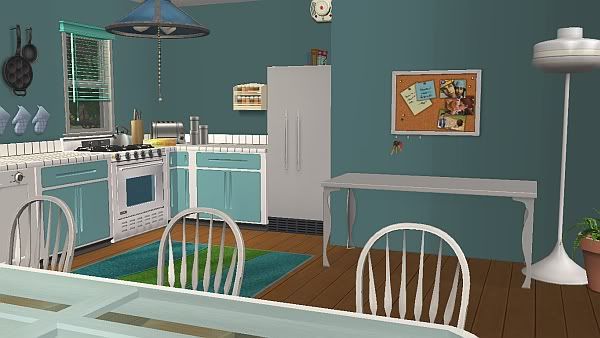 Kitchen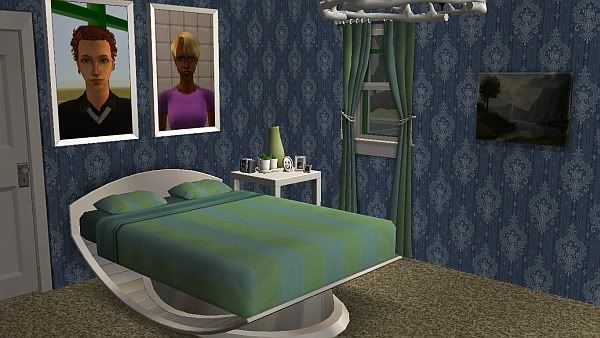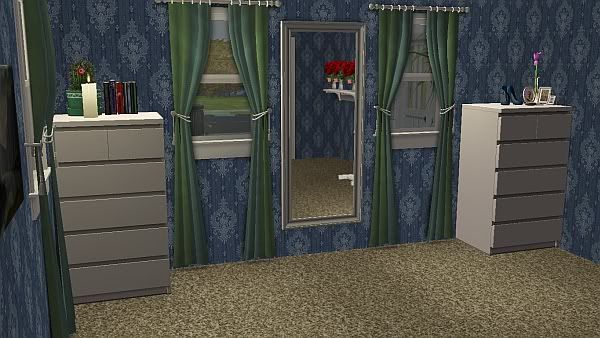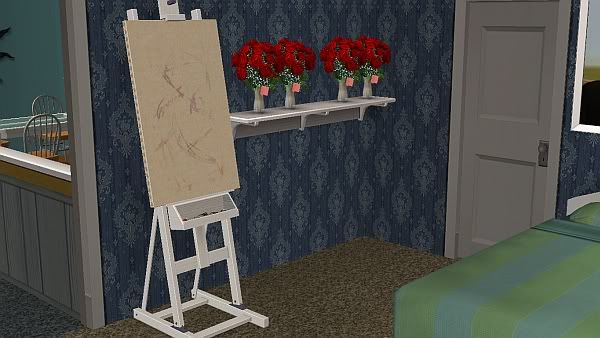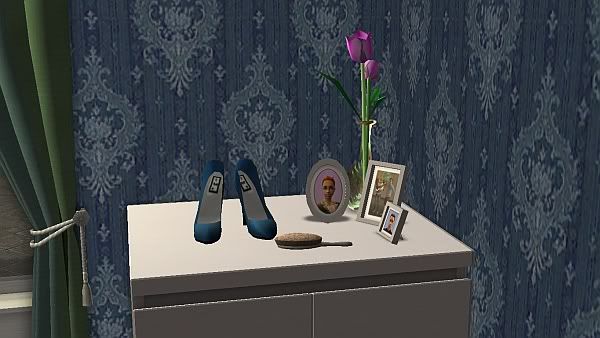 Master Bedroom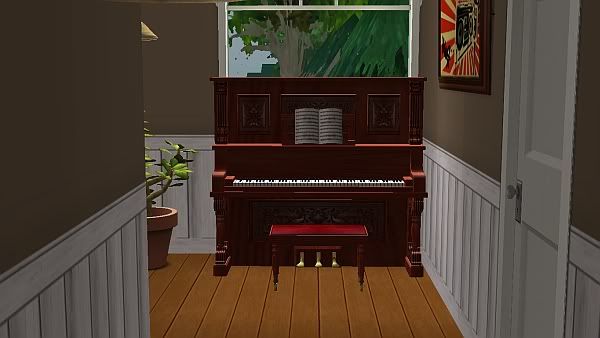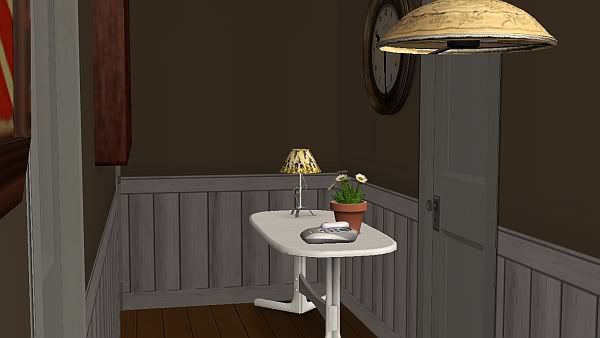 Upstairs Hall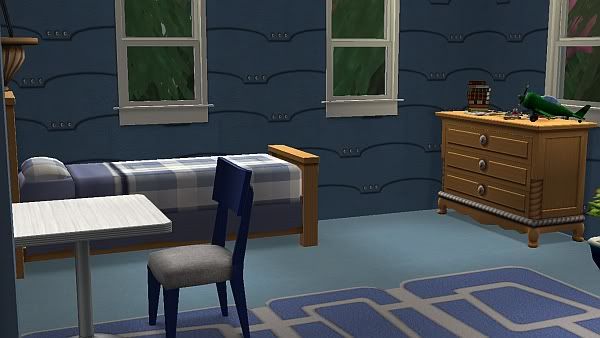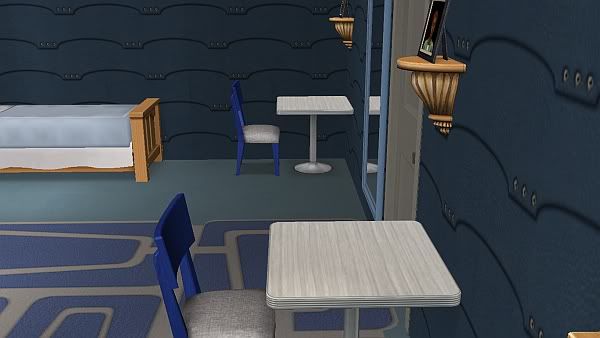 Boy's Room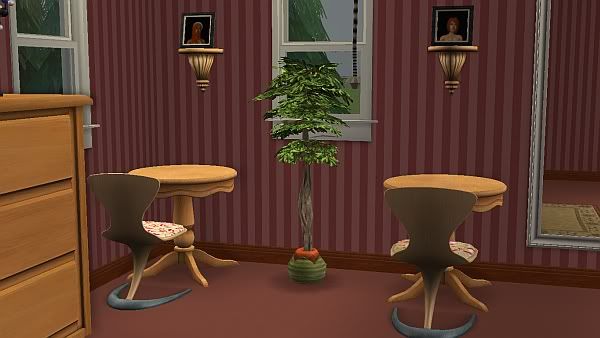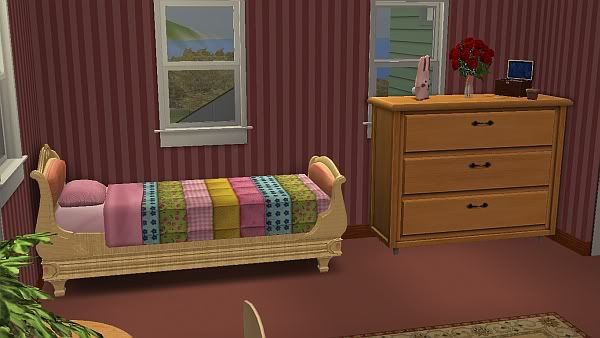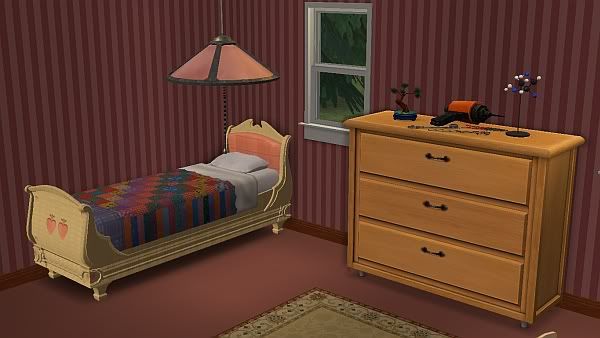 Girl's Room
Jackie, being the creative one out of the two of us, decided that our house needed a makeover. The outside is mostly the same, but the inside is completely different. She spent a lot of time redecorating all of the rooms and personally, I think she did a nice job.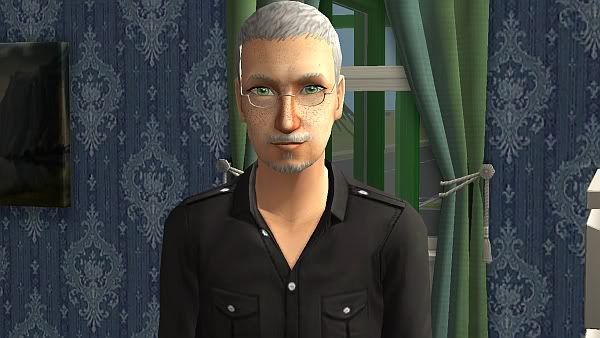 Russell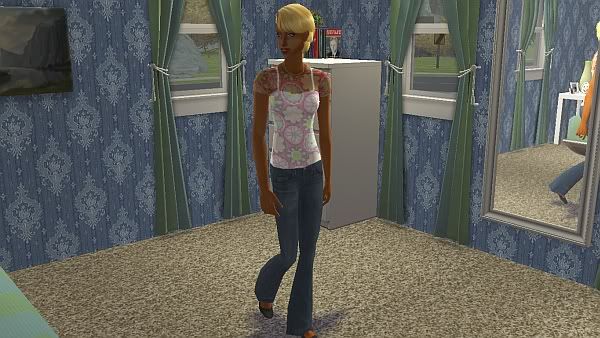 Jackie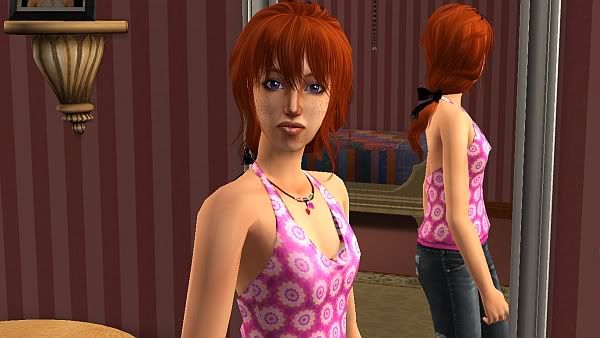 Abrianna



Bennett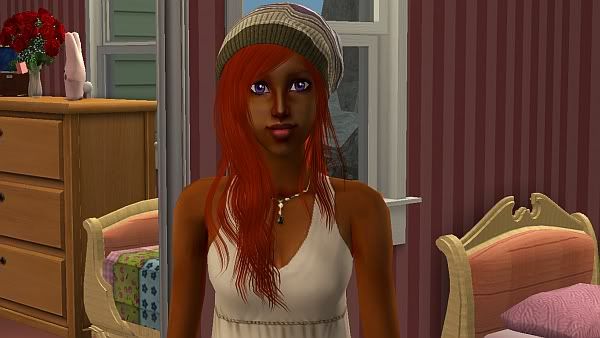 Becca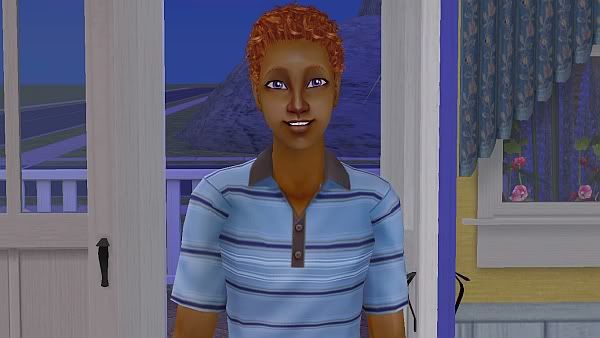 Adam
The exciting part of the town growing is that we were finally able to purchase new clothes from Alina's. The kids were probably the happiest about this.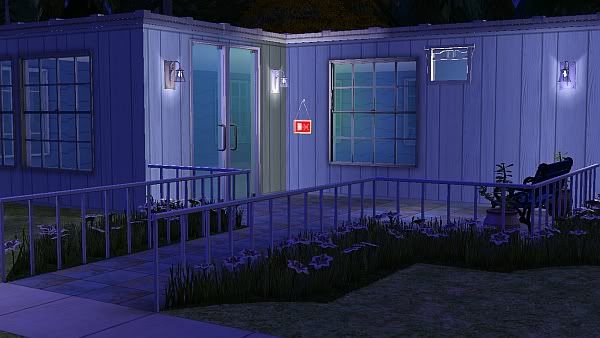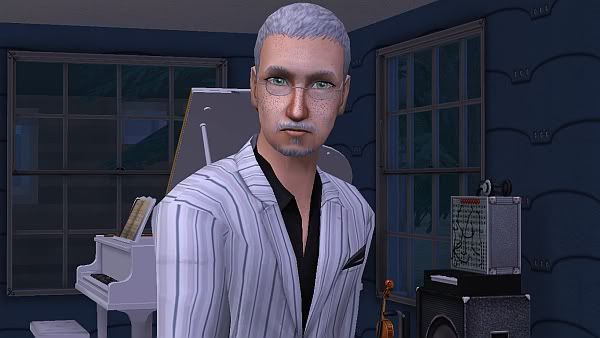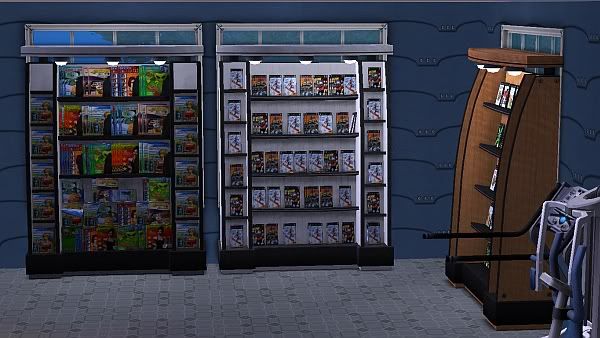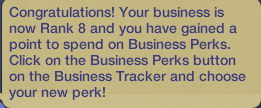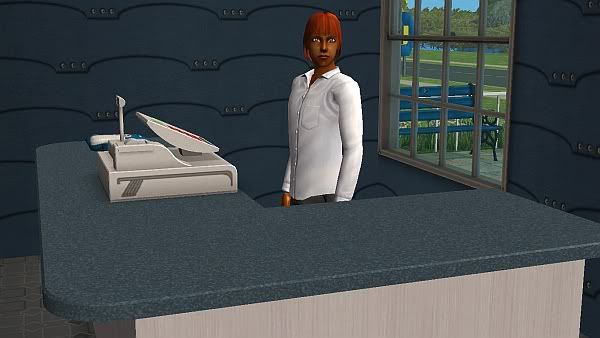 Lately I have been spending a lot of my time at my new store, Odds and Ends, and I found that it has been extremely successful. It turns out people really want to buy all of the random stuff that I have for sale. It's even become so busy that I had to hire Byron to run the cash register for me.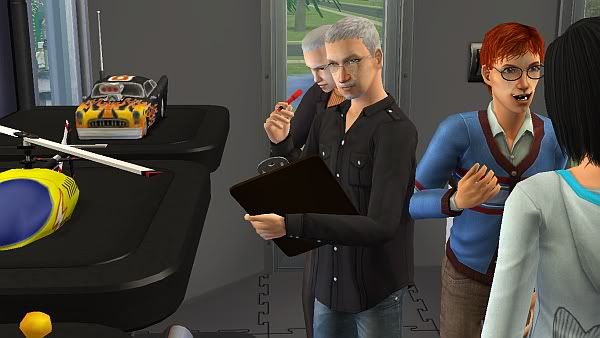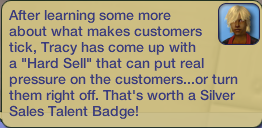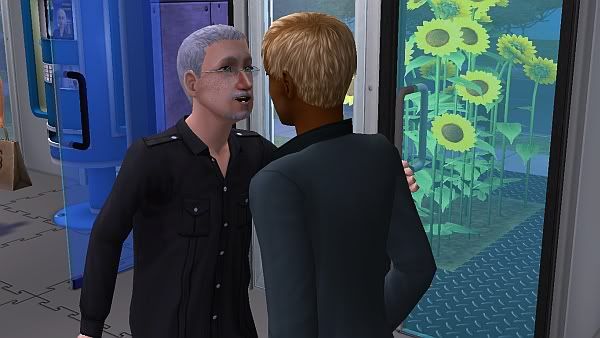 And because of how well Tracy Crane, my employee at Electric Avenue, has been doing, I promoted him to manager to watch over my store for me on days that I am working at another business.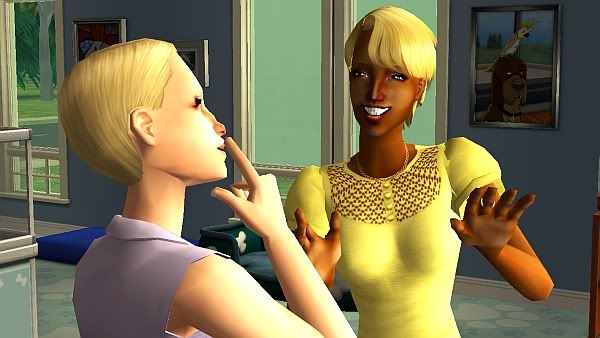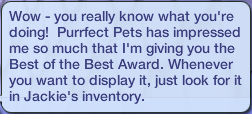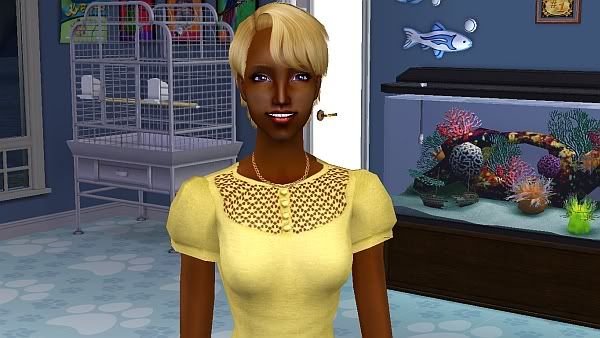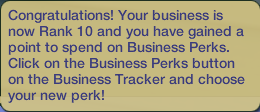 But of course, Odds and Ends wasn't the only business in our family that was doing well. Under Jackie's care, Purrfect Pets has become one of the most successful businesses in the town and and towns near to us. I am so proud of her accomplishments.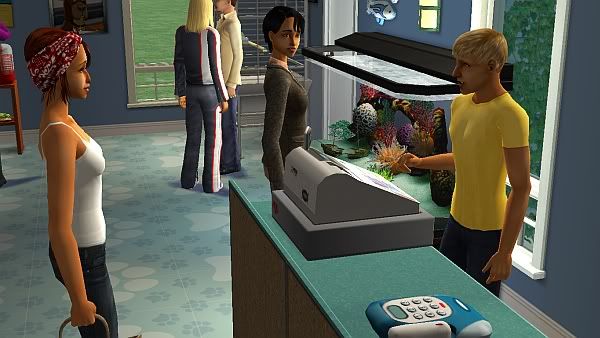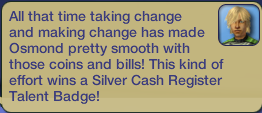 Her employee, Osmond, has also been learning a lot and she hopes to promote him to manager soon.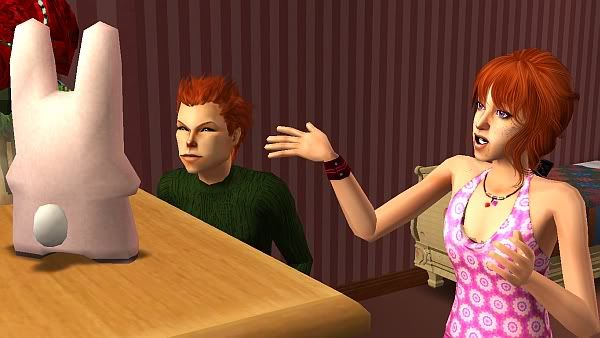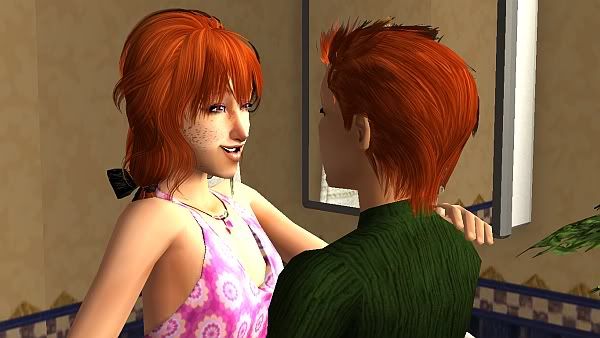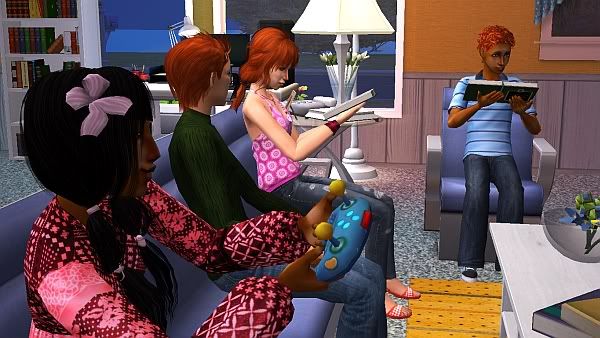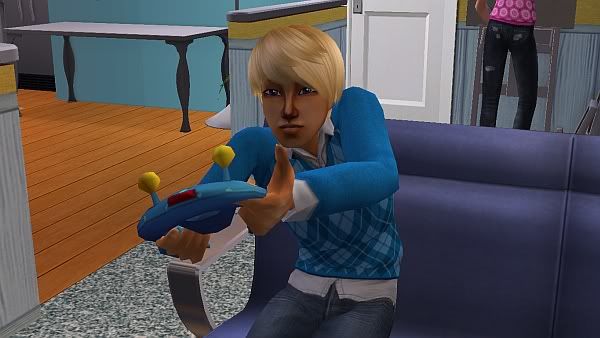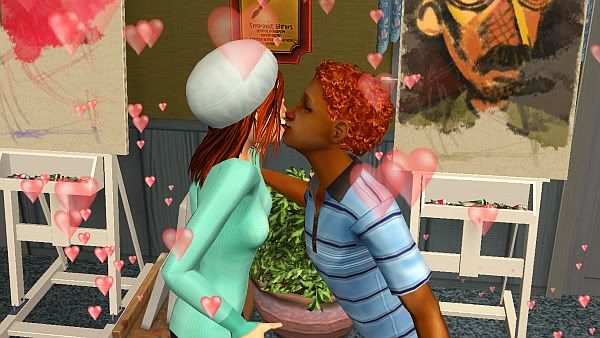 The quads are constantly inviting their friends over after school, which we don't mind. They really seem to have a lot of fun just hanging out.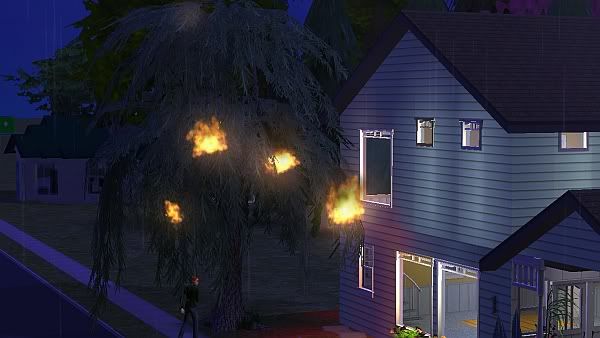 With the good, there is always bad. We had been having quite a few rainstorms and it seems that the lightning almost always seem to strike in the same place. Our poor weeping willow must have been weeping a lot last week because it caught on fire three times. Excuse me for the bad pun.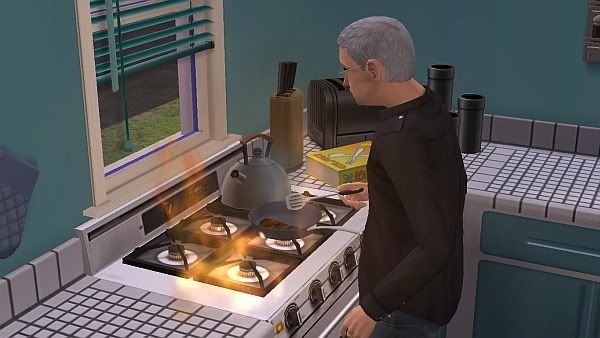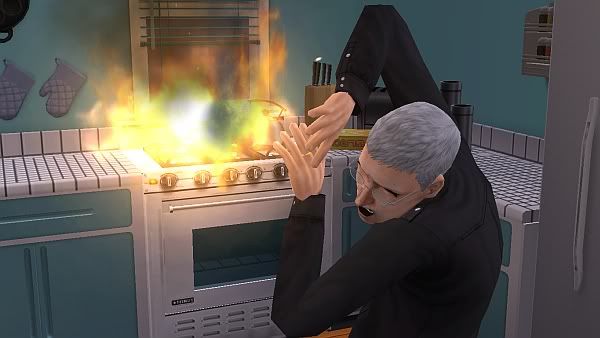 Speaking of fires, it seems that when one of us was cooking, they managed to set the stove on fire. I'm not sure who it was, but luckily enough the fire department came quickly enough to put it out and avoid any damages. We all just need to be a little more careful when using the stove is all.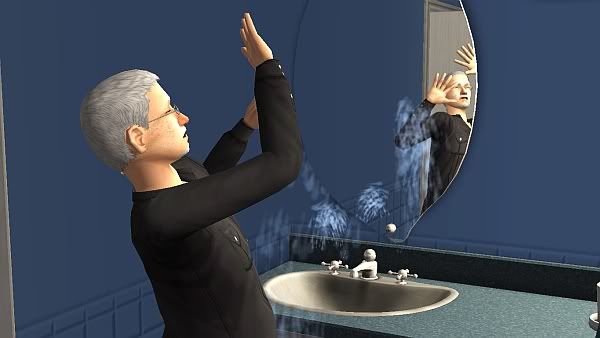 And then there was the time that the sink broke. It was an easy fix though, so I didn't worry too much about who might have broken it as I am sure it was an accident.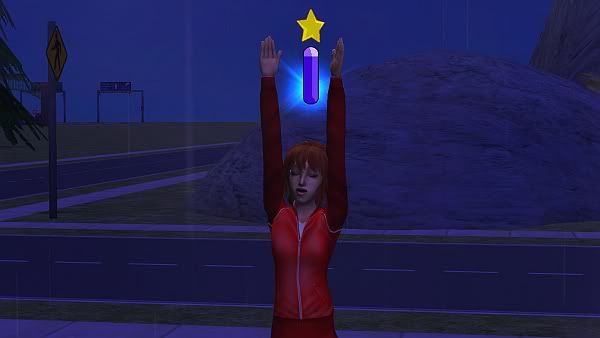 Not pictured, Becca has also maximized all of her skills.
Even though we live in such a small town, my kids still seem to get the same kind of education that they would get in a big city - perhaps even better. Sometimes I feel like they know more than I do.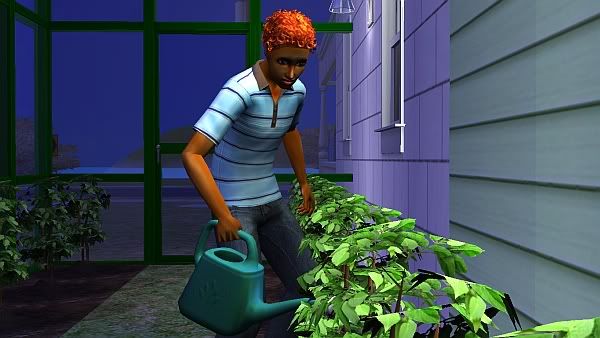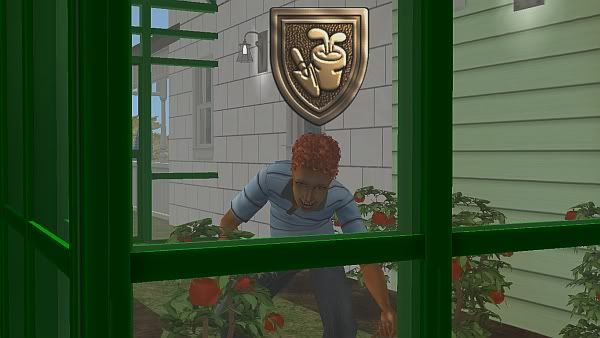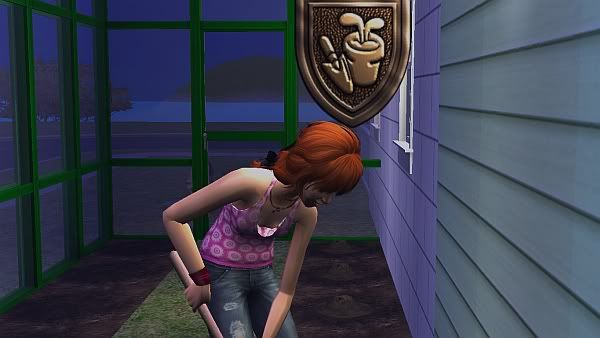 Both Abrianna and Adam have taken an interest in the gardening and have been helping Jackie and me out when we haven't had time to do it ourselves. We really appreciate the help and are also glad that Adam is so into it as one day it will be his garden to take care of.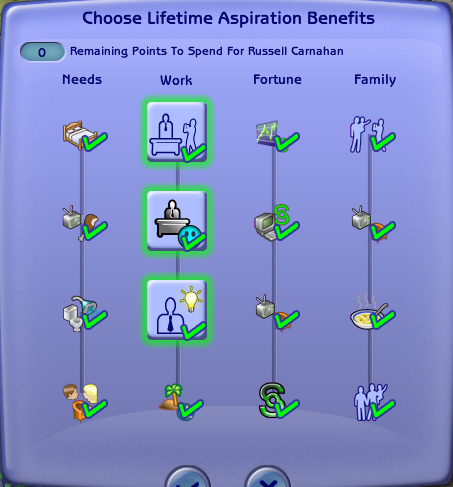 I've come to a point in my life where I feel like I've done almost everything that I've wanted. I really want to make more money still, but even if I don't, I'm quite content with the way things are and I really love my life and my family.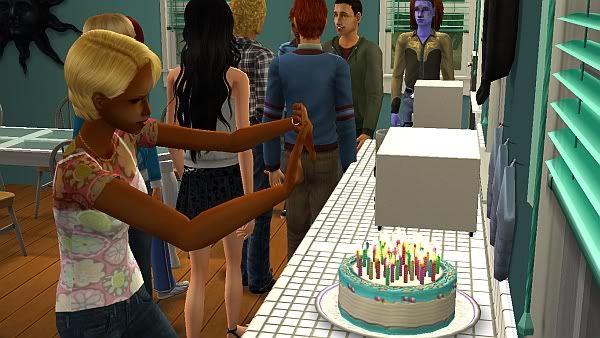 Remember what I said about Jackie joining me soon?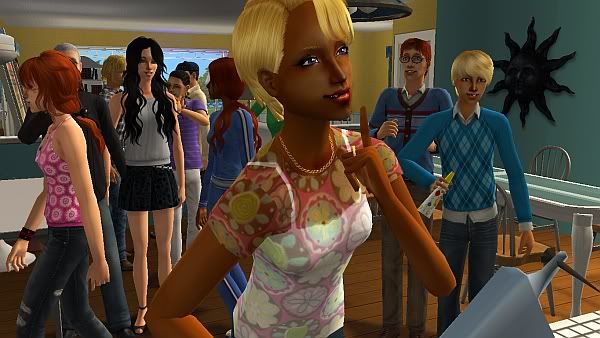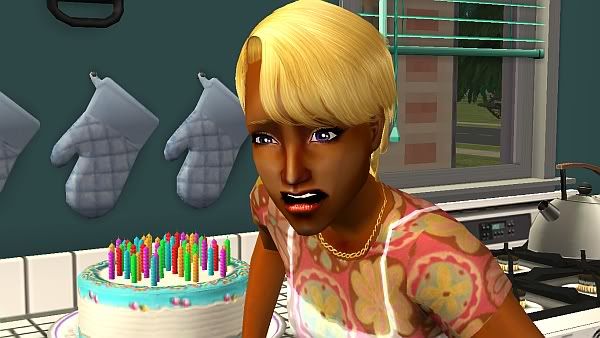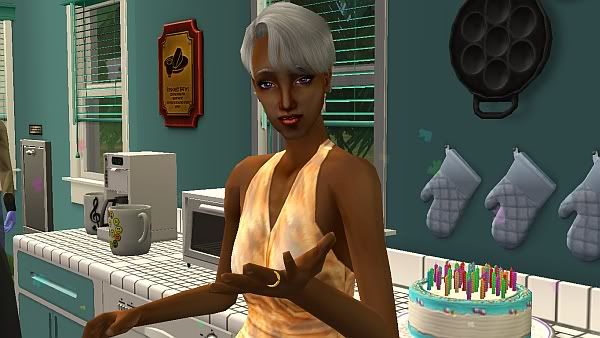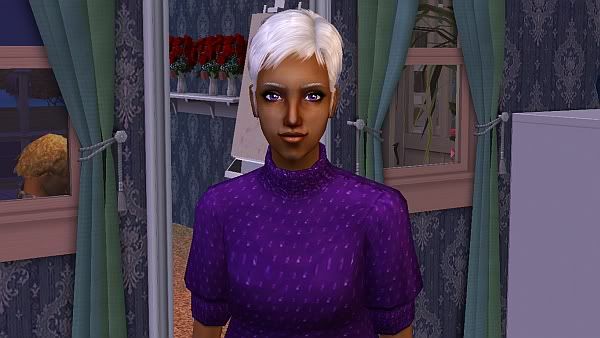 We threw a birthday party for Jackie and although she seemed quite reluctant to be getting older, I find that she still looks just as beautiful as ever. I told her after we had a private moment together later that night and she gave me a strange look.
"Well, aren't you happy that I think so?" I asked her, trying to read the look on her face.
She gave me a sad smile, "Of course I am Dear, I just..." and her voice trailed off.
"You just what?" I questioned her, looking her in her eyes.
"I'm just sad to see that part of my life go is all..." she replied. Somehow, I didn't think that was all that she had to say, but I didn't really want to press the matter.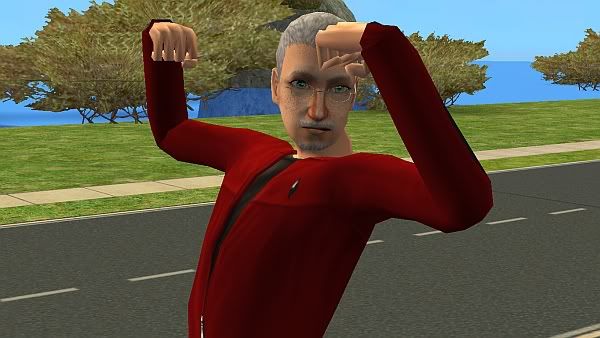 Just because I'm old, doesn't mean that I can't still be healthy and fit! I bought myself an exercise machine and have been spending quite a bit of time on it.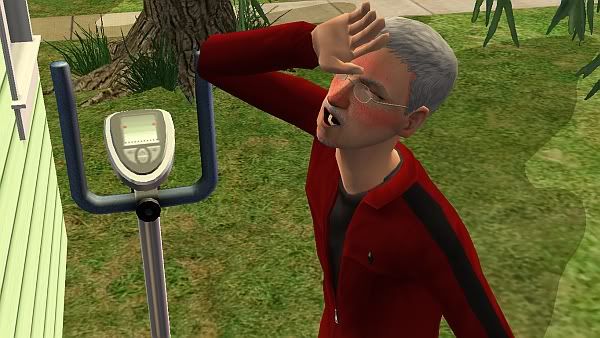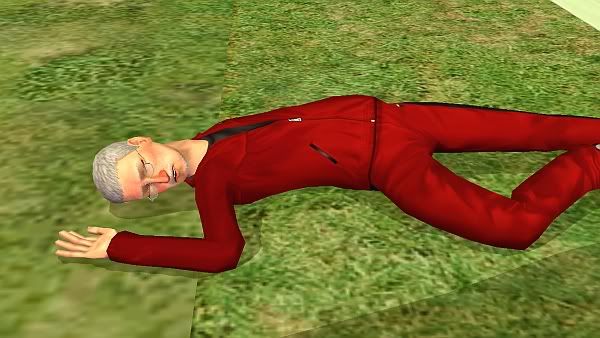 Unfortunately, I gave poor Jackie a scare when I passed out from heat exhaustion after using my exercise bike one day during the hot summer.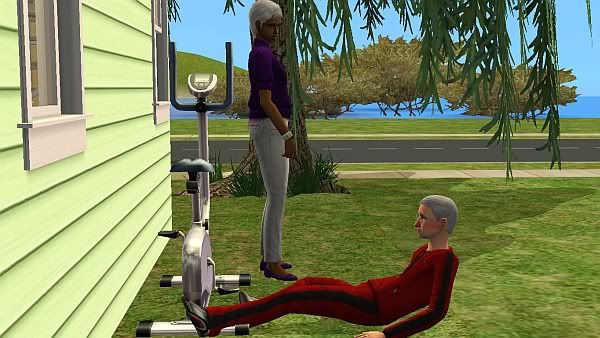 But with a bit of rest and lots of water, I was feeling fine in no time. I guess that now that I am older, I should be more careful about how much I do though.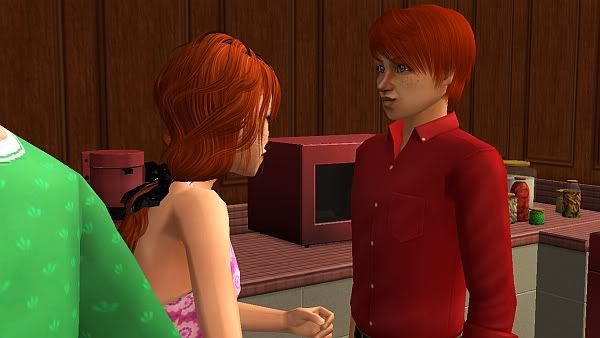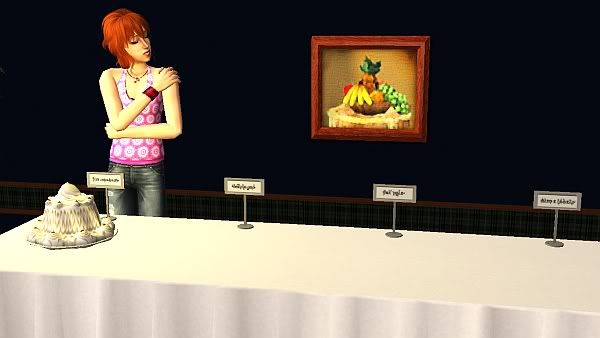 Abrianna recently told me a story about how she participated in a cooking contest.
She said, "Dad, you wouldn't believe how nervous I was! I made baked alaska, which I hadn't ever made before, but sounded like it would be really good. As I waited for the other contestants to bring their food to the table I got really anxious as I thought about how bad it would taste since it was my first time making it."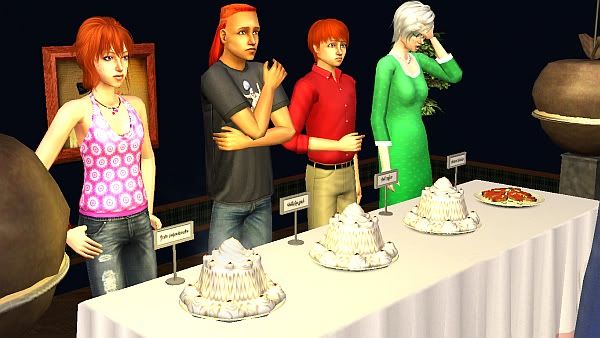 I nodded in understanding as she continued to tell me her story, her hands flying everywhere through the air as she began to get really into it. "TWO other people who were in the contest had also made baked alaska! My heart nearly stopped beating when I saw this. I asked the guy next to me how many time he had made this dish before and he told me that he had been practicing the whole night before and this was at least his tenth attempt that week! I was horrified."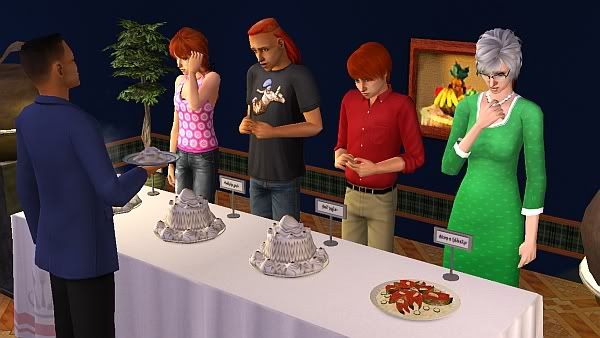 "As the judge tasted each plate, I grew more and more nervous, especially when he seemed to really enjoy the other dishes. I was just glad that he didn't appear to puke when he tasted mine."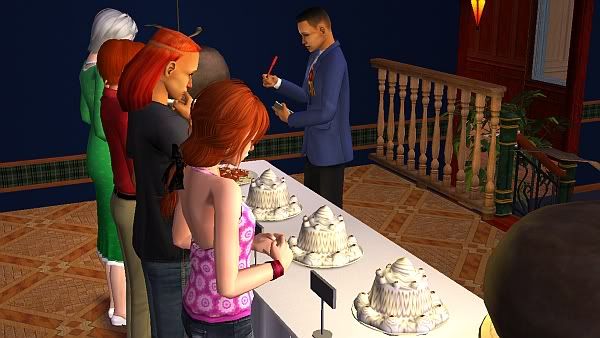 "He spent about two minutes, or for me a lifetime, tallying up the scores. Dad, I've never been so nervous in my life," I laughed as she looked at me with her hand over her heart, acting as if she were going to faint.
"And then..." she started to say, and then stopped.
"And then... what?" I asked, playing along. I already knew the ending of the story.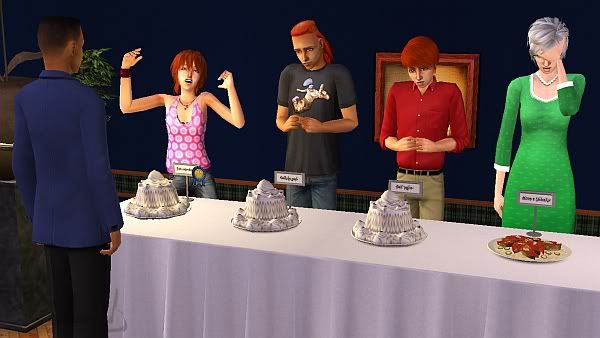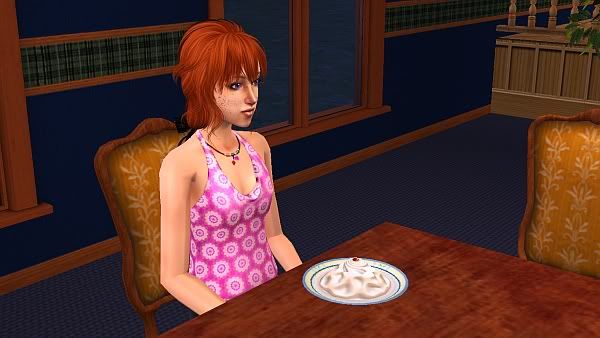 "And then! Yours truly won the contest and then ate a big fat plate of baked alaska!" Then she gave me a mock bow and then grabbed me into a big hug.
"I'm so proud of you," I said as I hugged her back, and she smiled.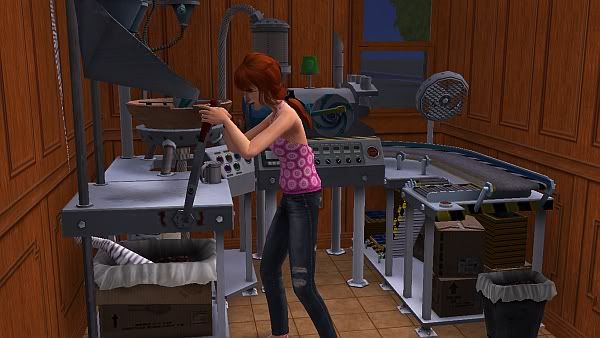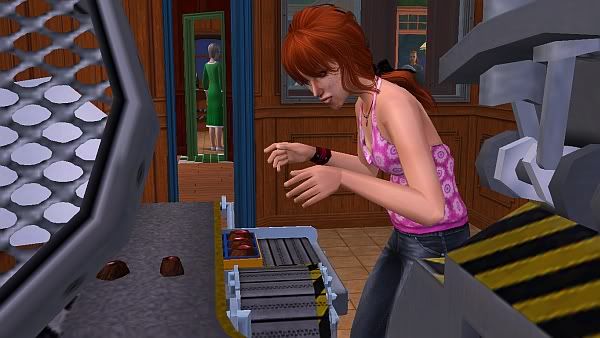 As well as winning the contest, Abrianna also spent some time making candies and made quite a few simoleans.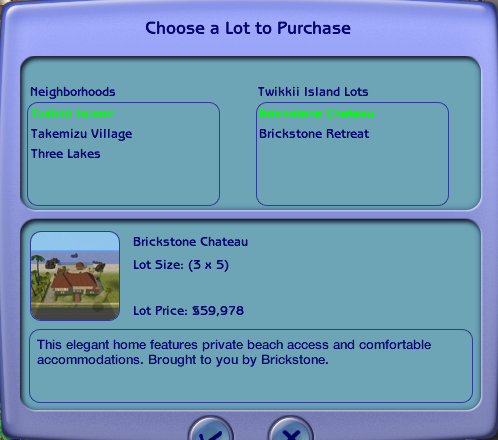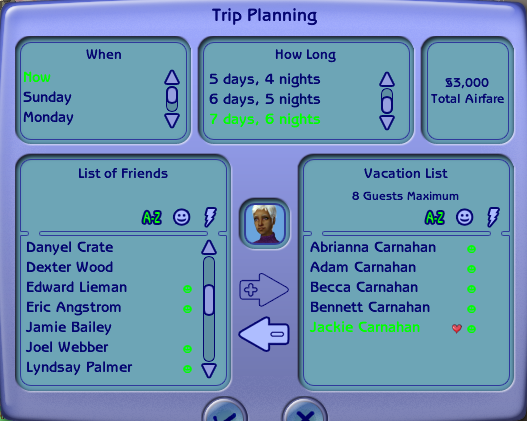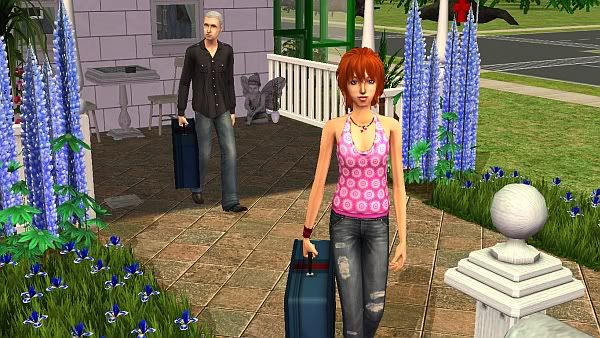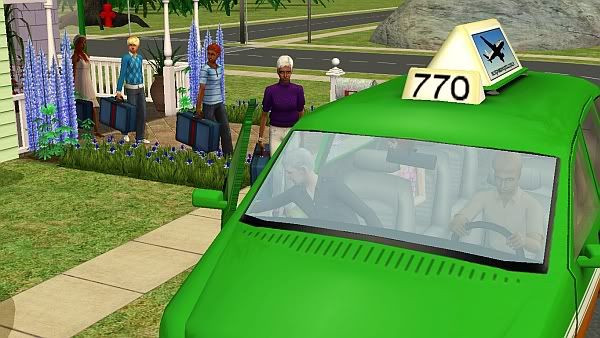 I decided that since the kids were going to be moving out, probably very soon, that I would buy a vacation house in Twikki Island, and take them on a week long vacation.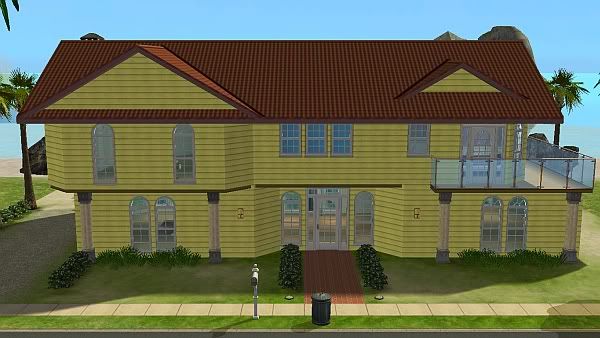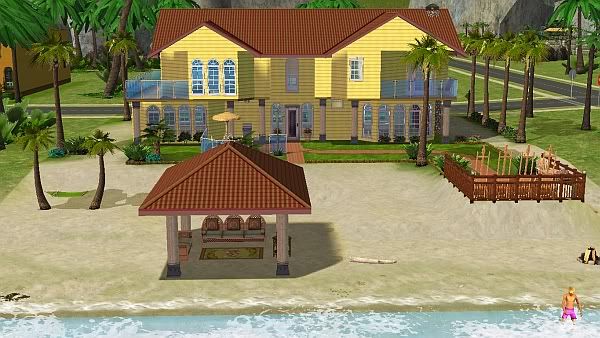 Exterior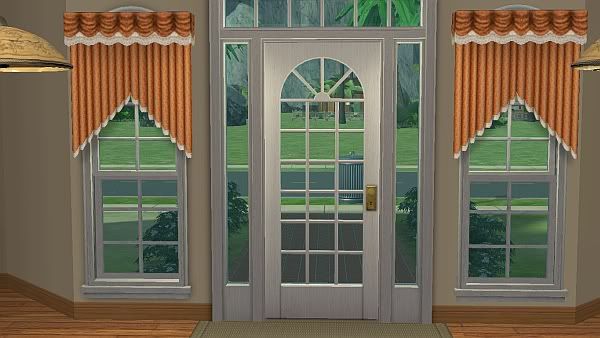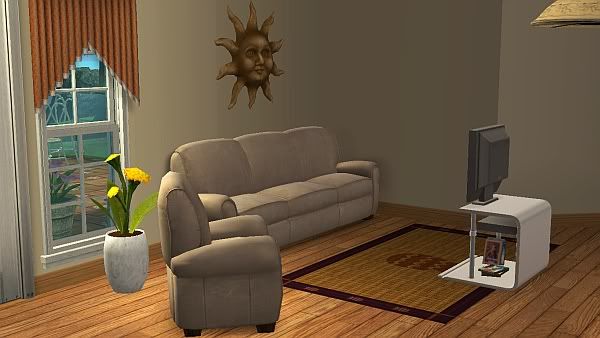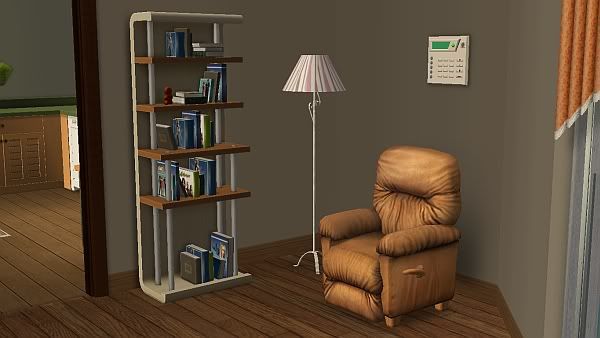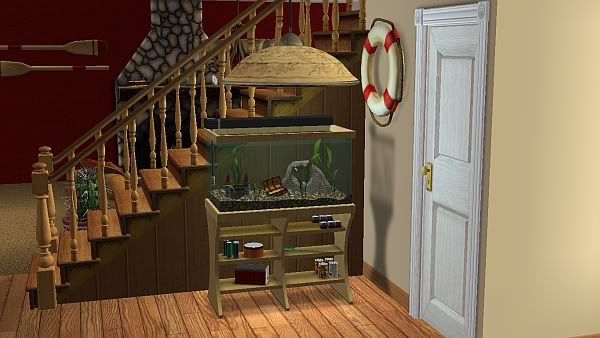 Entry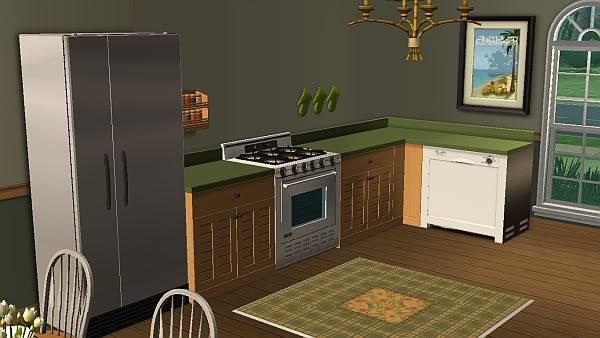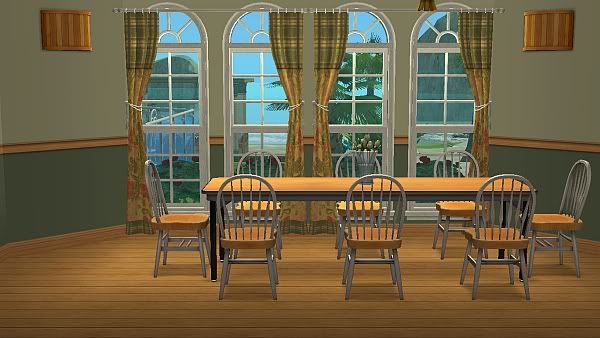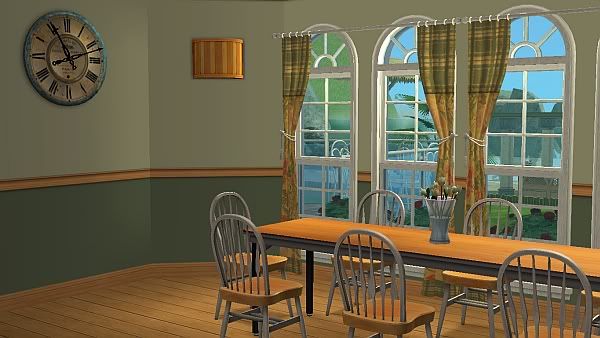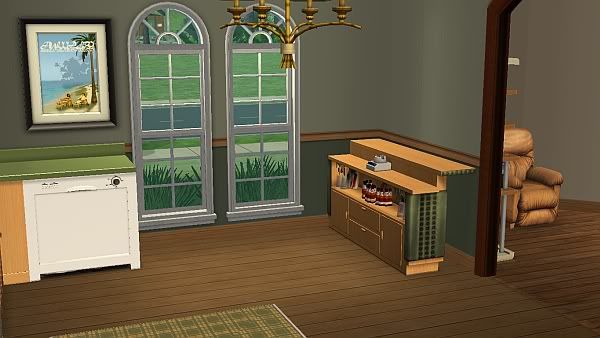 Kitchen/Dining Room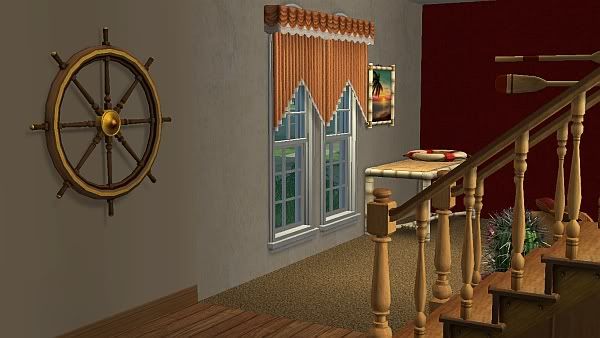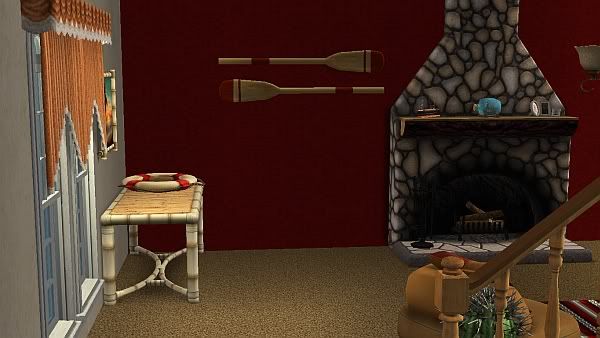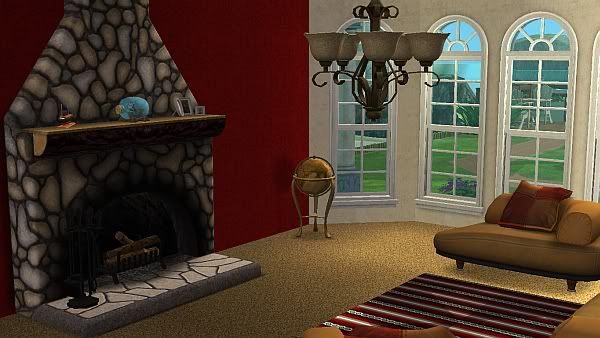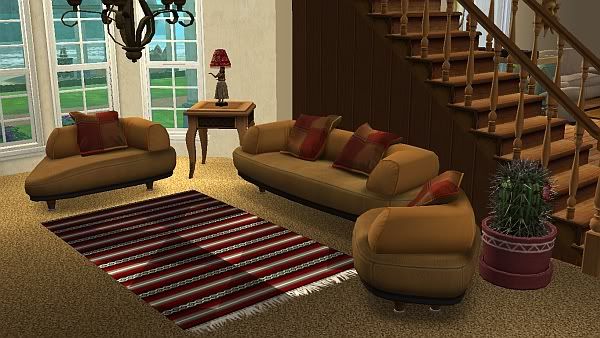 Living Room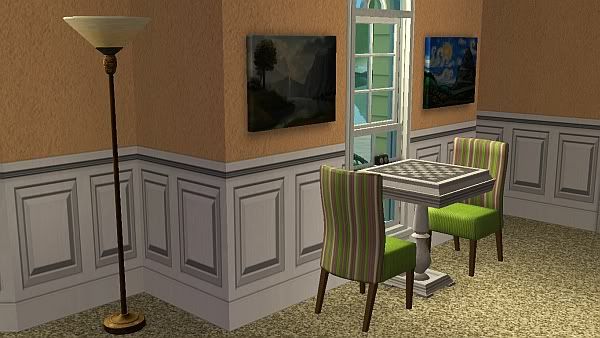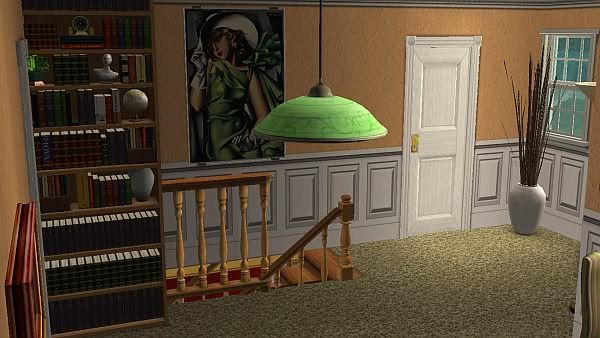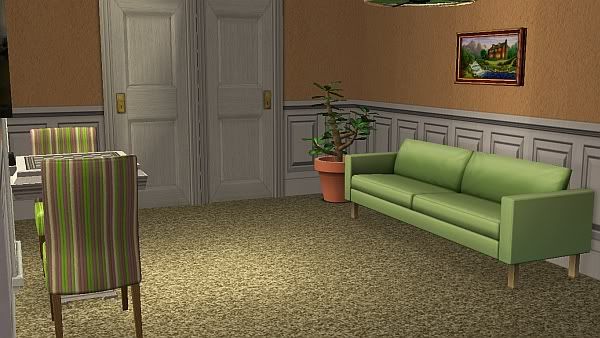 Upstairs Landing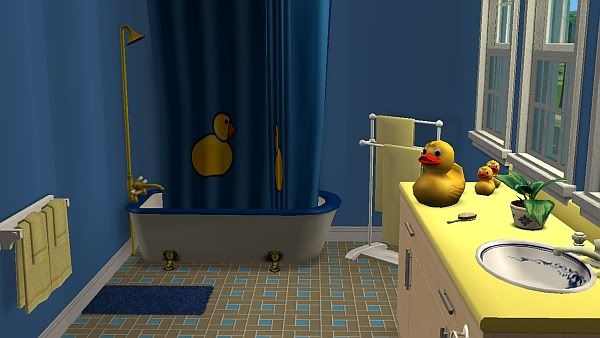 Bathroom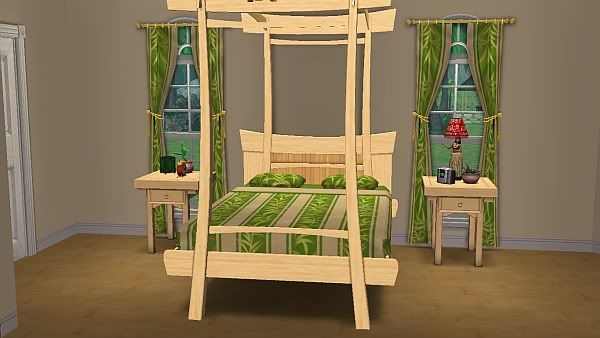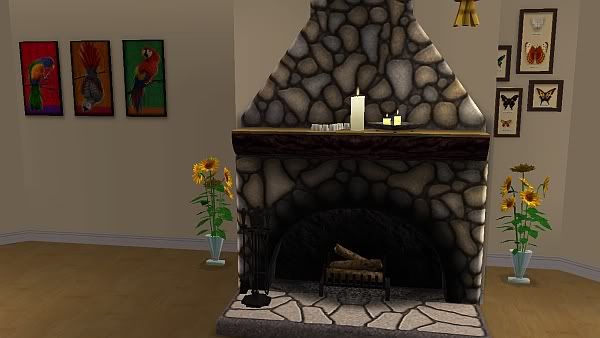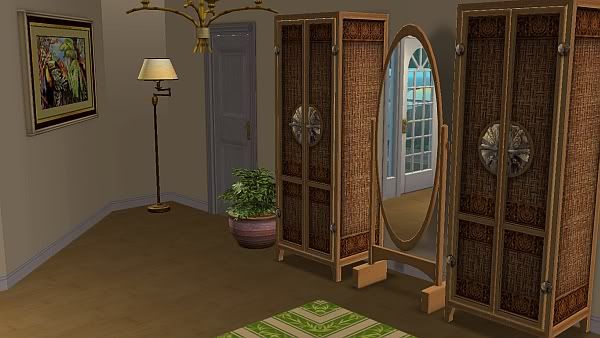 Master Bedroom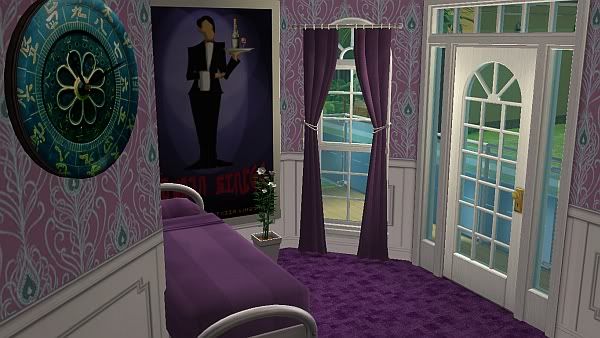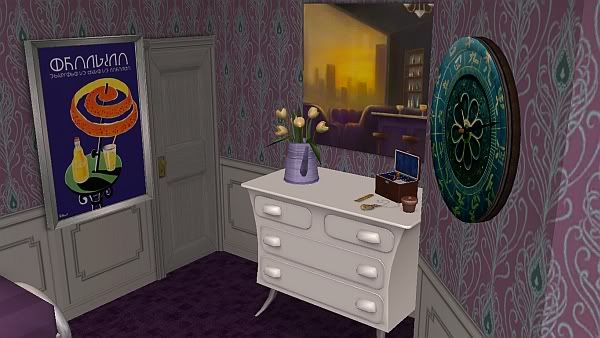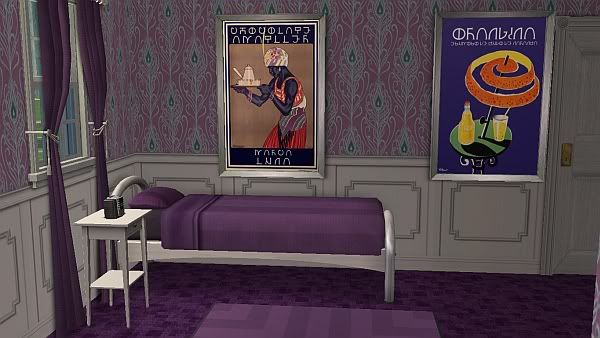 Room One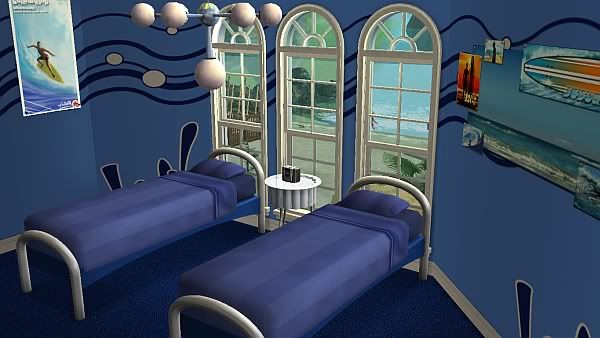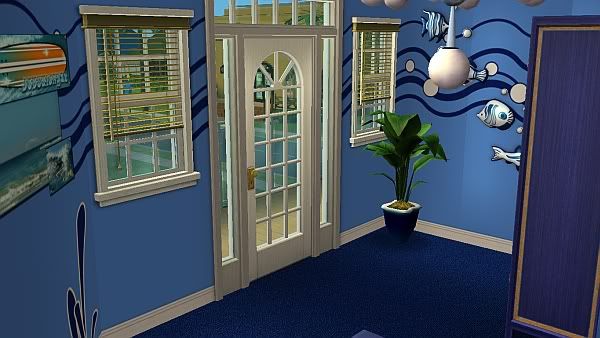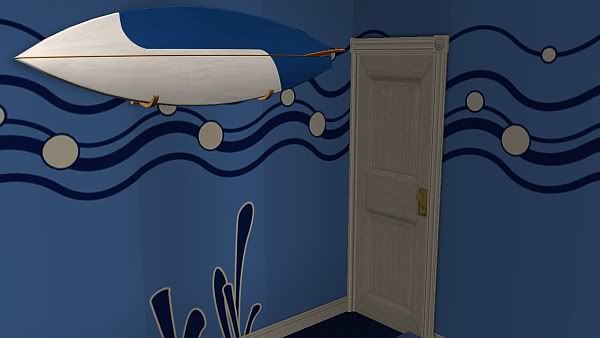 Room Two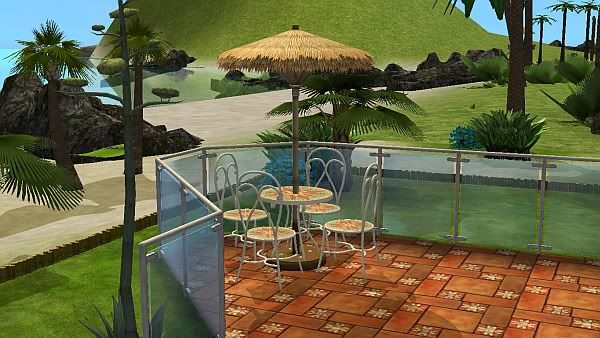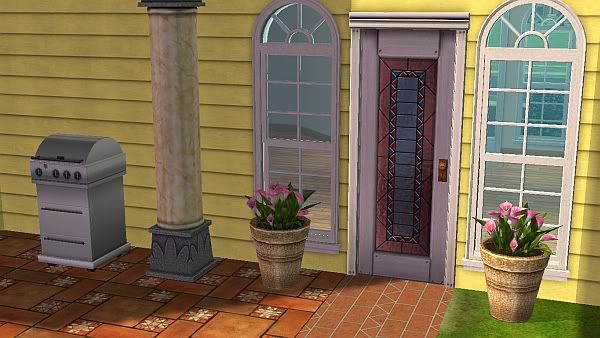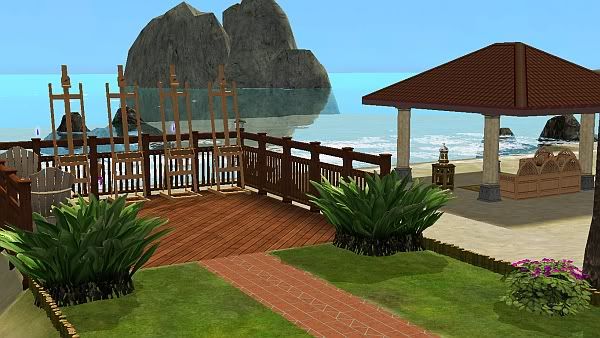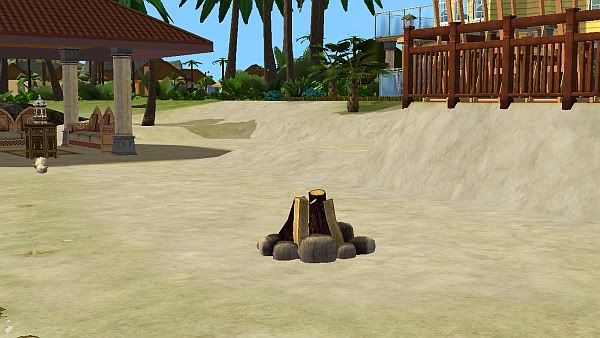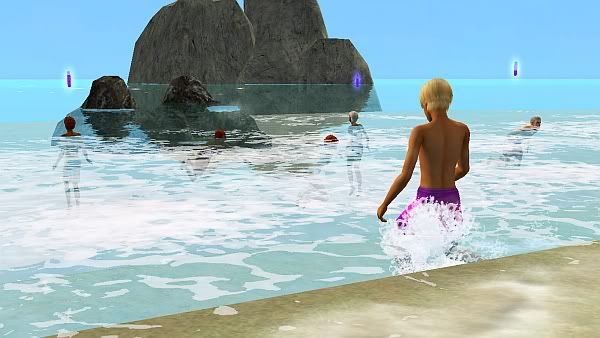 Backyard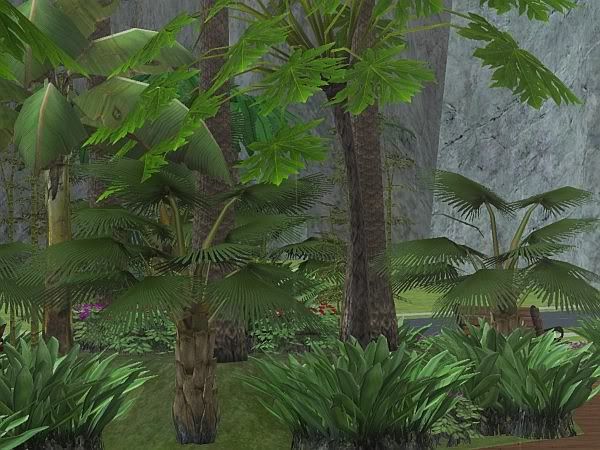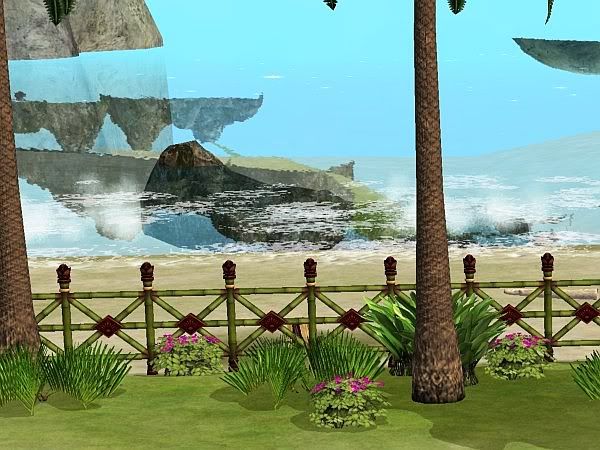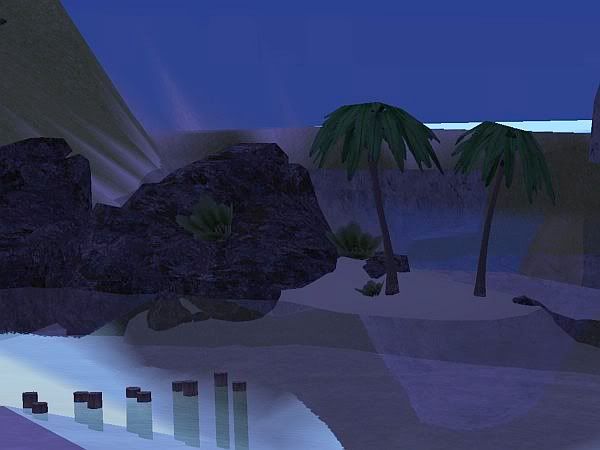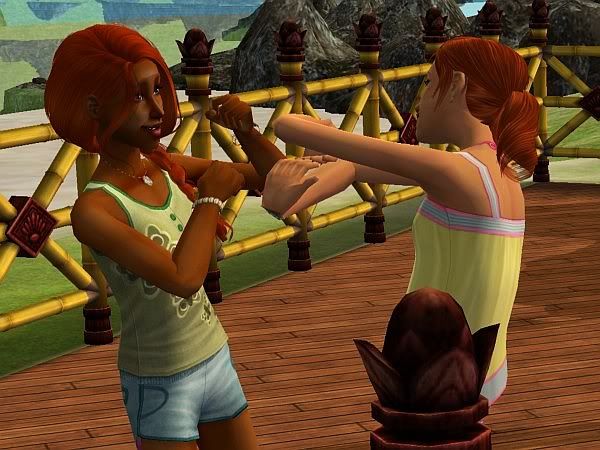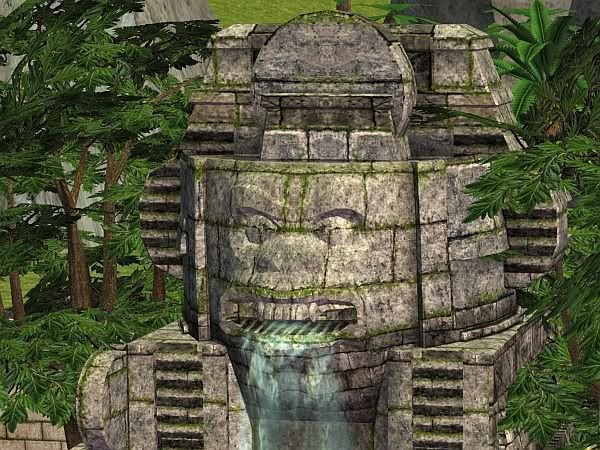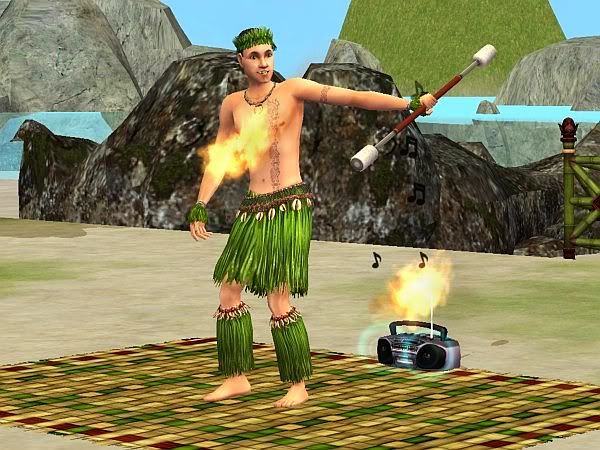 Unfortunately, my camera was malfunctioning and these are the only pictures that I have from the whole trip. The important thing though, is that we had a lot of fun and got closer as a family. I'm so glad that I decided to take them.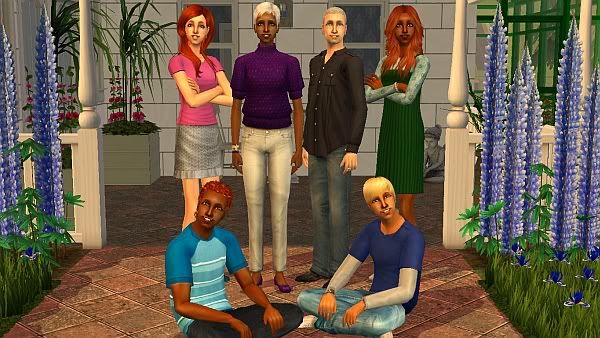 Especially now that they are all grown up and ready to start lives of their own...

Stats:
Rotation: 6
Households: 1 of 3
Playable Sims: 15
# of Total Residents (PS + Graves): 15
Community Lots: 8 (0 NPC)
Business Districts: 0
Universities: 0
Downtown: No
Sim Multiplier: 3
Population: 45
CAS Sims Available: 5/8
University Funds: $131,199
Number of Fires: 4
Number of Burglaries: 1
Number of Electrocutions: 1
Number of Graves: 0
Businesses:
Club Carnahan - Russell Carnahan - 6
Electric Avenue - Russell Carnahan - 10
Odds and Ends - Russell Carnahan - 8
Purrfect Pets - Jackie Carnahan - 10
Fresh Fish and Veggies - Rachel Lieman - 7
Douglas Firniture - Edward Lieman - 5
Albrecht Auditorium - Richard Albrecht - 6
Alina's - Alina Albrecht - 3
Careers:
Architecture - 0/1
Business - 0/2
Law Enforcement - 0/1
Music - 1/Unlocked (Alina Albrecht)
Slacker - 0/1
------------------------------------------------------------------------------------------------------------------------------------------
Notes:
The reason there are so few pictures of the vacation is because FRAPS randomly stopped working on me. =/ I was pretty upset, but there really wasn't much that I could do about it. The pictures of the house are before it stopped working, and the other pictures are ones that were taken by sims to fulfill the want to take a picture and that show up in the Storytelling folder of the game.
Becca also got her first kiss on vacation with a vacation tourist guy and they have three bolts so I am planning on growing him up and getting them married.
Abrianna was able to get the Mr. Mickles doll from the Witch Doctor.
That was actually Jackie's second Best of the Best Award. She now has two hanging on the wall of her business.
While on vacation, the money that Russell's business, Electric Avenue, earned got him to his LTW of making $100,000. It didn't really matter though because he was already perma-platinum because of the Free Time LTA meter.
Both Abrianna and Jackie have maxed out their LTA meters as well and all of the other kids are extremely close.
Also, if you look closely at the picture of the tree fire, you can see Bennett in the window doing this...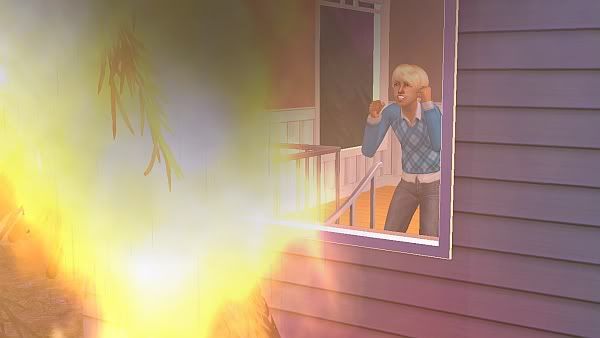 Bad timing to be excited for the rain, eh? ;)
Current Mood:
calm